Android Market Share – US and Worldwide Data for 2023

Hristina Nikolovska
Last updated 17th Feb 2023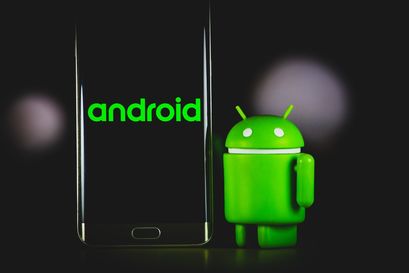 The global smartphone adoption rate keeps increasing, year after year, and according to recent estimations, the current number of cell phones in circulation is 6.64 billion. According to this figure, if each one of these smartphones had a unique owner, close to 83.32% of the current world population would be smartphone owners.
Android Market Share
Now, who has benefited the most from this nearly universal adoption rate? In recent years, the mobile OS market has effectively turned into a duopoly. The days of Symbian OS, Blackberry OS, and Windows 7 for Mobile are long gone, and there are only two major players on the market. That being said, a closer look at the data reveals that it might actually be closer to a monopoly than a duopoly.
Android Market Share Worldwide
According to the latest statistics, Android dominates the global mobile OS market with a 71.62% share, while iOS is in the distant second place with a share of 27.73%. There are some other mobile OSs on the market as well, such as KaiOS and Windows 10 Mobile, though their shares don't even account for 1% of the global market.
However, the Android worldwide market share is not superior on all six populated continents on the planet. As a matter of fact, iOS is more popular in North America (iOS 52.84% vs 46.82% Android) and Oceania (iOS 54.62% vs 44.44% Android).
Despite the narrow lead iOS has in these two regions, in the ones where the Android device market share is dominant, it reigns supremely with great percentage differences. For example, in South America, Android devices account for 86.05% of the market, while iOS devices only account for 13.67%.
In Africa, Google's mobile OS market share is 83.85%, while the iOS share is only 13.21%, and in Asia, Android devices account for 82.99%, while iOS devices for 16.49% of the market. Finally, in Europe, the Android vs iOS market share difference is a little more balanced, and Android devices account for 64.94%, while iOS devices for 34.29% of all devices on the market.
Interestingly, iOS has a slender lead in three key market regions, the USA, the UK, and Canada. The ratio of Android vs iOS devices in the USA is 44.23% vs 55.45%, in the UK it is 48.64% vs 50.69%, and in Canada, it is 40.12% vs 59.28%.
Android Market Share in the US
As you can see from the stats above, the USA is one of the few countries in the world where Android is less popular than iOS. There are multiple factors that contribute to the way that mobile devices are distributed around the world and in the US, pricing, branding, and pop culture influence can be highlighted as the main ones.
Even though the US Android market share is smaller than the iOS's, the difference isn't that big, and Android has more than a decent client base in the States. The USA is the world's third biggest mobile device market, right after China and India. Namely, over 87% of US consumers are smartphone owners, with 95% of Americans aged between 18 and 34 being smartphone users. Americans aged over 55 are the age group with the lowest percentage of smartphone users, but still, 75% of them own a smartphone.
Android Market Share by Age
29% of Americans aged between 18 and 29 use Android smartphones. As you might expect, iOS is the most popular among the youngest US consumers, with a 60% market share. Surprisingly, 4% of Americans from this age group still use Windows Phones, and 2% use phones that run on Linux.

The Android phone market share among Americans in their 30s and 40s is 50%. This age group is exactly the spot where iOS dominance starts to fall off, as only 42% of US consumers between 30 and 49 use iPhones.

56% of Americans between 50 and 64 are Android users, while 37% use iPhones. In older age groups, Android starts to notably dominate the market, and iPhones lose their popularity.
Even though US Android market share statistics show that iOS is the more popular choice for Americans of a single age bracket, its superiority among young consumers is too strong. Older consumers might prefer Android smartphones over iPhones, though not by a lot. Moreover, younger people are significantly more likely to own a phone than their older counterparts, which also contributes to iPhone's dominance.
Android Market Share by Device
Samsung is unquestionably the most popular mobile vendor in the USA, with a 30.11% share of the Android mobile market. The second most popular brand is Motorola, with a market share that doesn't even come close, at only 4.92%. Other manufacturers that hold a somewhat considerable share of the US Android device market are Google with 2.28% and LG with 2.2%.
However, global statistics on the most popular Android phones by market share paint a fairly different picture than the one on the US market. While Samsung is crushing it worldwide and has a 28.41% of the global market share, Xiaomi is the world's second most popular vendor, with a 13.2% portion. In the USA, however, the Chinese giant only has 0.7% of the Android US market share.
Furthermore, Huawei is the world's third most popular Android smartphone manufacturer, with a 5.64% share of the global market, while in the US, it only holds a minuscule share of 0.37%. The situation is similar for many Chinese brands like Oppo, Vivo, and Realme, which have massive popularity in the rest of the world but are virtually non-existent in the US mobile market.
Android Market Share by Version
Unsurprisingly, the latest version of Android, Android 12.0 is the most popular in the world, with a 46.72% share of the Android market. Android 11.0 is slowly fading away, and according to the most recent reports, it is currently standing at 17.18%. Devices with Android 10.0 account for 14.11% of the global Android OS market share, those with Android 9.0 (Pie) account for 10.46%, and 2.11% of all Android devices run on Android 8.1 (Oreo).
The remaining Android smartphones use older versions of Android, and there are too many to name. One stat that stands out and is noteworthy is that 0.99% of Android users still use devices that run on Android 5.1 (Lollipop), which was initially released on November 4, 2014.
Android Market Share – The Summary
Android has been dominating the market ever since it overcame Windows in March 2017, as the world's most popular OS. It is used on billions of smartphones and tablets but also on notebooks, computers, TVs, digital cameras, and media players. And while Americans may never let go of their iPhones, the rest of the world has named its champion long ago, and it seems that no challenger will be coming for its crown any time soon.
Hristina Nikolovska
An internship in a digital marketing agency during her freshman year of university got Tina into content. A decade later, she's utilizing her educational background in English and knack for research to craft website content on crypto and ensure readers are fully informed. When she's not investigating the crypto market and expanding her knowledge, you'll find her randomly roaming cities and sunny coasts all over the world.