The 10 Biggest Crypto Whales in the Market

Rebekah Carter
Last updated 16th Feb 2023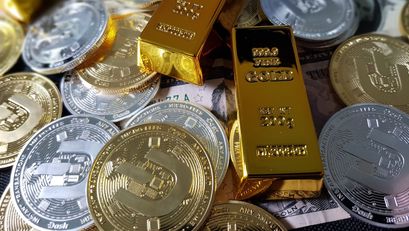 Who are the biggest crypto whales in the market today, and what kind of impact do they have on the investment landscape? In the cryptocurrency space, "whale" is the term given to an investor who holds a huge amount of coins or tokens of a particular cryptocurrency.
Crypto whales are important to the cryptocurrency investment space because they can create a ripple effect in the market, generating changes in token valuation.
If you know where the whales are swimming, you can often gain a better idea of how the markets they're involved in might be influenced going forward.
Who Are the Biggest Cryptocurrency Whales Right Now?
Defining the biggest whales in crypto can be difficult. While some of the biggest investors in cryptocurrency are very open about how many tokens they hold, others are less straightforward. Cryptocurrency can be a highly anonymized area, so it's difficult to know for certain which big wallets belong to which people.
Some of the biggest cryptocurrency whales are actually major companies responsible for trading or managing large amounts of tokens.
However, this list focuses on individuals known to us by name (or pseudonym), and these are some of the biggest crypto whales we're aware of right now based on estimates by experts.
1. Satoshi Nakamoto
Undoubtedly the biggest cryptocurrency whale in the world, Satoshi Nakamoto is the pseudonym for the inventor of Bitcoin. We're not sure for certain whether this is a person or a group of people, but we do know they continue to hold ownership of around 1 million BTC.
In today's market, 1 million BTC equates to around 19.2 billion US dollars. If Nakamoto is a single person, this would make them the biggest crypto whale of all time.
2. Brian Armstrong
Brian Armstrong is the CEO of Coinbase, one of the largest crypto exchanges on the market. The website handles billions of trades every day, and Brian has a significant amount of crypto contributing to his own net worth.
Estimates suggest the CEO has a crypto fortune worth of around $6.5 billion. However, it's difficult to know what kind of crypto whale Armstrong is and which currencies he holds.
3. Michael Saylor
Michael Saylor is an American entrepreneur and businessman, as well as one of the biggest Bitcoin whales of all time. Experts even believe he might have been responsible for some major movements in the Bitcoin landscape, and he currently owns more than 17,732 bitcoins, worth over $1.14 billion.
Saylor's company, MicroStrategy, also began accumulating bitcoins in 2020. While we don't know exactly how many Bitcoins Michael holds today, some experts say the BTC bank for the company is worth billions.
4. Chris Larsen
One of the co-founders of the credit lending company Eloan, and peer-to-peer lending site Prosper, Chris Larsen helped to launch the Ripple cryptocurrency in 2012. Ripple is a blockchain network that has grown popular in the crypto whales list over the years.
While there's no direct information on how much crypto Larsen holds overall, Larsen does have at least 5.19 billion XRP, creating a net holding worth of around $37.3 billion.
5. Changpeng Zhao
The CEO of Binance, Changpeng Zhao, is considered to be one of the biggest Bitcoin whales on the market, though he hasn't released a lot of information about his holdings. Unsurprisingly, Zhao's crypto holdings fall into both Binance coin and Bitcoin.
According to reports, Zhao's net worth is around $96 billion, but this doesn't take into account his cryptocurrency holdings, which he says he plans on donating to charity.
6. Vitalik Buterin
Vitalik Buterin is considered to be one of the biggest Ethereum whales on the market, though his holdings in ETH remain unknown at this time. As the co-creator of Ethereum, Buterin was once said to hold around 355,000 Ethereum, as well as various whale-sized quantities of other coins, like SHIB, Akita, and Dogecoin.
In 2022, Vitalik announced he was no longer a crypto whale following the collapse of various coin investments. However, we don't know for certain how much he holds today.
7. Tim Draper
Well-known venture capitalist, tech billionaire, and entrepreneur Tim Draper is considered to be one of the biggest players on the Bitcoin whales list after he purchased 30,000 bitcoins for a bargain price when they were seized by Silk Road.
Though Draper won't reveal how many bitcoins he currently owns today, he also has wallets in various other cryptocurrencies, such as Aragon's "ANT" tokens. The tech expert is expected to be worth a little over $1 billion.
8. The Winklevoss Twins
The Winklevoss twins are perhaps best known for accusing Mark Zuckerberg for stealing their idea for a social network. In a 2012 settlement, they won around $65 million in court and invested it in a stack of Bitcoin. At the time, the twins were said to purchase about 1% of all the BTC in existence.
The twins are still considered to be some of the biggest Bitcoin whales around, with around 70,000 bitcoins in their portfolio, as well as a variety of other cryptocurrencies.
9. Barry Silbert
Barry Silbert acquired Digital Currency Group with funds from the sale of Second-Market, an equity trading platform acquired by Nasdaq in 2015.
This conglomerate consists of five companies, one of which is Grayscale, a digital asset management company.
Grayscale manages a portfolio of assets worth over $28 billion (£20.6 billion), including Bitcoin and Ether. It was the first application approved to trade securities backed by Bitcoin and raised about £434 million annually.
10. Jed McCaleb
Jed McCaleb was one of the co-founders of Ripple and is, therefore, one of the biggest XRP whales in the market today. Although McCaleb left the company following a disagreement with his other founders, he's still said to own around 3.4 billion XRP.
By today's standards, this gives McCaleb's wallet a net worth of around $1.6 billion, which makes up a significant portion of his overall wealth. Apparently, Jed also has investments in other crypto markets, though he hasn't revealed the details of his portfolio.
The Biggest Crypto Whales Today
Crypto whales' fortunes can be difficult to estimate because not everyone is open about their cryptocurrency holdings. The information we have about the current crypto whales is based on the news reports issued by major crypto purchases over the years. However, the volatility of the crypto market means many new whales could emerge in the future.
FAQ
Who are the biggest crypto whales?
How many crypto whales are there?
How much money do you need to be a crypto whale?
Here Are More Crypto Guides

Rebekah Carter
Rebekah Carter is a dedicated online marketing professional and writer. With experience in the world of entrepreneurial development, business growth, communication and collaboration, and even health and fitness, Rebekah is constantly looking for ways to expand her expertise, and share her knowledge with the digital world.