Insightful Branding Statistics & Facts for 2023

Hristina Nikolovska
Last updated 17th Feb 2023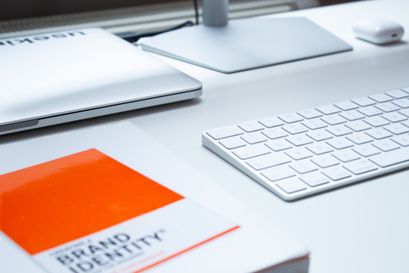 Companies spend millions on making their logo, website, and products more appealing and recognizable to consumers. But beyond the tangible parts that make up a brand, at its core, branding is about storytelling. And, as with all stories, in order to establish and grow a relationship with audiences, you need to be clear and consistent about your brand's values and promises and the messages it resonates with.
To give you a nudge in the right direction, we compiled this list of the latest branding statistics. By going over the raw data, you will not only understand what branding can do for your business but also see how it can impact your bottom line.
Top 10 Branding Statistics
Brand consistency yields up to 4x higher visibility.

A solid 54% of US consumers research product quality before making a purchase.

90% of consumers find personalized brand content useful.

64% of consumers who have brand relationships say it's because they share the same values.

Maintaining brand consistency is a concern for 17% of marketers.

Content shared by employees receives 8x more engagement than the one shared by brands.

Companies with poor employer branding spend at least 10% more on salaries.

45% of content marketers say brand awareness is their top goal.

A stark 41% of brands use influencers to boost brand awareness.

A staggering 81% of B2Bs declared brand is very important to revenue growth.
General Statistics on Branding
Apple is the most valuable brand in the world, worth $947 billion.
In addition, the value of the Apple brand saw a jump of 55% in 2022, which is significantly lower compared to that of the second-ranked Google, which saw an increase of 79%. The value of the Google brand is currently estimated at around $820 billion. Moreover, despite the uncertainty that rules the global economy and the high inflation rate, the overall value of the top 100 global brands increased by 23%, reaching a fantastic $8.7 trillion.
(Kantar)
The tech sector saw a 14.79% increase in brand value, reaching nearly $1.3 trillion.
Brand statistics further point to the retail sector as the one with the second most valuable brands, noting an increase of 14.39% to a total of $1 trillion in 2022, which is a first for retailers. Moreover, data shows that thanks to the pandemic and the boom that ecommerce experienced on account of it, retail is now the fastest-growing industry with brand value growth of 46%. The banking sector follows with 11.6%, accompanied by the media sector with 10.23% and telecoms with 7.20%. What is of note, though, is that the pandemic also brought about a historical 94% growth in value for pharmaceutical brands topping at a staggering $54 billion.
(Brand Finance)
Brand strategy is among the top three investments for CMOs.
When it comes to how CMOs spent their budgets this year, marketing and branding stats reveal campaign creation and management were prioritized and took 10.1% of investments, while brand strategy was the second most important investment receiving 9.7% of the funds. Third on the list were marketing operations, for which CMOs allocated a total of 9.6% of their budget.
Data further reveals that CMOs are becoming more oriented towards hybrid multichannel strategies and intend to spend 56% of their budget on online and the remaining 44% on offline channels. What this means is that the composition of marketing budgets is returning to basics with a focus on effective campaigns, awareness, engagement, and brand marketing.
(Gartner)
Brand consistency yields up to 4x higher visibility.
And yet, brand consistency statistics reveal that under 10% of organizations believe their brand presentation to be very consistent. Moreover, a recent study of B2B and B2C organizations shows that even though 90% of participants believe brands should be consistently presented across all channels and places where customers may encounter them, less than 45% actually do so in practice. What's more, a whopping 71% of organizations believe inconsistent brand usage causes negative impact, the greatest one being market confusion.
(Demand Metric)
95% of companies have branding guidelines.
Clearly defined rules and standards that demonstrate what the brand is all about are at the core of any branding strategy. But still, brand identity statistics disclose just one-fourth of organizations enforce brand guidelines consistently. Moreover, 60% of organizations report that, more often than not, the branding materials created are not in accordance with the guidelines. Studies also show that 50% of organizations need more than a week to complete requests for new or customized branded materials.
(Demand Metric)
82% of investors said name recognition plays an important role in guiding their investment decisions.
In other words, if you're on the lookout for investors, the first thing most of them will check is how familiar consumers are with your brand. Brand recognition statistics reveal consumers have a pretty similar stand, as 77% of them say their purchasing decisions are based on the brand's name.
(PRWeb)
A solid 54% of US consumers research product quality before making a purchase.
Moreover, their research extends to multiple areas, including customer reviews and opinions and company reputation. Additionally, a significant 41% of consumers declared they value content quality more than product selection, search relevance, loyalty programs, or even online Q&A features. In fact, consumers decide where to buy online based on the quality of the images and info about the product.
Brand trust statistics, on the other hand, show that 46% of consumers would rather buy a more expensive product instead of a cheaper one just because they trust the brand's reputation. In addition, high-quality product detail pages are not only the key to trust-building, but brand websites that lack essential information like accurate product info and other basic elements have much higher abandonment rates.
(Salsify)
85% of marketers say the demand for brand content is higher than ever.
Content marketing not only generates 3x more leads, but it's also 62% cheaper than outbound marketing. What's more, statistics about branding and content show that 68% of consumers like to spend time reading content about brands that interest them, while 60% find reading relevant content from brands enjoyable. On the other end of the spectrum are the majority (90%) of video, brand strategy, and creative marketers who believe the biggest impact of digital transformation initiatives is to create more content to meet the ever-rising demand of consumers.
(Bynder, Demand Metric)
90% of consumers find personalized brand content useful.
What the data above means is that it's not just about any type of content but one that consumers find interesting, as the majority of them claim it is the reason they follow brands on social media. In addition, personalized branding statistics reveal that thanks to custom content, 78% of consumers perceive a relationship between themselves and a brand. In fact, 82% of consumers develop a positive feeling about a brand after reading custom content, 70% feel closer to a brand thanks to content marketing, and a solid 60% say they feel inspired to seek out a product right after reading about it.
(Demand Metric)
64% of consumers who have brand relationships say it's because they share the same values.
When it comes to offering what customers want to maximize branding impact and outcome, studies reveal marketers have a deeply erroneous opinion that engagement and interaction are the key factors that drive brand relationships. In fact, the majority of consumers have built relationships with a brand because they believe in what it promotes and stands for. Meanwhile, only 13% of consumers with brand relationships say the reason they exist is because of frequent interactions with the brand.
(Harvard Business Review)
74% of customers are loyal to a specific brand or company.
With over 80%, Millennials and Gen Zers are the two generations that feel the strongest loyalty towards a brand, with the figure being at around 70% for Gen Xers and Boomers. For 62% of consumers, price is the number one attribute that drives brand loyalty, 57% referred to customer service, while product service and offerings and convenience of purchase are important to 54% and 45%, respectively. Branding statistics, on the other hand, reveal brand reputation as a valued attribute for 34% of consumers, while personalizations and promotions that the brand offers are important to a loyal 27%.
(Zendesk)
Maintaining brand consistency is a concern for 17% of marketers.
When asked what their biggest concern about their organization's marketing efforts is, 26% of marketers said they're worried about how they will be able to reach audiences across overcrowded digital channels, while another 25% referred to the increasing content and creative requests. In addition, 16% said reincorporating physical events into marketing plans is an issue, while 15% replied they're uncertain about post-COVID messaging.
(Bynder)
Brand Awareness Statistics
Brand awareness happens after 5-7 impressions.
Science shows that people form first impressions in the split of a second or in exactly 1000 milliseconds. It also shows that longer exposure to a face or an object increases a person's confidence in making judgments and differentiating trait impressions. What this means is marketers should seize the opportunity provided by social media to share a dynamic and consistent brand message across all platforms so that consumers will not only able to recognize a brand but also know what it's about.
(Pam Moore, Association for Psychological Science)
45% of content marketers say brand awareness is their top goal.
And according to brand awareness stats, the above figure has seen a significant shift from a few years back when 89% of content marketers saw it as their top goal. Current research shows that 37% of content marketers will be focusing on increasing web traffic, 36% on generating leads, and 27% will work on generating sales. Data also reveals that customer loyalty and engagement are among the top goals for 23% of content marketers, while 14% said they will be focusing on building a subscriber list. Finally, 11% will be oriented towards promoting new products and improving the positioning of existing ones.
(Content Marketing Institute, Semrush)
77% of brands think online communities significantly improve brand exposure, awareness, and credibility.
The existence of an online community can not only help brands better understand their customers but it can also help managers engage with their members so they can gain more data for their marketing campaigns. Brand stats also show online communities as a powerhouse for raising awareness, and according to 46% of marketing and community practitioners, they can alter the way companies think about their customers. Moreover, 86% of marketers revealed online communities have helped them gain a deeper understanding of customers' needs, while another 82% said they now have new ways of asking questions and gaining insights because of it.
(Inversofts, CMX)
Instagram is the number one social media platform for building brand awareness.
A total of 90% of Instagram users follow a brand. This fact not only makes Instagram a gold mine for prospecting and lead generation but also the ultimate platform for building brand awareness. Moreover, facts about branding reveal that brands make positive impressions on potential customers just by being on Instagram. Statistics also show that 78% of people see brands that are on Instagram as more popular, 77% say they see them as more creative, 76% as more entertaining, and 74% said they see them as more relevant. And the best part for marketers is that 70% of Instagram users don't mind seeing ads while they're watching videos.
(Facebook, Instagram)
A stark 41% of brands use influencers to boost brand awareness.
In addition, statistics on branding related to awareness as the key to driving customers and fostering loyalty indicate that a little over a third or 32% of B2B and B2C brands will be relying on influencer marketing to build brand awareness. Brand awareness is also a top priority listed by 35% of marketers working with non-governmental organizations.
(MeltWater)
Search ads increase brand awareness by 6.6%.
The above data is in accordance with a study conducted by Google and Ipsos MediaCT proving that PPC advertising really does help increase brand awareness. The study involved 61 participants from 12 different industries who were shown two different SERPs, one standard control page and another test page specifically created for the study placing a brand in the top Adwords position. The results showed that 14.8% of participants from the test group named the test brand and only 8.2% of the control group named the same brand pointing out an increase of a little over six percentage points or an average 80% lift in what Google names top-of-mind awareness.
(Google)
B2B Branding Statistics
55% of B2B marketers use LinkedIn for brand building.
In addition, only 28% of B2B marketers use Facebook to build their brand. What this proves is that despite the massive popularity of Facebook, when it comes to B2B branding, some platforms like LinkedIn are better for building brand recognition and connecting with target audiences. The situation is reversed with B2C marketers, as only 2% claim they use LinkedIn as a marketing tool. In fact, 60% of B2C marketers use Facebook, 28% use Instagram, and only 6% use Twitter.
(MeltWater)
A staggering 81% of B2Bs declared brand is very important to revenue growth.
The latest statistics on the importance of branding reveal that B2B marketing leaders are once again shifting their attention to their brand as a key player in growing their business. Moreover, the newest edition of The State of B2B Brand Building report shows 61% of B2B marketers now claim branding is a strategic business priority, while 71% revealed that over the past 12 months, "brand marketing has increased in importance". In addition, when it comes to achieving their marketing goals, a total of 54% said branding is as important as demand generation and ABM.
(Transmission)
Nearly 77% of B2Bs believe branding is what makes you different from your competitors.
Regardless of the fact that the purpose of branding is clear to most B2Bs, the newest branding facts and stats show that for 53.3% of B2Bs, insufficient budget funds are the reason why they cannot do more to build their brand. Another interesting revelation is that more than 80% of B2B experts and companies say that they are confident their CEO understands the importance of branding. And yet, the lack of budget remains a problem.
(Revenue Marketing Alliance)
27% of B2B marketers will be spending more money on branding.
Growing brand awareness is a top priority for B2B marketers, which is why they intend to increase spending on branding initiatives. Moreover, in the matter of funds, the highest portion, according to 41% of B2Bs, will be allocated to website development, followed by digital marketing (37%) and social media (34%). B2B branding statistics, however, also show that 33% of B2B professionals will be experimenting or, rather, leveraging brand storytelling which, according to a report, will be a first. The top sales and marketing strategies for B2B professionals in 2022 were social media marketing and personalization, each of which is being used by 41%.
(Sagefrog)
56% of B2Bs admit to purpose-washing.
B2B brands admit they are 'highly likely' and 'somewhat likely' to be promoting meaningful, cause-based purpose and use of their brand without actually backing this up with genuine action. In addition, the vast majority of B2B marketers (76%) say they are pressured to take a stand on current social issues, but only a few genuinely create and build brands that support a cause. In other words, just 9% of B2Bs have built their brands driven by ethics.
(Transmission)
Employer Branding Statistics
Content shared by employees receives 8x more engagement than the one shared by brands.
When employees advocate their employer's brand, the impact on the consumer is not only more powerful but results in a much higher engagement rate. In fact, studies show that 52% of consumers trust the average employee more than they trust the CEO of the company. What's more, over the course of five years, this figure has increased by a significant 30%.
(SocialMediaToday)
59% of recruiters are investing more in employer branding.
A whopping 72% of global recruiters agree that employer brand significantly impacts their hiring, and yet, employer brand stats show only 55% of them have a proactive strategy on the matter. Data also reveals that 39% of SMBs believe that in the years to come, employer brand will be a long-last trend to focus which is why 69% intend to extend it to their website, 61% to online professional networks, and another 47% are considering social media as their top-ranked channel for promoting their brand.
(LinkedIn)
Companies with poor employer branding spend at least 10% more on salaries.
Moreover, research found that companies with poor reputation could spend up to $7.6 million in additional wages just to compensate for it. Employer branding statistics reveal almost 50% of job seekers would not even consider taking a job with a company that exhibits negative employer brand factors, not even for a 10% raise. On the other end of the spectrum, 28% of employees would consider joining a company despite the fact that it has a bad employer reputation.
(Harward Business Review)
Less than 60% of employers say they have a brand strategy in place.
In a candidate-governed labor market and the age of social and digital media, an employer brand strategy is vital to successfully amplifying a company's reputation. But still, brand statistics related to employers reveal that 40% do not have sufficient internal support to carry out initiatives that will boost their brand, and a total of 49% claim they lack the necessary tools to successfully enhance their brand as an employer.
(CareerArc)
Before applying for a job, 75% of candidates look at an employer's brand.
Moreover, the vast majority of job seekers say they trust what employees have to say about their working experience in a specific company 3x more than they trust the actual employer. What's more, 52% of candidates said they first check the company's site and then turn to social media to learn more about the employer.
(LinkedIn)
The Summary
Impactful branding is what makes a company successful. It makes existing customers happy to be part of it which in turn increases loyalty, sends a positive message to future employees and leaves a positive impression on everyone else who's not yet been hooked on the values and ideas your brand represents. Plus, it significantly boosts sales. And as these stats and facts about branding show, content marketing is the door to your customer funnel, while maintaining consistency with colors, fonts, voice, and messaging across all platforms is the key.
FAQs on Branding Statistics
How much can branding increase sales?
What is a good brand awareness percentage?
How does branding affect revenue?
Sources:
Hristina Nikolovska
An internship in a digital marketing agency during her freshman year of university got Tina into content. A decade later, she's utilizing her educational background in English and knack for research to craft website content on crypto and ensure readers are fully informed. When she's not investigating the crypto market and expanding her knowledge, you'll find her randomly roaming cities and sunny coasts all over the world.