What can I do on Atani?
This trading platform works as an aggregator, integrating over 20 crypto exchanges. Users can access different exchanges in one spot, monitor their portfolio, and trade cryptocurrency.
Currently, the trading terminal is only available as a desktop and mobile application. This is to guarantee safety and security for customers' personal data and crypto-assets. Users have the option of tracking and trading over 1500 cryptos on the platform. There are also over 9000 crypto pairs on 22 exchanges available for trading on Atani.
Atani provides a comprehensive suite of tools and features that caters to all user segments. You can get real-time price alerts, tax reports, and charting tools. Other features include:
Advanced order types available, including OCO

Real-time order books with 100ms latency

Ability to connect to multiple accounts from a single exchange

Ability to customize the trading experience.

Real-time portfolio evaluation provided in over 40+ currencies

Features to manage the portfolio and asset allocation

Technical indicators and intelligent charting tools are available
Some of the standout exchanges available on Atani are Binance, Gate.io, Kraken, and Gemini. You can trade on these 22 exchanges in real-time via Atani with minimal latency. There are no additional trading fees at the moment. However, you can enjoy exclusive and exciting discounts when you link your exchange to the trading terminal.
Atani Overview
| | |
| --- | --- |
| 💼 Provider Type: | Exchange |
| 💸 Minimum Deposit: | None |
| 💰 Trading Fees: | Varied based on exchange choice |
| 💰 Deposit Fees: | Varied based on exchange choice |
| 💰 Withdrawal Fees: | Varied based on exchange choice |
| 💰 Management Fees: | $0 |
| 🔀 Minimum trade order | None |
| ⌛ Withdrawal Timeframe: | 24 Hours |
| #️⃣ Number of Cryptocurrencies Supported: | 1500+ |
| #️⃣ Number of Crypto Pairs Supported: | 9000+ |
| 💱 Top supported Cryptocurrencies: | BTC, ETH, BNB, USDT, SOL |
| 📊 Leverage: | None |
| 📱 Native Mobile App: | Yes |
| 🖥️ Free Demo Account: | Yes |
| 🎧 Customer Support: | Email, Telegram, YouTube |
| ✅ Verification required: | AML, KYC |
| 📈 CFD Available | No |
| 📊 Software: | Website, web app, mobile app |
| ⚽ Social Trading: | No |
| ✂️ Copy Trading: | No |
| 👮‍♂️ Regulators | None |
Pros and cons of using Atani
Atani cryptocurrencies and trading options
What cryptocurrencies can you trade on Atani?
This all-in-one trading platform boasts over 1500 cryptocurrencies from more than 20 exchanges, all integrated and tradeable on its platform. There are also more than 9000 trading pairs available.
Bitcoin and Ethereum are some of the commonly traded crypto assets on Atani. They dominate the trading volume due to their popularity and ease of purchase on the platform.
Major cryptos traded on Atani.
Here are the top 10 cryptos you can currently trade on Atani.
BTC

ETH

BNB

USDT

SOL

ADA

XRP

DOT

USDC

DOGE
Atani core currency pairs
Popular trading pairs perpetually change due to market volatility, trends and news. However, the more staple trading pairs on Atani are:
ETH/USDT

BTC/USDT

BTC/USD

ADA/USDT

SHIB/USDT

MATIC/USD

MATIC/UDT

USDT/USD

SOL/USDT

DOT/USD
Other Atani trading options
Despite integrating to platforms with advanced trading options, like Binance and gate.io, Atani limits itself to buying and selling cryptocurrency.
However, it offers a variety of advanced order types depending on what exchange you use.
Can I trade with leverage on Atani?
Atani is a crypto exchange aggregator that allows its users to compare crypto prices and buy from 20+ exchanges. Users of this trading terminal cannot leverage any crypto assets despite connecting to exchanges that offer leverage options for crypto assets. For instance, Gate.io and Binance are some of the exchanges you can link on Atani and use the leverage facility to increase your exposure.
What are the spreads?
Spreads do not apply on Atani.
Fees, limits, and payment options on Atani
What are the deposit and withdrawal fees, limits, and speeds?
Fees are an important consideration for any crypto investor, regardless of their skill level. Atani promises no additional fees apart from the ones levied by your exchange of choice. For instance, those who decide to use Huobi Global should expect to pay a base rate of 0.2% only.
The trading platform also offers exclusive discounts on some of its partner exchanges. For instance, there is a 10% discount off fees on Binance, Huobi, and gate.io for varying timelines.
Deposit and withdrawal fees will therefore depend on your exchange of choice. For instance, if you decide to buy BTC using USD from Coinbase Pro, charges are levied from Coinbase Pro.
The fees will vary from exchange to exchange, with Binance perhaps offering the most cost-friendly option. There are also transaction fees, termed as maker and taker fees. Some exchanges give these fees based on a 30-day trade volume of an account or as a fixed fee. Note that some of the exchanges have a fixed rate based on different tiers. Some other fees that are not common across the 22 exchanges are service charges and commissions.
Limits will again depend on the exchange, level of verification, and the funding option. For instance, When you elect to buy BTC from Binance using a credit card, verification will be mandatory for purchases above $300.
Real-time order books on Atani take less than 100ms. Speed of transaction execution will depend on which exchange and the blockchain in question. Exchanges with high liquidity like Binance and Huobi are likely to fulfill your buy and sell orders quickly.
Deposit Methods
The 22 integrated exchanges all have different deposit methods. Let's look at some examples.
| | | |
| --- | --- | --- |
| CEX.io | Coinbase Pro | Kucoin |
| Credit and debit card | Bank Transfers | Credit and debit cards |
| Cryptocurrencies | Cryptocurrencies | Apple Pay |
| Skrill | | |
| Epay | | |
Each deposit method has separate fees. Credit cards typically have higher fees compared to other funding methods like Bank deposits. For instance, on CEX.io, expect to pay $0 when using ACH transfers and 2.99% for Visa deposits.
Each exchange will also have its maximum and minimum limits, depending on the funding option. For instance, on Coinbase Pro, wire deposits are not limited, while bank transfers(SEPA and ACH) have weekly limits.
Know your customer (KYC) verification processes largely depend on your jurisdiction. Countries such as the UK and U.S have strict anti-money laundering laws (AML), which exchanges have to comply with. Most crypto platforms institute ID verification before carrying out any deposits. Exchanges like Binance have a tiered verification structure ranging from basic to advanced. The amount you wish to deposit will determine the sought of the verification process you undergo.
Withdrawal Methods
Like deposit methods, withdrawal methods will also depend on the exchange. A majority of these exchanges will allow you to withdraw using cryptocurrencies, bank transfers, and e-wallets.
Withdrawal processing timelines are not uniform across the exchanges on Atani. For instance, Kraken withdrawals may take over 20 minutes before the transaction is processed successfully.
The minimum and maximum withdrawal limits are also pegged to a specific crypto exchange. For instance, there is a $50,000 daily withdrawal limit on Coinbase Pro. KYC is also mandatory before any withdrawals.
How much are Atani's fees and commissions?
There are no fees or commissions for using Atani currently. The platform offers all its features, including the charting and analysis tools, for free. On the other hand, Atani has negotiated some great discounts for limited periods on various exchanges once you trade using Atani.
Atani trade sizes and limits
Atani does not have any trading limits or sizes. These are instituted by individual crypto exchanges that are on the platform. For instance, Binance and Poloniex will have different trade sizes and limits. We advise that you consult your crypto exchange to find out about the trade sizes and limits.
Atani trading platform
What devices can I use Atani on?
Atani is a desktop application that has to be downloaded onto your PC device. This trading platform works on Windows, Mac OS, and Linux.
Atani also provides a mobile app for both IOS and Android. The app offers a user-friendly way to track your portfolio from the comfort of your phone. At this time, you cannot trade using the mobile app. Here are some of the app's core functionality:
Access to live charting

Access to advanced trading view tools

Follow real-time market data for over 1500 cryptos

Keep track of your crypto portfolio
Can I use Atani in any country?
Atani unleashes the power of its constituent crypto exchanges and their footprint globally. The use of an exchange on Atani will depend on whether that exchange is available in your jurisdiction. For instance, Binance serves clients from across the globe. Other exchanges like Poloniex cover more than 100 countries.
Is Atani available in my language?
There are 12 languages supported on Atani. Apart from English, these are the other top languages:
Deutsch

Italiano

Espanol

Francais
How easy is it to use Atani?
Atani cannot be used directly on a browser. Users have to download the desktop or mobile applications.
After installation, signup using basic information. The application will require you to choose your skill level from simple, advanced, and pro categories.
Before you can begin trading, you have to link your exchange with Atani. The process is straightforward, with aiding instructions along the way. However, the trading view might be intimidating for those starting out in crypto trading. The charting and analysis tools may also be complicated for beginners. The buy and sell module is easy to use. We, therefore, rank the ease of use as intermediate.
Key features
The trading platform has a basket of features that make this terminal unique. Here are the pick of the bunch:
Fiscal reporting
Atani provides a fiscal management feature that enables users to monitor all their operations to facilitate tax payment. The report can be downloaded with one click.
The integrated trading alerts system
This feature enables you to receive real-time notifications on your operating system. You can decide to receive calls, SMS, or emails that inform you of specific market behavior or price movement for certain cryptos.
..
Trading tools
Atani provides a set of tools for charting and technical analysis. These tools enable you to perform analysis before taking your next course of action. You can easily do trend analysis and technical analysis.
Security and regulation
Is Atani safe?
Atani is fully non-custodial. This means that your personal data and account data, including the API keys, crypto assets, and funds, are not stored by the platform. The desktop application is secured by military-grade AES-256 encryption.
Am I and my cryptocurrency protected?
Crypto assets are stored on the parent exchange that connects to Atani. We strongly advise you to use exchanges that are reputable and have robust security features. Look out for exchanges that offer insurance to crypto to ensure your assets are protected in case of malicious system breaches.
Is Atani regulated?
Atani only provides a unified platform with integrations and operations from different exchanges. As an aggregator, the company does not state its regulatory standing. However, the platform works with exchanges that are regulated in various jurisdictions.
Do I have to verify my account with Atani?
Privacy is at the core of this trading platform. No personal data(KYC) is collected. Signup requires an email and password only.
Extra information
Educational resources
The Atani website provides a learning hub dubbed Atani Academy. The hub tries to cover the major aspects of the platform by providing short video tutorials. The website also provides an FAQ section and a blog that explains other details in depth.
Tools and charting
Atani provides a tradeview with charting and technical analysis tools. Here is what you can do with the tools provided on the platform:
Save all your charts with no limits

Use various chart types, including bars, candles, hollow candles, Heikin Ashi, line, area, and baseline.

Utilize more than 80 technical indicators, including moving averages and Bollinger bands.

Use more than 50 intelligent tools, e.g., Elliott waves and Fibonacci.
Customer support
Atani provides support via email - support@atani.com. Alternative support channels include a Telegram channel and a Youtube channel.
How to buy and sell cryptocurrency on Atani - For exchanges
How to buy crypto on Atani
Buying crypto on Atani is not a straight forward as other exchanges. There are prerequisite steps to take, including downloading the Atani trading platform and signing up. Note that you will not be buying crypto directly on Atani but from one of the 22 exchanges integrated into the platform. Follow these steps to purchase your first crypto on Atani.
Step 1 - Sign up
Open an account in one of the exchanges listed on Atani. On the trading view, click on "Exchanges" and connect it, e.g., Binance to Atani. You will need your API keys and secret key to complete the connection.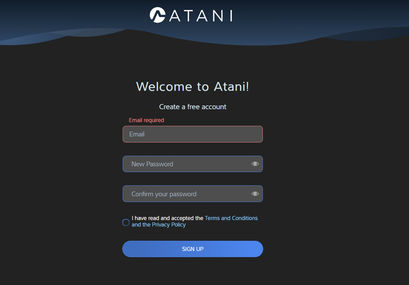 Step 2 - Make a deposit
Fund your purchase. Use fiat currency or cryptocurrency depending on provisions on your exchange of choice.
Step 3 - Select the "Trade" tab
Select the "Trade" tab and locate the buy and sell module
Step 4 - Make a purchase
To create a crypto buy order. Follow these steps:
Choose your exchange

Select a cryptocurrency pair

Choose and configure your order type, e.g., market order, limit order, and take profit market order.
Step 5
Using the funds in your account, enter the amount or number of cryptocurrencies you wish to spend.
Step 6 - Click buy
Check on your portfolio to confirm whether the trade is closed.
How to sell crypto on Atani
Selling crypto follows the same guidelines as the buying process. We will still make use of the buy and sell module.
Step 1: After login, select your exchange.
Step 2: Select the "Trade" tab and locate the buy and sell module
Step 3: Step 4: Create a crypto sell order. Follow these steps:
Select a cryptocurrency pair

Choose and configure your order type, e.g., market or limit order type.
Step 4: Check your portfolio to see if your crypto or fiat has reflected.
Alternative cryptocurrency brokers to Atani
1
Minimum Deposit
$50
Exclusive Promotion
More than 3,000 assets, including currencies, stocks, cryptocurrencies, ETFs, indices and commodities
Buy crypto, or trade cryptocurrencies via CFDs
This ad promotes virtual cryptocurrency investing within the EU (by eToro Europe Ltd. and eToro UK Ltd.) & USA (by eToro USA LLC); which is highly volatile, unregulated in most EU countries, no EU protections & not supervised by the EU regulatory framework. Investments are subject to market risk, including the loss of principal.
2
Minimum Deposit
$200
Exclusive Promotion
Variety of Crypto CFDs and Crypto Indices
In trading crypto CFDs you do not own or have any rights to the underlying assets
Spread bets and CFDs are complex instruments and come with a high risk of losing money rapidly due to leverage. 75.8% of retail investor accounts lose money when trading spread bets and CFDs with this provider. You should consider whether you understand how spread bets and CFDs work, and whether you can afford to take the high risk of losing your money.
Final Thoughts
Atani is a non-custodial trading platform that unifies 22 exchanges via API integration. It connects users directly to their exchange without intermediaries. Users get real-time market data and can execute trades seamlessly on the platform. Atani is available as a downloadable desktop application. Users do not have to provide any KYC details on signup.
The platform has some unique features ranging from tax reports to connecting multiple accounts from the same exchange. Users can trade and track more than 9000 cryptocurrencies from the 22 exchanges, including Coinbase Pro, Binance, and Huobi Global.
The buy and sell module provides an easy way to trade crypto. Get real-time price alerts to action your trades. Users have to connect to their exchange through the use of API and secret keys. Once you buy your crypto, you can manage your portfolio easily, even on the go with a mobile app.
Author Bio

Amala Pillai
Amala is custom content and news editor based in London. She is a former financial journalist based in Singapore with 7 years of experience covering a range of business and financial topics. Now she focuses on crypto and macro-economics. She has also covered feature profiles, tech, business politics and ESG— she was the Environment Editor for the Solutions Newspaper, 2016 and worked in an editorial capacity at both News corp (Dow Jones) and JBN. She also has experience as a content creator, strategist and brand editor for various financial institutions and banks.