Ethereum is the second-largest cryptocurrency in the world ranking just behind Bitcoin in terms of market capitalization.
It is by far the most utilized smart contract platform in the crypto space, ranking above other popular blockchains such as Solana, Cardano and Avalanche.
Much like Bitcoin, Ethereum currently uses a Proof-of-Work (PoW) consensus algorithm which means that mining is required to validate transactions on the network.
According to new research, Ethereum's mining profitability (measured in USD per day for one Megahash/s) has dropped by over 50% since March last year.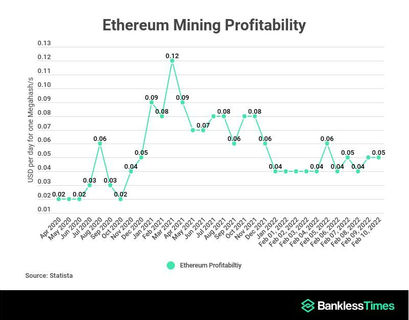 Difficulty
Profitability is mainly influenced by mining difficulty.
Difficulty is calculated by dividing the total hash rate of the network by the number of miners on the same network.
When more miners join the network, profitability decreases, mining difficulty increases and the lower returns are going to be.
This recent finding lines up with data from CoinWarz which shows that Ethereum's mining difficulty has increased significantly over the past year or so.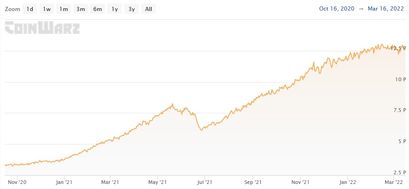 Source: CoinWarz
Other Factors That Affect Mining Profitability
While difficulty is often cited as the main influencer on profitability, there are other factors to consider:
Reward per block
Reward per block is particularly a concern on Ethereum. Currently, miners get 2 ETH along with transaction fees for each block that is mined, and transaction fees can be very high when there is a lot of movement on the network, leaving miners with a much bigger reward.
Uptime
Uptime is the amount of time the mining rig is online and mining— a vital component to getting rewards in a stable fashion without having days with zero or almost nothing mined.
Pools
A process where miners combine their hashrates to find blocks and earn rewards quickly— this is important because solo mining takes a much longer time to locate blocks— affecting mining profitability, with days where nothing could be mined at all so finding a good pool can increase profitability.
Take Away
Other factors aside, the drop in mining profitability appears to be significantly influenced by the number growing number of miners on the network (difficulty) meaning that each miner earns less. This coupled with a drop in Ethereum whales has caused Ether's value to decline— further affecting the profitability of miners.
While these are the factors that determine Ethereum's mining profitability, it's important to note that crypto mining still remains a controversial topic due to the environmental impact of the process. However, Ethereum will be phasing out Proof-of-Work mining later this year and replacing the algorithm with Proof-of-Stake (PoS) which will eliminate the need for mining processes.
Author Bio

Khashayar Abbasi
Khashayar discovered Bitcoin back in 2014 and has since spent countless hours researching the different use cases of cryptocurrencies. He has a bachelor's degree in International Relations and has been a writer in the financial services industry for nearly half a decade. In his spare time, Khashayar enjoys photography, cycling, and ice skating.