The Hottest ICOs You Need to Know About

Emma Dwyer
Last updated 30th Nov 2022
Initial Coin Offerings (ICOs) are a popular way for cryptocurrency projects to raise money and gain attention. Similar to crowdsourcing, ICOs allow the public to directly influence a project's development while giving investors a chance to make significant profits over time.
This article summarizes the most exciting ICOs; we detail what each ICO is about and what sets these projects apart from the competition.
What is an ICO?
There are various fundraising initiatives in the world of cryptocurrencies and blockchain technology.
The ICO can be considered a cryptocurrency-based initial public offering (IPO). However, this is not the most accurate comparison as there are some key differences between the two fundraising strategies. For example, an ICO is mainly used by startups to raise money.
The main advantage of ICOs is the elimination of intermediaries in the capital raising process and the establishment of direct relationships between the company and investors.
ICO vs. IPO
IPOs allow companies to raise funds through investors in exchange for company shares. For ICOs, cryptocurrency startups raise money by selling coins or tokens. In both cases, investors have confidence in the project and invest with the expectation that the asset's value will increase over time.
The main difference between an ICO and an IPO is that funding an ICO does not guarantee ownership of the underlying cryptocurrency project or company. Instead, participants in ICOs are betting that a now worthless currency will increase in value over time relative to their initial investment.
ICOs may obtain funding from risk-tolerant supporters eager to participate in a novel, exciting initiative, while more conservative investors often back IPOs.
How do ICOs Work?
ICOs are events that run for a specific period of time determined by the project team. The team chooses a date for the ICO and decides how much money they want to raise.
For this purpose, a soft cap and a hard cap often set the minimum and the maximum number of tokens for sale. As a result, the buying process usually looks like this after the ICO goes live:
Investors must first visit the project's official website to find out how to participate in the ICO.

The price of the token and the exchange currency are available on the website; two examples of "bridge currencies" are ETH and BNB.

The project team will provide a wallet address where investors can deposit money to purchase tokens.

In order to receive their ICO tokens, the investor must first deposit their investment money to the wallet address.
As the above illustrates, all that is required to participate in an ICO is a cryptocurrency wallet and some digital currency assets to make the transfer. However, this requires potential investors to have some cryptocurrencies before the ICO.
Advantages and Disadvantages
Below we have set out the pros and cons of investing in initial coin offerings:
Advantages
It is an exciting and novel way for investors to invest and save their cryptocurrency using this method.

Tokens are open to everybody.

Tokens are available worldwide.

It's possible to receive substantial financial gain.
Disadvantages
Many ICO projects have a poor success rate.

Tokens lose value and eventually all their value if the ICO project fails.

There are not enough regulatory tools for ICOs.

Many past ICOs have turned out to be scams.
How to Find the Latest ICOs
Finding the top cryptocurrency ICOs can take time and effort, especially considering how crowded the crypto industry is.
You can locate new projects on sites like CoinMarketCap, Twitter, Reddit/CryptoCurrency, CoinList, and CoinGecko. Still, you must do extensive research on each project before deciding to invest in it.
A transparent roadmap, a solid whitepaper, a reputable team, and a large social media following are all signs that you are in good hands. However, be careful with bots and spam accounts.
The Best ICOs of 2022
1. Battle Infinity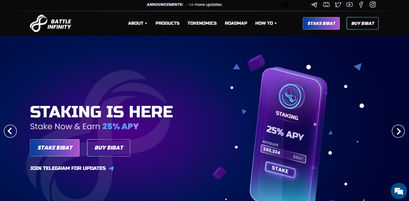 Battle Infinity may be a very attractive crypto ICO to buy after its hyper-successful IDO on PancakeSwap, where the price increased by 700% from its pre-sale valuation and by 450% after the first day of listing.
This new project aims to bring together a rich virtual world and P2P gaming, offering revenue generation and community-building opportunities.
Battle Infinity's platform consists of six elements, each offering a different use case. For example, IBAT Premier League, a blockchain and NFT-based fantasy sports league, is one component of Battle Infinity. Users can create their teams in this league and earn points based on their performance; winning teams receive incentives.
Users receive rewards in $IBAT, Battle Infinity's native token. Other features of the Battle Infinity platform include the DeFi exchange (IBAT Swap) and the integrated NFT market (IBAT Battle Market).
Battle Infinity also provides its users with virtual properties in the Metaverse that they can use as virtual billboards. From an investment perspective, $IBAT will include an inherent "anti-dumping" feature to help maintain a price floor, reducing volatility.
2. KubeCoin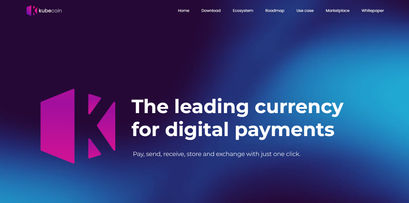 KubeCoin is a cutting-edge digital currency that aims to transform the travel and leisure sector. However, the core concept of KUBE goes beyond simply providing a new digital asset.
Most cryptocurrencies today are not accepted in stores or online. Cryptocurrencies are exchanged for fiat currencies, and the merchant accepts them as fiat currencies, but there is no technological or conceptual integration with the merchants.
With the KubePay app, users can quickly and easily pay with their KUBEs in stores, online stores, physical stores, hotels, and restaurants.
The KubeCoin project is built on Cardano and aims to create an entire crypto ecosystem consisting of numerous groundbreaking initiatives. These include the NFT platform, the proprietary wallet KubePay, and EatKube, which offers a variety of surprises that transform the entire dining experience.
The ecosystem also includes an NFT project with special NFTs. Users can gain access to exclusive events, unique offers, and other enticing rewards by collecting KubeCoin NFTs.
KubeCoin's ICO ended in June 2022.
3. Dash 2 Trade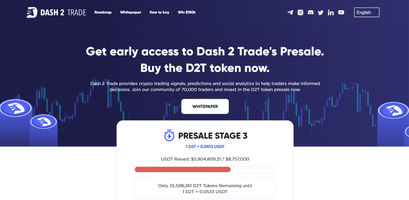 Given the significant early interest in the project and its novel protocol that will help cryptocurrency traders and investors maximize profits through various data analytics tools, Dash 2 Trade is one of the top ICOs for 2022.
The new cryptocurrency analytics and social trading platform seeks to give traders access to innovative crypto-analysis tools. Dash 2 Trade includes classic features such as technical analysis and strategy backtesting, as well as innovative features such as on-chain analytics and token presale analysis.
Investors must own the project's native D2T token to use all Dash 2 Trade platform features.
The D2T cryptocurrency offers long-term potential for crypto investors who are less interested in active trading.
Since traders need to spend D2T tokens every month to access the premium features of Dash 2 Trade, the demand for this cryptocurrency token, which has a fixed amount of 1 billion tokens, is expected to remain stable. However, demand could also increase as more traders use Dash 2 Trade's automated trading API and strategy backtesting.
Dash 2 Trade's presale has raised more than $2.5 million just one week after launch, and the ICO is still ongoing at the time of writing.
4. Tamadoge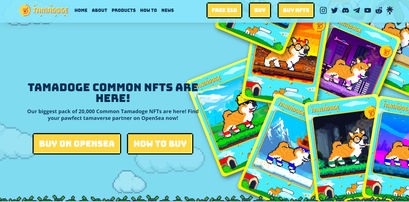 Although TAMA had its launch during a bear market, its price grew from $0.01 to $0.03 during the presale. Before listing on OKX, it rose to an all-time high of $0.194 - a 2,000% increase from the presale price. In less than eight weeks, Tamadoge sold out its presale, raising a cool $19 million. This made it one of the top ICOs of the year.
On the Tamadoge platform, users can purchase NFTs to take care of their virtual pet dog. Additionally, the platform bases a player's rating on the progress of the user's pet. The top-ranked players will receive the biggest prizes, which they can exchange for fiat money.
The platform's native cryptocurrency token, TAMA, is built on the Ethereum blockchain and powers the system. Users can earn TAMA by playing and interacting with their Tamadoge NFT, and they can use the native tokens to buy items on the network.
When people buy something in the Tamadoge network online shop, the platform takes 5% of the issued TAMA and burns it to stop the token price drop. Also, a small portion of the fee goes towards marketing and developing the platform, with the rest going toward the system's prize pool.
5. NEAR Protocol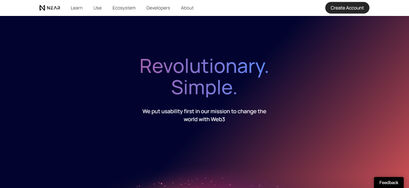 The NEAR protocol network has 18 million wallets and boasts 400,000 transfers with finality of 2.4 seconds and an astounding $0.01 fee per transfer. NEAR completes transactions five times faster than Ethereum but has three times less daily transaction volume.
Sharding is at the heart of the NEAR coding architecture. Before the advent of blockchain technology, sharding was used to improve the performance of computer networks. Sharding divides the blockchain into parts called shards, each of which manages only a small portion of the network's total load.
Phase 2 ended in Q3 2022, which resulted in a reduction in hardware validator requirements. Since Phase 2, the NEAR Protocol has a fully split mainnet, while Ethereum expects this in late 2023 at the earliest.
The next step in Phase 3 is to make the sharding dynamic by splitting and merging shards based on the load on the network. Phase 3 should be complete by the end of 2022.
While Ethereum may be years away, NEAR is on track to full-scale for widespread DeFi usage.
The NEAR Protocol ICO closed in August 2020.
6. Kryptview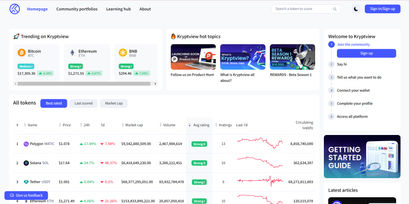 Kryptview is the first research-to-earn platform. Contributors to the platform can easily publish organized rankings on blockchain tokens or read scores posted by other community members. The KVT is the system's utility token. The token serves the following use cases:
Users must lock a set number of KVTs to access the platform as contributors. This raises the barrier to entry and deters bots and promoters.

Reward: On the site, contributors receive weekly rewards for actions such as uploading research, reviewing research, or sharing portfolio models.
The finite and limited circulation amount of KVT is set at 300,000,000 tokens. In the following phases, the remaining 23.3% will be on sale.
All community members have the opportunity to share their research on Kryptview and earn money by doing so. It's a one-stop shop that allows users to research tokens, keep track of their portfolios, and reward themselves by sharing their analysis with the community.
The platform offers contributors the opportunity to earn money from their endless hours on Telegram groups and project websites while gaining access to the combined expertise of other avid cryptocurrency enthusiasts to find hidden treasures.
The Kryptview ICO will occur at the end of the first quarter of 2023.
7. O-MEE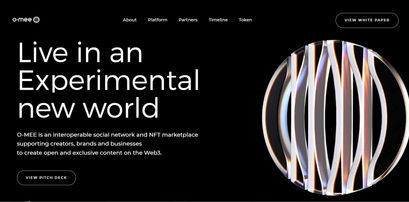 O-MEE facilitates the creator economy. It is a social network and NFT marketplace that enables brands, businesses, and consumers to provide free and exclusive content. It also acts as a hub where artists can connect and collaborate.
Through an interoperable social network, users of the O-MEE platform can generate, acquire and trade non-fungible tokens (NFTs) in exchange for physical and digital products. O-MEE supports the web3 journey by offering a subscription-based framework and gated social spaces using NFT technology.
By reducing costs, regaining user control over algorithms, and ensuring creators are fairly rewarded, O-MEE can contribute to developing social and cultural community value.
Additionally, users can easily generate or "mint" NFTs on this platform, regardless of skill level, making it highly accessible.
Furthermore, individuals can create NFTs for their social profiles using their lazy minting or post-creation method without offering them for sale on the open market. This attribute drives platform activity and acts as the cornerstone of content development.
The O-MEE ICO will take place at the end of 2022.
8. IMPT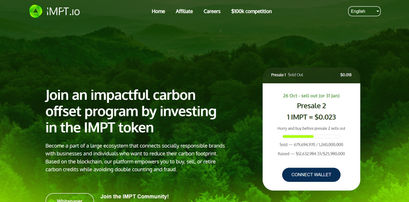 ​A new cryptocurrency initiative called IMPT is attempting to tackle what may be the biggest problem of the 21st century: climate change. The premise is to enable people and businesses to reduce their carbon emissions by acquiring or purchasing carbon credits.
Platform users can put the credits towards a range of already audited and certified eco-friendly projects to combat the climate crisis. In addition, the token can be sold, held, or retired, for which the user who retires will receive a special NFT and points toward a scoreboard that is currently being built.
To help reduce the carbon footprint and fight climate change, IMPT will track the results of people and businesses. The project has already reached agreements with over 10,000 retail stores and companies, some of which are world leaders such as Microsoft and Amazon.
During the first part of the presale, more than $5 million was raised in just two weeks. IMPT appears to be one of the top cryptocurrency ICOs of 2022, thanks to its practical use case and solid presale start.
The IMPT ICO is currently ongoing.
9. Subquery Network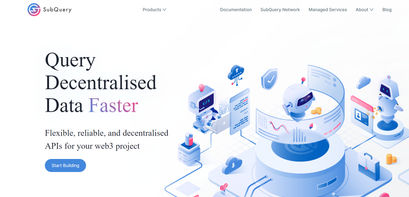 SubQuery collects and organizes data from Polkadot, Substrate, Avalanche, Algorand, and Cosmos to provide developers with well-structured data for various applications. This service sits between Layer 1 blockchains and decentralized apps (dApp), freeing developers from spending time building a unique data processing backend and allowing them to focus on their core use case and front end.
Developers can easily extract data from blockchain networks thanks to the open-source data-as-a-service functionality. In addition, SQT, the network's utility token, is provided as a reward for signing up.
There are three primary use cases for the SubQuery Network:
1. To develop a method to reward and incentivize node operators (delegators and indexers)
2. To serve as a medium of exchange on the network market
3. To enable the governance of the protocol.
The difficulty of querying large amounts of rich data will increase dramatically as new Layer 1 networks take off and attract users, developers and dApps. In response, Subquery Network offers a versatile, open-source platform that maximizes the value of data.
SubQuery has provided walkthrough guides, help documents, and other materials to further support the community using its platform. In addition, customers can unlock data for their own use cases. The group believes that each individual's wealth correlates to the success of their community.
The Subquery Network ICO is closed.
10. Koakuma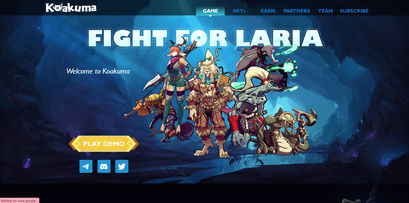 Koakuma's ICO, which closed in May 2022, was one of the most anticipated crypto games of 2022. The combat mechanics in this multiplayer online game are set in a highly detailed metaverse. Players will use specially created NFTs to compete in tournaments and complete in-game challenges. The Polygon and Binance smart chain networks form the basis of the concept. Although the game is still in its early stages, you can play the demo.
Koakuma, includes a native digital token called $KKMA, which is used for governance. Users can purchase $KKMA coins on both the primary and secondary markets, in addition to being earned by players as in-game incentives.
By leveraging the e-sports environment, Koakuma hopes to offer unique and interesting gaming experiences while expanding its user base. Players fight epic battles to secure or expand their lands. In addition, players must acquire knowledge, tools, and power to survive.
Players start as heroes and receive legendary NFTs, $KKMA, and $BOD. In addition, players can build their own special abilities, participate in seasonal empire battles, explore mysterious dungeons, and more. There are many exciting challenges along the way that will ensure continuous gameplay in the sprawling world of Laria.
11. Maxxer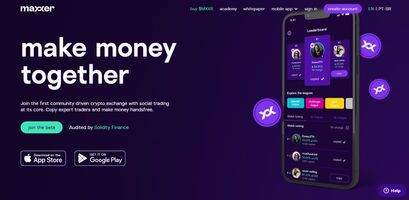 The creators of this project are creating the first decentralized crypto exchange platform powered by the community. Maxxer's social trading feature, which allows users to observe traders' behavior in the market and mimic their moves to profit, is its main attraction.
For individuals who are unsure of where to start when it comes to trading, Maxxer opens the door. Innovative engagement elements like copy trading and Social Trading League allow users to find the best performing trader to copy their moves on the platform that is designed for beginners in mind.
Anyone visiting the site can review and follow the profiles of experienced, educated traders and mimic their trades through social trading. On this basis, users can continue to trade cryptocurrencies while maintaining control of their money and learning with the community.
It is entirely open and community-oriented, with obvious major benefits for beginners and perks for experts too.
By developing a variety of compelling new services and innovating old services, Maxxer differentiates itself from competing exchanges while streamlining many of its core operations. Both beginners and experts benefit from a friendlier and far better user experience as a result.
The Maxxer ICO is now closed.
12. My Freedom Coin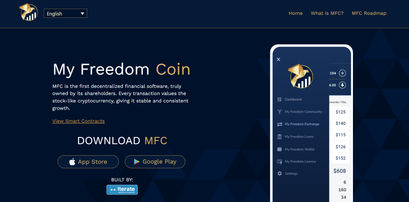 We included My Freedom Coin (MFC) on our list for several reasons. First, MFC is a DeFi platform originally created as a cryptocurrency exchange service for trading and a wallet for storing your assets.
Second, according to the creators, it is a cryptocurrency that is resistant to crashes. This innovative feature was added to reduce the impact of market volatility on platform users.
Finally, the ability to borrow BUSD (a fiat-backed stablecoin issued by Binance and Paxos) makes the project enticing for investors as well.
This unique cryptocurrency rewards users for using its network. All peer-to-peer MFC transactions are subject to a small fee that helps reduce supply and increase reserve prices. This benefits all token holders as it helps create a more stable and valuable asset.
Users can connect directly to each other through a variety of transactions, such as exchange fees or loan interest. This allows users to set their level of appreciation and customize their software experience.
MFC's ICO details are to be announced.
13. Bioviratech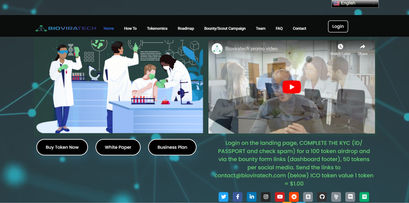 During the COVID-19 epidemic, Bioviratech was founded to support the fair delivery of vaccines. If there is another pandemic in the future, the platform will work with pharmaceutical companies to secure 360 million vaccine contracts.
In this way, Bioviratech offers the possibility to circumvent restrictions imposed by laws and regulations on the distribution of vaccines. In addition, the holders of Bioviratech USD (BVTD) tokens will be able to use them to buy vaccines.
Note, however, that acquiring this coin does not include the price of vaccination. These tokens are made available to users by the platform via crypto airdrops, but users can also purchase the tokens on exchanges.
The ICO will take place on November 1st, 2022.
14. BlaBlaGame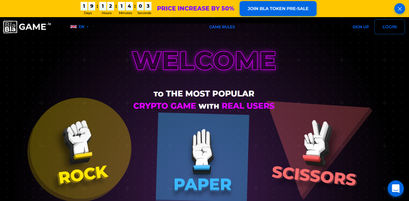 With blockchain technology, BlaBlaGame transformed the classic Rock-Paper-Scissors game into a game allowing players to regularly win bonuses and awards.
The same rules apply; the players compete against each other with the three-game pieces of rock, paper, and scissors. Paper defeats rock, scissors defeats paper, and rock defeats scissors. You can either start your own game or join someone else's. Once you become a member of the BlaBlaGame community, you will be able to benefit from all the features of the platform, get incentives, etc.
You will also get benefits for inviting new players to the game. It works that every time you use these tokens to play the game, you have to pay a fee of 2.2%. The system distributes these fees to the prize pools from which you receive rewards as you play.
BlaBlaGame features
• The amount of cashback you receive is based on your system rating.
• The referral game boosts incentives for referrals at higher levels.
• Unrestricted entry to the Telegram VIP Club.
• Members of the BlaBlaGame community get access to premium video tutorials.
• Outstanding customer care.
BlaBlaGame's ICO is ongoing and will end on January 1st, 2023.
15. Pixel Hub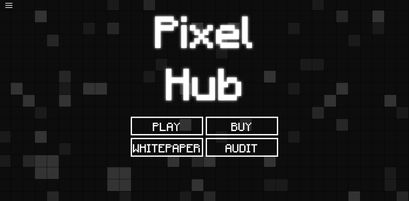 Pixel Hub is one of the top NFT game choices for fans of an arcade-style UI. Both desktop and mobile users can access the platform built on the Binance Smart Chain network. As of this writing, it offers more than 20 different games.
You can enjoy these classic arcade-style games again, along with some fresh and innovative titles, while playing them and earning free cryptocurrency. The controls are optimized for PC and mobile devices, and gamepad support is on the way.
The Pixel Hub Token (PHT) is a "reflection" token, meaning that 3% of every transaction is distributed among its users.
The play-to-earn feature adds an extra incentive by putting 3% of each PHT transaction into a fund, which is then awarded to players as an in-game prize. If these benefits are not enough, players can also participate in games against other players by putting PHT tokens in a pot.
The top 3 winners will get prizes and a portion, and some tokens will be burned, making this a deflationary token. As a result, the circulating supply will decrease over time as new tokens cannot be created, and tokens are burned during each tournament, increasing the token's price for holders.
The Pixel Hub ICO is now closed.
16. VisaMetaFi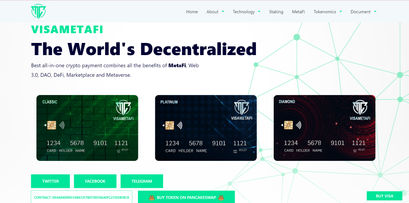 ​A decentralized cryptocurrency payment system is available through VisaMetaFi and is compatible with both online merchants and blockchain-based platforms. Web3, DeFi, DAO, Metaverse, and MetaFi are all included. The MetaFi Visa card allows users to make payments in both the physical and virtual worlds.
People can send stablecoins anywhere in the world with VisaMetaFi without paying transaction fees. Additionally, since VisaMetaFi handles everything, there is no need to exchange virtual currencies or convert them to fiat to make a payment. The company has business relationships with numerous merchants.
The platform saves users from switching between blockchains, services, and apps for cryptocurrency and fiat money transfers and payments. Instead, the customer can send and receive payments anytime, anywhere. The tool also allows you to interact with stablecoins without any restrictions.
Finally, a card that supports cryptocurrencies helps avoid unnecessary fees and commissions and the complexities of immersing yourself in Defi and metaverses.
The ICO is now closed.
17. Lixiana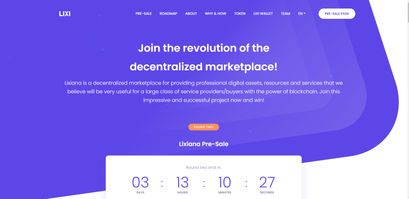 Early in 2022, Lixiana was founded to create a decentralized marketplace for digital goods, resources, and services. The goal of the Lixiana (LIXI) token is to develop another cryptocurrency token for a decentralized marketplace that offers professional digital assets, resources, and services.
This will be extremely beneficial for a wide range of service providers and customers. The native currency of the Lixiana Coin marketplace will be the LIXI token and will be used to pay for digital assets and services. This market is powered by the Lixi digital coin, which Lixiana invented. Lixiana users accept the Lixi token as a means of payment for goods and services.
Lixiana provides a cryptocurrency wallet for storing Bitcoin, Ethereum, Binance Coins, and Lixi tokens. The wallet also serves as a platform for digital trading. In addition, Lixiana wallet users are entitled to weekly bonuses in the form of Lixi tokens.
BNB tokens can be used to exchange for Lixi currencies. The required transaction minimum is 0.01 BNB. Users can buy BNB tokens from a licensed broker like eToro to get started.
The Lixiana ICO is now closed.
18. Fusotao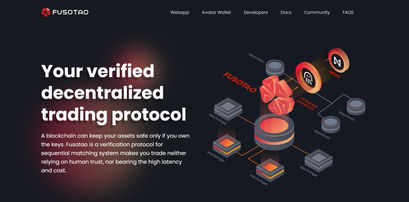 Fusotao's ICO took place in July 2022. The protocol is a chain of applications that stores user assets and leverages off-chain exchange services to confirm transactions match. It uses order books as its foundation and does not charge transaction fees for gas.
This platform allows developers and matchers to register and receive incentives for their work. TAO tokens are used as incentive currency. In addition, TAO currency holders can stake their coins on Fusotao to earn additional prizes.
Notable benefits of using Fusotao include:
There are 0 gas fee transactions

The platform is order book based.

It offers the same trading experience that a centralized exchange community can share.

Fusotao. Assets are always under the control of the user.
19. Juniverse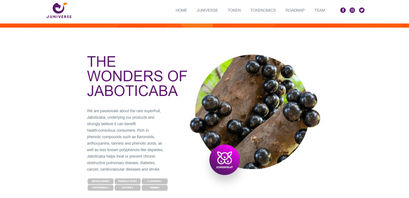 Juniverse is one of the many new startups developing innovative ways to profit from cryptocurrencies. It intends to spread awareness of the benefits of superfruits through developing culinary products, medicines, and a network of health clubs across Asia.
It has also released a health app to raise awareness of its products. Interestingly, the program includes gamified health-related tasks, and users can earn Juniverse tokens for completing them.
The Juniverse app will also replace more traditional health tools, for example, those that monitor steps and calorie intake. Instead, the Juniverse token is used to compensate users for their efforts while tracking their data.
There are other uses for the Juniverse digital token in this ecosystem. For example, users can stake their tokens to earn a portion of the network's transaction fees and sales proceeds.
The health app will be available by 2023 with a sophisticated set of features at launch, including games, staking capabilities, and a fully-functional marketplace. The app's features will be further enhanced in 2023 to include a health club, with special membership opportunities made available to individuals who stake their tokens.
ICO details for Juniverse are to be announced.
20. Cyberium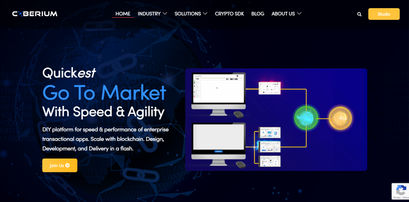 The project is characterized by the fact that it adopts a user-oriented approach. The platform uses a play-and-earn gaming system instead of a traditional P2E mechanism, which improves the user experience. In addition, Cyberium has implemented a dual token economy for its network. Its primary exchange entity, ESPN, is used as a governance token and is rarely awarded for in-game achievements.
A BEP-20 utility token called ESPN was created on the Binance Smart Chain, which means users can buy ESPN with BNB currencies. For example, users can buy BNB tokens from a reputable online broker like eToro and then invest in ESPN.
BREAK is Cyberium's second native digital token. This is the main currency in the game and is given to players as a prize for completing tasks.
Cyberium's ICO took place earlier this year.
BREAK can also be used to buy NFTs in the Cyberium Market. Additionally, it is possible to stake both the BREAK and ESPN tokens on Cyberium for additional benefits.
21. Goya Chain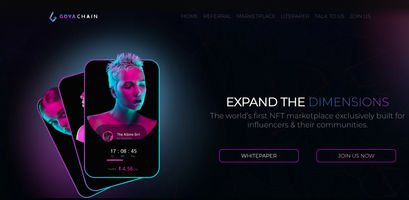 It's hard not to notice how influencer marketing has grown in recent years, and the makers of Goya Chain creators intend to take advantage of this trend.
Goya Chain will allow influencers to create their own NFTs and build distinctive connections with their audience. The platform bills itself as the first NFT marketplace created solely for influencers and their networks.
The GOYA utility token supports the protocol. Users interested in developing an NFT can contact Goya Chain and complete a verification process. Then they can elaborate on the layout of their NFT collection and the type of content they plan to make available to their audience.
In other words, Goya Chain will assist the user in developing and launching their own exclusive NFT line.
The Goya Chain ICO is closed.
22. IguVerse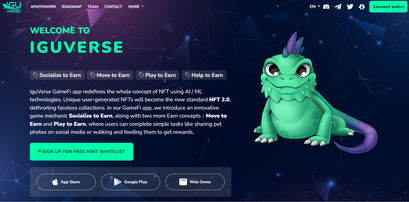 ​IguVerse is a new addition to our list of the best ICO coins for 2022. It has strong potential to become very popular with pet owners, although anyone can use the platform.
To take part, users must either purchase a new non-fungible token or convert an image of their pet into an NFT. IguVerse has the same move-to-earn mechanics as FITN. However, it also includes additional features like play-to-earn and socializing to earn into a single app.
The program has a number of challenges built in, and IguVerse users can win rewards by participating in them. IguVerse gives rewards in the form of IGUP tokens. These tokens can be exchanged for other cryptocurrencies or used to upgrade the NFT collection.
The ICO for IguVerse ended in July 2022.
23. Your Open Metaverse
​A platform called Your Open Metaverse (YOM) aims to enable designers, businesses, and artists to produce content for the metaverse. The initiative is still in its infancy but has a clearly planned roadmap to help investors understand its goals and milestones. YOM will allow users to construct their own metaspaces, events, and goods. In addition, users can use tokenized assets like NFTs to monetize their creations.
Furthermore, users have the opportunity to buy special NFTs, invite friends and participate in events in the virtual world.
The YOM coin will be the fuel that powers this ecosystem. These digital tokens are used for all transactions, including NFT purchases. In addition, the platform will also offer play-to-earn games that offer the YOM token as a reward.
The YOM ICO closed earlier this year.
24. WeSendit (WSI)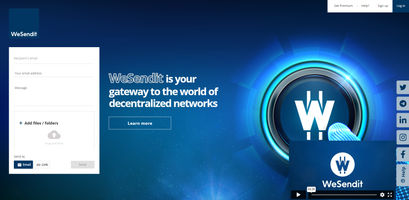 WeSendit is a brand-new cryptocurrency that allows users to exchange large files safely and conveniently. Users can transfer files up to 2 GB to any email address for free with this Swiss file transfer service.
The platform uses web3 technology to transfer data across borders while providing a secure environment to prevent data sharing and advertising without the consent of the source. More than 3.5 million users in 150 countries are currently using WeSendit.
The decentralization of file-sharing functionalities is currently being developed. Data management can be made anonymous for premium users. The network compensates users with WSI tokens from the activity pool for sending data, which is one of the best aspects of using this service.
Additionally, WeSendit will introduce its staking program after the public launch. Investors have the opportunity to earn up to 200% annual percentage return (APR) through the staking program.
The WeSendIt ICO is now closed.
25. Byepix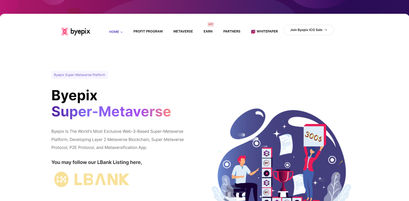 Byepix is one of the most promising ongoing ICOs in 2022 that sets itself apart from many other crypto companies. The majority of blockchain technologies, including GameFi, Play to Earn, Virtual Life, Metalands, DAO, NFT, and SocialFi, are available on this all-in-one platform.
The platform's utilization of Web3.0 technology is responsible for its security, effectiveness, and decentralization. It offers answers for B2B, B2C, SaaS, and P2P business models.
The platform gives users access to a number of areas, including the most lucrative P2E game, Gems Hunter, virtual territories where players can buy, create or sell parts of the Metaverse, and an NFT showroom featuring digital artifacts, collections, and music.
Byepix offers users the chance to earn EPIX tokens by playing games, introducing friends, or assisting Byepix with straightforward tasks.
26. Hedera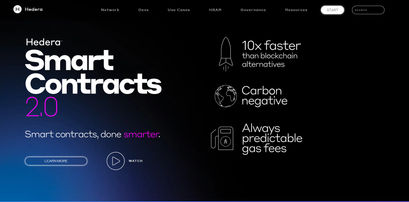 Hedera is a powerful blockchain platform enabling individuals and companies to build cutting-edge applications. It is a multipurpose network that offers a range of use cases, including smart contracts and a token service.
To create decentralized apps and protocols, users can create, configure and manage NFTs and run Solidity smart contracts. The Hedera Consensus Service (HCS), a consensus-building tool, is part of HBAR, the platform's native token. Therefore, it is required for users to take full advantage of Hedera's network.
This cryptocurrency consumes minimal energy and is used to protect networks from malicious attacks and pay transaction fees.
When HBAR starts trading on Coinbase, it could become one of the top cryptocurrency ICOs. The ICO details are to be announced.
27. Oryen Network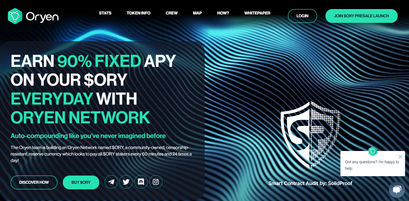 One of the first DeFi platforms to offer investors fully automated staking and compounding is Oryen (ORY). The auto-staking platform caused a stir in the DeFi community shortly after the presale began, raising more than $200,000 quickly.
Based on the "Buy, Hold, Earn" philosophy, the fully automated staking method makes staking easier than ever. This feature is one of the biggest drivers behind the growing excitement around Oryen.
The Oryen Autostaking Technic (OAT) requires holders to protect their tokens in their wallets in exchange for fully automated payouts. In addition, the platform guarantees a daily ROI of 0.177%, giving an annual interest rate of 90%.
Moreover, Oryen has the fastest auto-staking system in cryptocurrency, as it distributes rebasing rewards every 60 minutes or 24 times a day. However, a risk-free wallet and treasury will be maintained to cover periods of low volume and continue to generate yield payouts to ORY holders to protect the platform and promote sustainability.
The Oryen ICO is currently ongoing and will close on December 28 2022.
28. SharkRace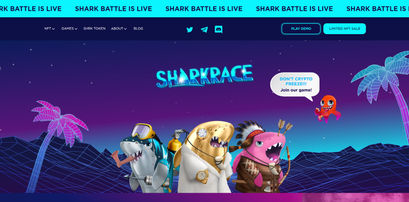 SharkRace is a global two-in-one initiative that combines a playable NFT game with premium NFT art to bring consumers the greatest enjoyment and utility.
The 20,001-piece NFT Sharks generative collection was created by prominent Cannes Lions-winning illustrators who have worked with leading companies like Disney. The 3D collection, built on the BSC blockchain and featuring over 1000 hand-drawn qualities, guarantees that every NFT Shark owner has a unique experience with their artwork.
NFT Sharks owners can access the Rarity Upgrade Creative platform, where they can customize a higher-tier NFT asset and showcase their artistic talents.
Every NFT Shark buyer participates in the SharkRace and receives benefits such as:
- Rarity upgrade platform access and token project grants (SharkCoins)
- Lifetime royalties, staking benefits, and voting rights
- A free game pack with a mystery Game box includes three different NFT meta sharks.
SharkRace offers two full-featured games that boast excellent monetization strategies, top-notch graphics, superb gameplay design, and fun customization options. The three basic variants of the special gaming NFT meta sharks can be upgraded in skills and features on the gaming platform, which also acts as a project marketplace.
SharkCoin (SHRK), the company's native currency, can be used for all types of transactions, including purchasing NFTs, rarity upgrades, in-game purchases, marketplace transactions, and stakes.
Dates for the SharkRack ICO are to be announced.
29. Tetrix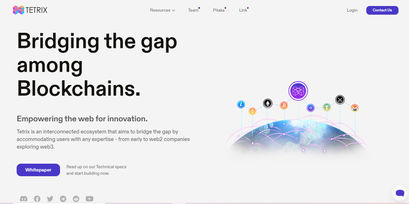 ​A new cryptocurrency called Tetrix Token (XTR) was developed specifically for augmented reality platforms. The Tetrix coin runs the TRC20 protocol of the TRON network. A daily volume of around $10 million from more than 4,000 daily active users is said to be supported by the platform.
The social component of Tetrix connects traders and early adopters. The Tetrix token makes transfers fast and secure. The new cryptocurrency will leverage TRON's concept of a decentralized internet, making TRON the top platform for building blockchain applications.
To offer its customers an optimal user experience, XTR leverages TRON's scalability and high throughput. An all-in-one DEX wallet is also one of the upcoming offers. The XTR team consists of eleven people. In addition, the new Tetrix ICO project was funded by the TRON Arcade Fund.
The Tetrix ICO is currently ongoing.
Best Crypto ICOs – Conclusion
There is no denying that ICOs offer investors and businesses several advantages. This is an easy way to get compensated in exchange for giving investors access to exclusive privileges. However, before investing in an ICO, you should conduct adequate study and inquiry to lower the risk.
Thoroughly investigate the company's history, performance, and other factors. You can earn a fantastic return on your ICO investment if you do your due diligence.
We hope that you found the above helpful and feel more informed when it comes to choosing the next ICO to invest in.

Emma Dwyer
Emma is a law graduate with seven years of experience working in financial services. She has been writing in the cryptocurrency and blockchain tech space for two years now. Recently she worked as a Managing Editor and Head of Content for different crypto publications.