Astonishing Fintech Statistics You Need to Know in 2023

Hristina Nikolovska
Last updated 16th Feb 2023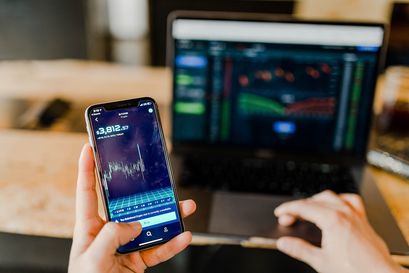 Fintech is an umbrella term that describes all the technological advancements that aim to improve and automate the use and delivery of financial services. This includes everything from mobile applications to blockchains and cryptocurrencies. Even though the term was first used in the early 90s, it took almost three decades until the fintech industry finally found its place in the world. Nowadays, it is an industry on the rise that attracts nearly every investor's attention. Read on to discover the most astounding fintech statistics that will prepare you for the financial services of the future.
10 Key Fintech Statistics to Know in 2023
The fintech market value reached $112.5 billion in 2021.

Three of the top five fintech companies are based in the USA.

There are 40 blockchain-based fintech unicorns in 2023.

There were 295 million crypto users at the end of 2021.

The adoption rate of fintech among US consumers reached 88% in 2021.

Payment apps are the most popular fintech services used by 70% of users.

95% of millennials in the US use fintech services.

The global adoption rate of fintech is 64%.

$1.16 trillion of US assets are managed by robo-advisors.

78% of the US population prefers digital banking rather than going to the bank.
Fintech Market Statistics
The fintech market size in 2021 was $112.5 billion.
With 37.5%, the USA is the largest shareholder in the market. There are 10,755 fintech companies in the US, more than in Europe, the Middle East, and Africa combined. In addition, the USA is home to Visa, the most prominent fintech company in the world.
(Vantage Market Research, Statista, Companies Market Cap)
The estimated market size of the fintech industry for 2028 is $332.5 billion.
The experts predict a bright future for the industry, with the Asia Pacific region expected to be the fastest growing in the next six years. Additionally, fintech growth projections forecast a CAGR of 19.80% for this period.
(Vantage Market Research)
Three of the top five fintech companies are based in the USA.
Visa, Mastercard, and Intuit are three of the most sizeable fintech companies in the world, with market capitalizations of over $100 billion. The remaining two companies in the top five, Ant Financial and Tencent, are based in China.
(Courses CFTE Education)
Digital payments are the largest segment of the fintech market, with an estimated transaction value of $8.488 trillion in 2022.
The forecasts predict considerable growth in all segments of the fintech landscape. The transaction value of neobanking is expected to grow to $3.375 trillion and digital investments to $2.042 trillion. Even smaller segments like alternative lending have growth projections, and their value is expected to reach $361.30 billion before the end of the year.
(Statista)
The AI fintech market value stood at $10.1 billion at the end of 2021.
The market reached $11.76 billion in 2022. Due to the increased demand for the technology, long-term forecasts predict the AI fintech market to reach $54 billion in 2032 with a CAGR of 16.5%
(Future Market Insights)
Crypto startups received $7 billion in venture capital funds in the first quarter of 2022 alone.
No other fintech segment received such funding, making the crypto sector the fastest growing and most invested in segment of fintech.
(Deal Room)
Crypto Fintech Statistics
Coinbase is the leading blockchain company with a market cap of $52.4 billion.
In late 2021, the company reported a revenue of $5.9 billion and a net income of 3 billion for the past 12 months. Besides Coinbase, the top five companies by earned revenue for 2021 include Monex Group Inc with $936.8 million, Bit Mining Ltd with $450.1 million, Canaan Inc with $438.7 million, and Voyager Digital Ltd with $254.6 million.
(Investopedia)
There are 40 blockchain fintech unicorns in 2023.
In business, the term unicorn is used for privately owned companies that are worth over $1 billion. Currently, there are 40 predominantly crypto companies that match these criteria and offer financial services, including Binance, Coinbase, FTX Exchange, Ripple, Bullish, etc.
(Fintech Labs)
There are more than 500 cryptocurrency exchanges online as of 2023.
At the moment of writing, there are exactly 504, though new ones can pop up at any minute. Binance is undoubtedly the biggest crypto exchange, with a trading volume of $10,435,293,567 in the last 24 hours of writing. Apart from trading, fintech cryptocurrency platforms like Binance allow users to lend, borrow, and earn passive income. Maybe that can explain why the platform gets 22,612,788 weekly visits.
(Coin Market Cap)
The total number of unique blockchain wallets created is 83,329 million.
The first blockchain wallet was created in November 2011, and since then, the number of blockchain wallet users is steadily increasing every day. For comparison, on the last day of 2021, the number of blockchain wallets issued was 80,223 million.
(Blockchain)
There were 295 million crypto users at the end of 2021.
According to fintech trends and crypto adoption rates, the number of crypto users had increased by 178% from January 2021, when there were 106 million crypto users. As of Q1 2023 there are over 420 million crypto users.
(Crypto)
76% of financial service experts believe digital assets will become a strong alternative to fiat currency in the next five to ten years.
If we only consider the answers of senior executives in the financial sector, this percentage becomes even more significant, at 94%. One of the most interesting findings of a recent survey on fintech research is that 100% of the seniors agree that digital assets will be very or at least somewhat important to their industry.
(Deloitte)
81 out of the top 100 public companies in the world make use of blockchain technology.
Big names like Microsoft, Alphabet, Amazon, Samsung, NVidia, PayPal, Oracle, and Toyota can be found on this list. 65 of these companies actively develop new blockchain solutions, while 16 are still in the research phase. Their favourite DLT is Hyperledger Fabric, used by 26%, Ethereum is used by 18%, and Quorum is used by 11% of them.
(Forkast)
Adoption Rate of Fintech
The adoption rate of fintech among US consumers reached 88% in 2021.
That's a 52% year-over-year surge compared to 2020, when only 58% of US consumers used fintech services to manage their finances. With such a mass adoption rate, fintech is now more widely adopted than video streaming services and social media platforms.
(Plaid)
93% of fintech users agree that the technology saves them time.
Additionally, 82% of users say that fintech allows them to track their finances more efficiently, and 81% claim it gives them better control of their finances. Benefits like these could explain the rapid fintech growth and adoption rate among users.
(Plaid)
Payment apps are the most popular fintech services used by 70% of users.
53% of fintech users pay their bills through the websites of their banks, 41% use fintech programs to file their taxes, and 31% use online-only banking services. Investment and budgeting tools are used by smaller portions of users, 29% and 17%, respectively. There is also room for growth for payroll advance services, used by 16%, and lending services, used by 14% of users.
(Plaid)
95% of millennials in the US use fintech services.
Coupled with the fact that 87% of the Gen Z population has adopted it, the future of fintech is in safe hands. However, the technology has high adoption rates among older generations as well. 89% of Gen X Americans and 79% of Baby Boomers use fintech. Moreover, both genders equally adopt it, as 89% of men and 88% of women use fintech services in the US.
(Plaid)
Hispanics are the ethnicity with the highest adoption rate of fintech, with 96%.
All ethnicities generally accept fintech, as 92% of Asians and 88% of White people use fintech services. The adoption rate of fintech among Black people is the lowest, at 81%, though it is considerably higher than the one recorded in 2020. The trends in fintech adoption show an increase of at least 22% among all ethnicities since that year.
(Plaid)
The average Gen Z American uses 4.6 fintech apps on their phone.
The stats show a correlation between the consumer's age and how open they are to trying out new fintech services, as younger people use considerably more fintech apps. Millennials use 4.3 fintech apps, on average, while Gen X users only use 3.4. Baby Boomers are not so open to exploring new fintech services and stick to what they know, using only 2.6 apps on average.
(Plaid)
The global adoption rate of fintech is 64%.
The most recent fintech industry report shows that 96% of the global consumer population has heard of at least one money transfer or payment fintech service, even if they haven't started using it yet.
(EY)
General Fintech Statistics
29% of all payments in the US were made using a debit card in 2021.
The above figure is just 1% more than the usage of credit cards, which was 28%. Cash is in third place, used for 20% of the payments. Another 11% were done with ACH, and 3% through mobile payment apps.
(FRBSF)
With 43.9% of the mobile fintech market share, Apple Pay is the most popular mobile payment app in the US.
Surprisingly, Starbucks is in second place with 31.2% and ahead of Google Pay and Samsung Pay, which hold 25% and 16.3% of the market, respectively. Among the most popular apps that don't support contactless payment are Zelle, Venmo, and Square.
(Business of Apps)
Enabling cryptocurrency payments is a high priority for 85% of US businesses.
Improving customer experience is the primary motivation for 48% of the businesses that want to adopt crypto payments. The fintech industry report from 2021 also reveals that 26% of the companies have already begun integrating cryptocurrencies, while 39% plan to do it within the following year.
(Deloitte)
$1.16 trillion of US assets are managed by robo-advisors.
While reports from 2020 suggest that only 8% of American households make use of such services, the latest projections reveal that the number of robo-advisor users should soar to 16.769 million by 2026. By that time, the assets managed by AI are expected to increase to $1.99 trillion with a CAGR of 14.3%.
(FT, Statista)
78% of the US population prefers digital banking rather than going to the bank.
Fintech statistics from 2022 show that 30% of Americans use their banking apps to transfer funds, make mobile check deposits, and check their balances and statements. In addition, 22% use the apps to pay their bills, and 9% use them to make peer-to-peer payments. Only 8% use the apps to find the closest ATM, and even fewer, 7%, make use of budgeting and tracking tools. 23% don't use banking apps at all, and 4% of Americans do not have a bank account.
(Forbes)
FAQs on Fintech Statistics
How many fintech companies are there?
What is the largest fintech company?
How fast is fintech growing?
Is fintech the fastest growing industry?
Conclusion
Compared to traditional banking, the fintech industry is still new and has plenty of room to grow. However, it attracts the attention of plenty of investors and steadily increases its market size every year. As fintech stats reveal, not all segments of the industry are equally adopted by consumers. Credit and debit cards remain the most widely used fintech services, pushing cash payments out of the equation. Mobile payments and online banking are becoming more and more prominent, while blockchain-built fintech services are still at their inception stage.
Sources:
Hristina Nikolovska
An internship in a digital marketing agency during her freshman year of university got Tina into content. A decade later, she's utilizing her educational background in English and knack for research to craft website content on crypto and ensure readers are fully informed. When she's not investigating the crypto market and expanding her knowledge, you'll find her randomly roaming cities and sunny coasts all over the world.