How Many Cryptocurrencies Are There in 2023?

Rebekah Carter
Last updated 16th Feb 2023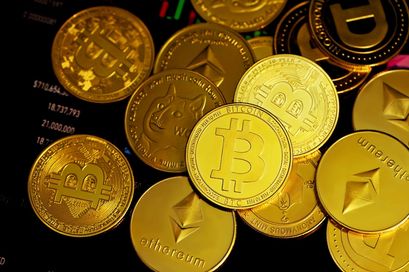 The question, "How many cryptocurrencies are there in the world today?" is growing increasingly common, at a time when the number of digital currencies is ever increasing. While you may be familiar with names like Bitcoin and Ethereum, there are actually many different types of cryptocurrency to choose from, each with their own distinct benefits.
As blockchain technology evolves, countless developers have begun taking their first steps into the crypto landscape, offering investors new ways to diversify their portfolios.
Read on to learn more about the number of crypto products on sale today.
How Many Cryptocurrencies Are There in 2023?
At the time of writing, there are 21,844 cryptocurrencies listed on CoinMarketCap. However, the total number of cryptocurrencies available is constantly changing and many of them are inactive or worthless. This is because new projects are emerging all the time, while others may fail or leave the market.
Currently, the number of available cryptocurrencies is increasing at a rapid rate. The number shifted from 18,465 in March 2022, to 19,892 only 3 months later in June 2022 and 21,844 in Q1 2023.
(CoinMarketCap)
Exploring the Number of Cryptocurrencies in 2023
As demand for alternative forms of investment continues to increase, the range of coins and "altcoins" available on the market is expanding. The rise of blockchain technology, combined with growing interest in concepts like Web 3.0 and the metaverse has prompted a new interest in cryptocurrency investment.
There were 19,892 altcoins in June 2022.
An altcoin is any coin offered in the crypto exchange separate from the most active cryptocurrency, Bitcoin. In June 2022, there were 19,068,943 Bitcoins circulating in the market, at a rate of $21,229.39 per coin.
The top ten most popular altcoins are:
Ethereum

Tether

USD Coin

BNB

Binance

Cardano

XRP

Solana

Dogecoin

Polkadot
(CoinMarketCap)
There are approximately 2,416 "dead coins" in the crypto market.
As of June 2022, at least 2,416 cryptocurrencies have failed, and are no longer trading on registered exchanges. The wide range of different cryptocurrencies available to invest in today often means many will fail to get the attention they need to thrive.
Close to 20% of the coins released in the crypto landscape appear to end up failing.
(Coinopsy)
There were 527 cryptocurrency exchanges in 2022.
Cryptocurrency exchanges are environments where people can buy and sell their coins. Currently, there are around 527 of these facilities in operation. Each exchange has its own benefits to offer, from high liquidity to low rates.
The highest rated exchange in the crypto market is currently Binance, which earns more than 22.6 million monthly visits, and has a rating of 9.9 out of 10. Binance is home to a total of 395 crypto types for users to trade.
(CoinMarketCap)
There are 121,190,800 Ethereum coins in circulation.
Ethereum is one of the top digital currencies in the world. It's defined as an altcoin, which is any cryptocurrency offering an alternative to Bitcoin. Currently, ETH stands as the most valuable altcoin, with a price of $1,128.47 per coin.
However, Tether (USDT), has the best trading volume of any altcoin at present. There are more than 70 billion USDT coins in circulation.
(CoinMarketCap)
The blockchain market size is increasing at a CAGR of 85.9%.
The accessibility and value of the blockchain are one of the main reasons we're seeing crypto numbers increase. Blockchain technology is essential to creating cryptocurrencies, and it's becoming more mainstream on a daily basis.
We're also seeing a rise in the number of crypto exchanges, which offer customers access to a wider range of coins. As the price of Bitcoin can vary greatly, many investors are looking for other blockchain currencies they can access on the ground floor.
(Grandview Research)
The cheapest cryptocurrency is BitTorrent New.
At present, the cheapest cryptocurrency on the market is BitTorrent-New, selling at a rate of $0.0000007861 per coin.
One of the cheapest, and most well-known options in 2022's cryptocurrency list is Dogecoin. This coin sells for $0.05661 per coin and is ranked as the tenth most popular coin in circulation. There are around 132.67 billion Dogecoins circulating today.
(CoinMarketCap)
To Sum Up
The number of cryptocurrencies actively circulating in the world today is constantly changing. As the world of alternative investing continues to gain more steam, and blockchain technologies evolve, we'll likely see a continued increase in the different types of crypto users can buy.
Sources:
Here Are More Crypto Guides

Rebekah Carter
Rebekah Carter is a dedicated online marketing professional and writer. With experience in the world of entrepreneurial development, business growth, communication and collaboration, and even health and fitness, Rebekah is constantly looking for ways to expand her expertise, and share her knowledge with the digital world.