How Much Bitcoin Does Tom Brady Have?

Rebekah Carter
Last updated 16th Feb 2023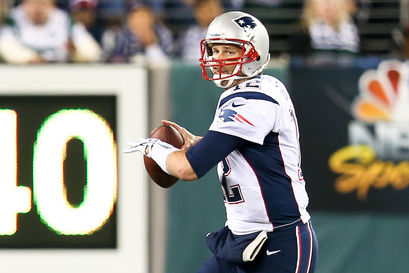 In recent years, the interest in Bitcoin and other cryptocurrencies has increased significantly among celebrities, with many major names getting involved in the market.
In 2021, a story about Tom Brady giving Bitcoin to a fan in exchange for his 600th touchdown ball led to significant speculation about the star's standing in the cryptocurrency market.
Read on for insights into what we know about Tom Brady and his Bitcoin worth.
How Much Bitcoin Does Tom Brady Have?
Most of what we know about Tom Brady's cryptocurrency standing comes from a news story reported by many major outlets in 2021. The sporting legend promised a fan 1 Bitcoin in exchange for the touchdown ball he caught during a game.
The decision to offer the fan a Bitcoin rather than fiat currency indicates that Tom Brady already has a significant wallet with, potentially, various forms of cryptocurrency. Notably, according to the NFL, the fan who caught the ball was also given two autographed jerseys from Brady, a helmet, and two season tickets, alongside his Bitcoin.
(Fox Sports)
Tom Brady Cryptocurrency Insights
Unfortunately, Tom Brady has yet to officially reveal any information about his Bitcoin holdings or any other investments he might have in cryptocurrency. However, the actions of the NFL star have left many industry analysts believing he may be relatively well-endowed from a BTC perspective.
Tom Brady gave a single Bitcoin to a fan.
Tom Brady's crypto conversations and speculations have increased significantly since the sports star gifted a single Bitcoin to a fan in exchange for his 600th touchdown ball. As of October 2022, the value of this single Bitcoin would be worth around $19,050.60.
However, in 2021, the value of Bitcoin was much higher, reaching an all-time high of around $65,000 by November 2021.
(Insider)
Tom Brady is currently worth $250 million.
Tom Brady is an American professional quarterback, spokesman, and entrepreneur. According to Celebrity Net Worth, the sports star has an approximate worth of around $250 million. Notably, this value does not consider any of Tom Brady's Bitcoin investments. At present, Brady has yet to reveal how much BTC or other coins he might own.
(Celebrity Net Worth)
Tom Brady has an Equity Stake in FTX.
Though Brady hasn't been particularly forthcoming about his Bitcoin holdings or wallets in recent years, he has been open about his support of cryptocurrency in general. Both Tom and Gisele Bundchen took an equity stake in the FTX company as part of a long-term partnership.
The couple is now serving as ambassadors for the cryptocurrency exchange. As part of the equity stake deal, Tom Brady, and Gisele both received an unspecified amount of crypto, though the type of coin was not identified.
(Bloomberg)
Tom Brady is an advocate for cryptocurrency and Bitcoin.
Another factor that has prompted interest in Tom Brady's Bitcoin worth was the sports star's decision to use the "laser eyes" visual in his Twitter profile picture. This trend has been identified by publications as a stealthy way for crypto fans to showcase their support for the industry.
In particular, the laser eye design signifies a long-standing commitment to Bitcoin based on its technical, economic, and ethical benefits.
(Wealth Simple)
The Link Between Tom Brady and Bitcoin
Ultimately, we don't know much about the amount of Bitcoin Tom Brady owns at this time or whether the celebrity has any other major investments in alternative coins. However, the speculation around the superstar has increased significantly since 2021, based on his decision to gift a BTC to a fan and his connection with the FTX exchange.
Most experts believe the decision to give a Bitcoin to a fan would have been less likely if Tom Brady had only owned a single coin in the currency at that time. Additionally, there's a good chance Brady's cryptocurrency worth has increased since he has taken the equity stake with FTX.
Sources:
Here Are More Bitcoin Guides

Rebekah Carter
Rebekah Carter is a dedicated online marketing professional and writer. With experience in the world of entrepreneurial development, business growth, communication and collaboration, and even health and fitness, Rebekah is constantly looking for ways to expand her expertise, and share her knowledge with the digital world.