A Quick Guide to the Metaverse Property Prices

Rebekah Carter
Last updated 26th Sep 2022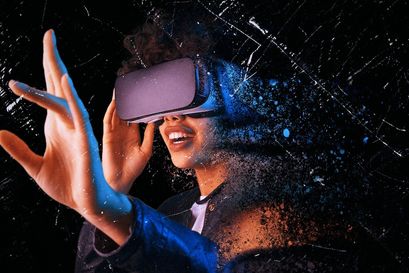 Metaverse property prices have soared and dipped drastically over the last couple of years, driven by changes in the digital landscape, and the blockchain. While the concept of metaverse real estate may seem unusual to some, many experts believe we'll soon be spending a lot more time in the digital landscape. According to leaders like Mark Zuckerberg, the metaverse environment could replace some of the physical assets we're used to completely.
In an environment rich in "digital twins" and virtual environments, many investors are exploring the opportunities of virtual real estate. A virtual property gives people a place to store and showcase their digital assets (like NFTs), as well as an environment where they can relax and create.
So, how much is a plot of land in the metaverse?
How to Buy Land in the Metaverse
Buying Metaverse land is often done with cryptocurrencies like SAND, and Ethereum. There are even special types of currencies associated with specific metaverse environments, like MANA, for Decentraland. Typically, purchases of land in the metaverse can be conducted either on a metaverse platform, or via a third-party reseller market, like opensea.io.
Exactly how much you'll pay for a property in the Metaverse will depend on a number of factors. During the Metaverse land rush of 2022, digital plots on Worldwide Webb Land were selling at around $92,000 and above. Even companies are buying up plots. A metaverse investment firm called Republic Realm purchased a piece of real estate in Decentraland for $913,000. The same company also purchased 800 separate plots in "Sandbox" for $.28 million.
Buying land in the metaverse is also popular among major celebrities, like SnoopDog, as well as organizations like HSBC, Samsung, and JP Morgan.
Buyers can also purchase land using a "Metaverse mortgage" on some accounts, similar to how we would pay for a real-world property in the physical world. However, this would involve using a Metaverse real estate agent, which can incur additional fees.
How Much Is Metaverse Land?
Currently, the price of metaverse land is somewhat variable. The Sandbox is the largest environment for purchasing digital property, according to the CFTE. In 2021, the metaverse environment had 65,000 transactions in virtual land, equalling around $350 million in sales. The Decentraland Metaverse land map is the second largest environment today, with around 21,000 sales in 2021, equalling $110 million in investment.
For both of these virtual environments, the average price recorded from metaverse land sales was approximately $5,300. Prices have also grown considerably over the last year. In January, the average price for a Metaverse property was $100, whereas it was closer to $15,000 in December 2021. In January, the average Metaverse property cost was over 5 ETH, or $18,000.
Towards August 2022, Metaverse property prices have begun to dip again, to an average of around $5,163 on Decentraland, and $2,800 on Sandbox. Analysts suggest the Metaverse real estate for sale now has decreased in price by around 85%. Despite this drop, reports suggest that the Metaverse real estate market will grow at an average CAGR of 31% through to 2028.
The Biggest Metaverse Real Estate Sales
While there may be cheap metaverse land available on some platforms, there have also been various reports of major purchases, usually by big brands and businesses.
One of the most expensive metaverse land purchases of all time was the $4.2 million purchase made by Republic Realms in the "Sandbox" virtual realm. This purchase included 100 private islands which are now valued at $300,000 each.
Other major purchases include an acquisition by the CEO of Tokens.com, Andrew Miguel, who spent $2.4 million on Decentraland real estate. An Axie Infinity purchase also equalled around $2.5 million, though the details of the person or company who made the purchase is unknown.
What Is the Cheapest Metaverse Land Available?
If the digital real estate sales volume continues to ramp up in the Metaverse following a dip this year, the prices of virtual land could quickly begin to increase again. According to a Fortune Report, the smallest chunks of land on Sandbox and Decentraland are currently selling for around 3.4-3.7 ETH, which translates to around $10,000-$11,000.
The smallest option you'll have for buying metaverse real estate is to purchase a 1x1 block of land. This equates to around 16 square meters on Decentraland, or 96 square meters in the sandbox.
Lesser-known virtual land companies could also offer a lower pricing package. The lowest price for a Metaverse plot of land on Crypto Voxels is around 1.899 ETH, which equates to around $5,335. Unlike other metaverse environments, this landscape also continues to expand and include more parcels, giving people more opportunities to buy.
Exploring the Metaverse Land Price
Ultimately, Metaverse property can sell for a range of prices, depending on where you choose to buy. If you want a plot of land in one of the more popular metaverse environments, you can expect to spend well over $10,000 today. This is ten times increased from when the Metaverse plots first begun being sold not so long ago.
While there have been some dips in Metaverse real estate sales lately, many digital experts still agree that the demand for Metaverse land will continue to increase. For those interested in owning their own virtual property, now might be a good time to buy.

Rebekah Carter
Rebekah Carter is a dedicated online marketing professional and writer. With experience in the world of entrepreneurial development, business growth, communication and collaboration, and even health and fitness, Rebekah is constantly looking for ways to expand her expertise, and share her knowledge with the digital world.