The 10 Most Popular NFT Games in 2023

Rebekah Carter
Last updated 16th Feb 2023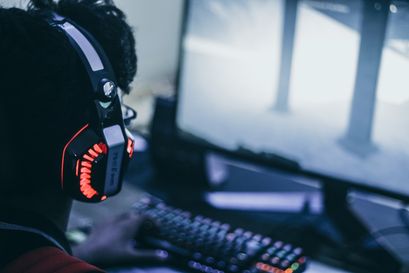 Which are the most popular NFT games right now, and how exactly do they work?
Ever since Non-Fungible Tokens, or NFTs, started to capture the attention of the digital world, they've been influencing the gaming landscape. The top NFT games promise a new "play to earn" environment for gamers, where people can buy and trade tokens in a unique virtual environment.
The gaming paradigm has erupted in recent years, particularly as companies and consumers continue to look forward to concepts like Web 3.0 and the metaverse. Currently, play-to-earn NFT games are set to reach a value of approximately $2917.10 million by 2028.
So, which are the most popular NFT games now?
The Most Popular NFT Games Right Now
New NFT games are beginning to emerge at a rapid pace, corresponding to the introduction of the metaverse and XR gaming ventures. However, some of these games have proven to be more popular among players than others. The following NFT games were chosen for this popularity list based on their hype in the marketplace and the number of gamers.
1. Axie Infinity
Probably one of the best-known NFT games on the market, Axie Infinity has over half a million daily active players. The title borrows heavily from the Pokémon series and leverages technology from Ethereum and the blockchain.
In this game, players can breed and collect digital pets, presented as NFTs, for the purpose of battling other players. Each Axie (pet) has its own genetic footprint, and strengths and weaknesses can be passed down from one generation to the next. Players can even trade pets on Ethereum marketplaces.
2. Gods Unchained
A free-to-play game with elements of NFT collection, Gods Unchained has around 450,000 registered players, and $34 million worth of NFTs already being traded. The title is based around card collection, where players accumulate powerful carts by purchasing them, or winning matchups with other PVP gamers.
The game is a lot like "Magic: The Gathering" and involves using both strategy and skill. The experience points and cards earned by players can be bought and sold for real-world money, as well as "GODS" tokens within the platform.
3. The Sandbox
One of the most successful titles on any NFT games list, the Sandbox is more of a creator platform than a traditional game. It's similar to an NFT-powered Roblox or Minecraft, where you can play and create your own assets. In The Sandbox, however, you own whatever you create, and you're able to both sell and trade your digital items.
The Sandbox allows users to explore the other worlds of players, as well as develop their own. Land can be purchased with tokens, allowing for the development of metaverse-like environments. It's estimated there are around 16 million players worldwide.
4. DeFi Kingdoms
While there aren't a lot of estimations of how many players are active on DeFi Kingdoms right now, it's still considered to be one of the most popular NFT games around. The title was one of the first to leverage the value of NFTs for the gaming world. The pixel-art style gaming platform marries the underlying qualities of NFTs with standard RPG experts.
You can accumulate JEWEL tokens as a player, which can then be converted into currency for purchasing various other assets online. There's no free-to-play version of this product just yet, unfortunately.
5. Splinterlands
Another of the best NFT games based on card gaming mechanics is Splinterlands. The title is expected to have around 450,000 daily active users and hosts millions of battles every day. With Splinterlands, gamers engage in a title similar to "Magic: The Gathering," where they can collect cards to battle against other players.
All cards have their own values and stats, and some are worth more than others. It's also possible to fuse duplicate cards to increase their value. You do have to pay to access your first pack of cards from the Splinterlands, however.
6. Parallel
Often considered the best NFT game for fans of sci-fi, Parallel is a classic card trading and battling game with various story components. Gamers need to collect cards to unlock various rewards, as well as "PRIME tokens." This opens the door to an ecosystem where the game's developers plan to introduce various new projects.
Parallel is still a very new entry to the NFT gaming world, but it's quickly earned significant popularity among people in search of genuinely rare digital cards. Cards aren't reprinted in this game, which ensures their rarity.
7. Sorare
If you like fantasy football, then Sorare is bound to be one of the best NFT card games for you. The football-focused title is based on the Ethereum blockchain and allows players to buy or collect trading cards to take part in weekly competitions. The competitions give you a chance to unlock new cards, as well as win their own share of ETH.
In 2021, the title has more than 200 clubs officially licensed on the platform, with new options emerging all the time. What's more, the game is free to play, and gamers get a deck of random cards as soon as they jump in.
8. The Walking Dead: Empires
The Walking Dead: Empires is an interesting example of a popular NFT game that doesn't follow the same strategies as other options on the market today. The survival game aims to replicate some of the more common aspects of traditional games. You can buy and own collectable cards, but you can also team up with friends on missions.
The game was developed in partnership with VOXverse, which enables players to trade and play across a wide range of different games and events in the metaverse. The environment is still being developed, but it promises to be a winner in the marketplace.
9. Treeverse
Treeverse is an NFT game more likely to appeal to traditional gamers. While aspects of the title are still in development, you can already buy "Timeless" characters, which are intended to have unique abilities within the universe. The game promises a rich open-world environment to explore, with elements of both MOBA-style combat and sci-fi MMORPG.
With this title, gamers can slay beasts, forge new weapons, explore dungeons, form guilds, and more. In the initial stages, people who take part in this game will be able to play and earn rewards rapidly, and hype in the crypto community has been increasing rapidly.
10. Decentraland
Like the Sandbox, Decentraland is more of a community experience than a game. However, it does have gaming elements which allow people to create their own challenges and environments within a vast open space. The unique selling point of the solution are its virtual reality elements, which allow you to create a 3D landscape from scratch.
Decentraland is one of the top NFT game options on the market for people interested in the metaverse, though it does require you to have an Ethereum wallet to get started with buying goods and services.
Conclusion
The NFT games are still growing at this stage. Many new titles have yet to be unlocked, but we're already seeing a wide number of unique opportunities emerge throughout the landscape. From cheap NFT games for beginners, to unique trading card games, there's something for everyone.
Here Are More NFT Guides

Rebekah Carter
Rebekah Carter is a dedicated online marketing professional and writer. With experience in the world of entrepreneurial development, business growth, communication and collaboration, and even health and fitness, Rebekah is constantly looking for ways to expand her expertise, and share her knowledge with the digital world.