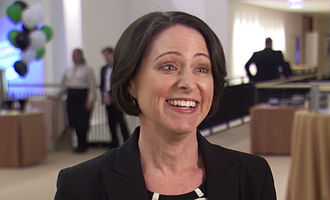 Financial health as important as inclusion, CFSI President says

News Desk
Last updated 12th Apr 2022
[caption id="attachment_23635" align="alignleft" width="581"]
One problem is monthly income fluctuations. Both adults work two jobs but their second jobs provide inconsistent income. The mother and one child also get student aid, which is received in a couple of lump sum payments every year. The wife's child support also comes in inconsistent patterns.
To make matters worse, recent expenses have been just as volatile. One month their roof leaked and damaged some furniture and carpeting, exacerbating a child's asthma. That forced them to buy an air purifier after addressing the water damage.
They also have to service seven different credit cards every month. The husband was on disability for several months where he only received two thirds of his income. The wife and one child are going to college. For many the challenges are endless.
"So access and usage are not the only two keys to poverty alleviation," Ms. Tescher said. "What is missing is financial health."
CFSI, with the help of American Express, Ford, and Metlife surveyed Americans to gauge the nation's overall financial health, and the results were not pretty, Ms. Tescher said.
Only 43 percent of Americans could be described as financially healthy. The remaining 57 percent was nearly equally split between those described as either vulnerable or coping.
"That is 138 million, double the number of unbanked," Ms. Tescher explained. More than 20 percent of them have an annual household income north of $60,000 and 13 percent top $100,000.
With so many people having bank or checking accounts and a healthy chunk making a better than average income the problem is our collective approach to money.
"It is hard to build resilience and opportunity without a daily system," Ms. Tescher said.
What is missing for many people are the habits of planning ahead and regular saving, Ms. Tescher said.
CFSI's survey results support her contention. Those who plan ahead financially are 10 times as likely to be considered healthy, while those with planned savings behaviors are four times as likely to be healthy.