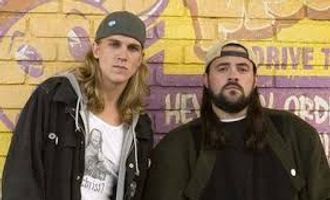 Jay and Silent Bob game reaches crowdfunding goal

News Desk
Last updated 12th Apr 2022
The game Jay and Silent Bob: Chronic Blunt Punch is closer to reality after beating its crowdfunding goal on video game crowdfunder Fig. The funds, more than $435,000 will be devoted to developing the game and sending rewards to to backers within two years.
Game developer Interabang Entertainment is celebrating by offering backers the opportunity to make a cameo in Kevin Smith's next movie.
"Thanks to the Fig community, we will have the creative freedom to create an epic gaming adventure that blends the wit and humor of Kevin Smith movies with fast-paced, co-op gaming action," Interabang Entertainment co-founder Justin Woodward said.
"We've breathed life into Jay and Silent Bob in movies, TV and comics for more than 20 years, and now we can tell their story through an interactive medium," said Kevin Smith. "But what is a video game?"
Jason Mewes (Jay) and Kevin Smith (Silent Bob) lend their voices to the game, which features the pair using dialogue and playing roles their fans will find familiar.
Founded by Justin Bailey, Freeman White, and Bob Ippolito, Fig was helped along by a coalition of game developers including Brian Fargo, Feargus Urquhart, and Tim Schafer.