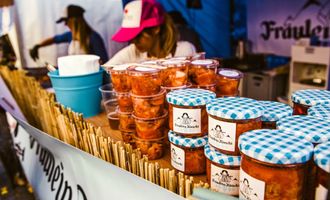 How to choose the best sales routes to sell your product

News Desk
Last updated 12th Apr 2022
With a brand new line of clothing, an organic baby food product, an innovative piece of technology or unique pieces of jewelry to sell, you're bursting to move on to the next step to find and pursue the best places to sell your products. With visibility and accessibility being key attributes on this quest, it's also imperative the sales channels you use to fall in line with the brand image you wish to emulate and the profit you desire to achieve.
Who are your customers?
Firstly before choosing your sales channels, you need to establish who your target audience is. By determining who will buy your product and why they will buy it, you will be able to pinpoint the appropriate sales routes to sell your products which is a necessary component in ensuring the success of your business. You can conduct useful research by surveying the following :

Identify competitors and their existing customers. You can check out followers on Instagram, Facebook business pages, the type of customer that visits there store where a similar product such as yours is sold.
Ask customers questions about where they do there shopping and where they would expect to find a product like yours, but also where they would prefer to see it. This can provide you with new ideas to tackle sales channels that haven't yet been explored by businesses that sell similar products to you.
Once you've identified the type of customers you will be aiming to market your product towards and the avenues they expect and would like to be able to find your product, alongside where your competitors (if there are any) sell there you can begin to create a picture of where is best to sell your product.
Sales channels options
You can now tackle what sales channels are best suited to your product to give it the best chance of selling and to hopefully make you a profit. Below are multiple options for you to consider;

Shop – Your own shop, or ask if someone else will sell your products for a cut of the price
Market stall – Set up your own market stall in local towns
eBay – Be wary of the fees Ebay deducts, and have options readily available for delivery
Etsy – Etsy has a specific style of products it sells, so it's best to scout whether or not your product will fit on this platform
Bonanza – Start selling on Bonanza, an avid competitor of eBay, Amazon and Etsy
Shopify – Set up a custom-made shop with Shopify for secure online transactions
Wix store – Likened to Shopify, you can design the layout and look of your online store
Supply product to another brand to sell on your behalf – Act as the wholesaler for your product and sell to other companies to sell for you

If you look at the above list, you have a range of options to sell your product. It's important to note you are not limited to selling the product yourself, as you could sell it to a shop or brand that holds a substantial reputation, storage and capacity to sell your product for you effectively. However, there will be an expense for this and the pros and cons for you to consider before making your choice. For example, if you sell your product as if you are the wholesaler, you will not have the opportunity to decide how much to sell the item for, whereas if you sell a product yourself at your own shop, you set the retail price. There are positives and negatives for each when deciding between 1P Vs 3P selling techniques. Such as, attention should be paid towards where your customers are based and if you can supply delivery options, the cost of each sales channel, the restrictions of becoming a wholesaler opposed to selling the product yourself and so forth.

Following researching the customers you are hoping to sell your product to, and using this to your advantage to figure out how and where to sell your product, you can sum up the pros and cons of using different techniques. This should help you to reach a conclusion on which sales routes are the most applicable for your product.