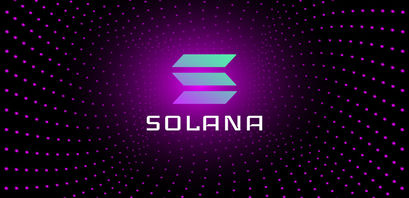 Solana price prediction: Is SOL still a good investment?

Crispus Nyaga
Last updated 31st Jan 2023
Solana price has crashed by over 60% from its all-time high.
It is declining after the recent Wormhole $320 million hack.
The Solana price has declined in the past two straight days as the recent recovery has faded. SOL, the native token for the network, is trading at $98, which is about 60% below its all-time high. It has a total market cap of about $31 billion.
Is SOL a good investment?
Solana is one of the fastest-growing blockchain projects in the world. Its goal is to help developers build quality decentralized finance, lending, web 3, and non-fungible token (NFT) platforms that are faster and cost-efficient.
Today, there are hundreds of apps built on Solana. The most popular of them are Brave Browser, Audius, MetaPlex, and the Grape Protocol,
Solana's promise is that apps built using its technology have faster speeds than those built using Ethereum. For example, Solana can handle more than 2,000 transactions per second. This is significantly higher than Ethereum, which handles less than 20 tps.
If you have used any Ethereum app, you have likely experienced the challenge of cost. On average, an Ethereum transaction costs about $30, which is a bit higher. Transactions in Solana, on the other hand, cost less than $0.001 to settle.
Most importantly, Solana is more environmentally friendlier than Ethereum because it is a proof-of-stake network.
However, Solana has a number of challenges. For example, the Solana price is declining today as investors react to a major hack in one of its DeFi applications. According to Bloomberg, hackers managed to siphon funds worth over $320 million from Wormhole. Wormhole is a leading platform built in Solana that acts as bridge to other platforms like Binance.
In my view, the SOL price reaction to the hack is not a valid one for two reasons. First, Solana is not responsible for the security of apps built in its ecosystem. Second, DeFi projects of other chains like Ethereum and Binance Smart Chain (BSC) have also been hacked before.
Solana price prediction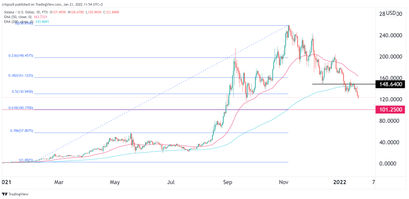 The four-hour chart shows that the SOL price has been under intense pressure in the past few months. Along the way, the coin has managed to move a few points below the 25-day and 50-day moving averages.
It is also between the rectangle pattern shown in red while the MACD has formed a bearish crossover pattern. Therefore, there is a likelihood that the Solana price will continue falling in the near term as concerns about the Fed remains.
If you want to trade cryptocurrencies, you might be interested in automated cryptocurrency trading robots such as Bitcoin Prime, Bitcoin Era and Bitcoin Code.

Crispus Nyaga
Crispus is a financial analyst with over 9 years in the industry. He covers cryptocurrencies, forex, equities, and commodities for some of the leading brands. He is also a passionate trader who operates his family account. Crispus lives in Nairobi with his wife and son.