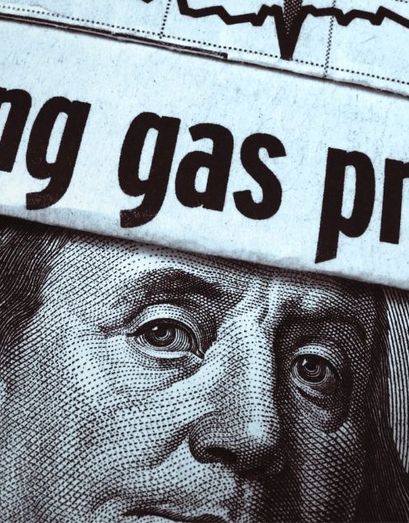 Gas prices soar past $4.0 in most American States

Elizabeth Kerr
Last updated 15th Dec 2022
Fuel prices in America are escalating.
A quick check of gasoline prices across the states reveals that many are paying more than $4.0 per gallon.
Americans across the nation are having to dig deeper for gas. That's according to a recent banklesstimes.com's data presentation. In its analysis, the website shows pump prices have soared past $4.0 in most states. Those prices closely mirror the highs of 2008.
This news comes soon after the Labor Department released inflation figures for February 2022. That report showed that inflation had reached 7.9% during that time. It also revealed that inflation had significantly affected gasoline prices.
What's pushing gas prices in the U.S?
The Labor Department's report identified two factors driving gas price increases. These two are the war in Ukraine and the COVID-19 crisis.
BanklessTimes agrees that the Russian-Ukrainian conflict has contributed to escalating gas prices. Russia, a major oil supplier globally, has angered the international community for its invasion of Ukraine. Accordingly, most Western powers, including the U.S, have sanctioned it for its aggression on its neighbor.
The US, for instance, has banned all oil imports from the county. And as other nations adopt various embargoes against Moscow, its supply of oil to the global market has declined. That has had a ripple effect worldwide, evidenced by rising fuel prices across America.
Likewise, the post-COVID-19 crisis recovery has impacted fuel prices. The advent of the pandemic led to a drop in the demand hence pump gas prices. That's because many restricted their movements in adherence to the government's containment measures.
But with things starting to go back to normal, the demand for the commodity has also peaked. This has, in turn, led to pump prices shooting up.
Gas prices vary across states
BanklessTimes' analysis shows a significant variation of gas prices across the U.S. This differentiation is due to some state-specific factors. In Hawaii, for instance, high transport and distribution costs contribute to high pump prices.
That variance is also in the taxes that the different states levy on gasoline. Higher taxes in California explain why the commodity is dear there. Conversely, some states with lower gas prices also charge less taxes on gas.
You'll pay the most here
Californians shell the most money for every unit of gasoline they buy. Here you'll part with almost six dollars ($5.794 at the time of writing) per gallon of gas. That price follows a +0.012 gain from the previous day's closing prices.
Besides California, it'll set you back about five bucks a gallon in seven other states. Hawaii and Nevada lead in gas prices here. Whereas you'll pay $5.119/gallon in the former, you'll part with $5.031 for the same in the latter.
Moreover, it'll cost you about $4.7 to fuel in Washington, Oregon, and Alabama. Finally, gas goes for $4.605 in Arizona and $4.535 in Illinois.
Gas is cheaper here
On the reverse, Americans pay less than $4.0 at the pump in fifteen states. Most of these occupy the Mid to Mountain West regions.
Gasoline prices here range from a low of $3.782 in Oklahoma to a high of $3.993 in Montana. These regions have also recorded price reductions in the last 24 hours.

Elizabeth Kerr
Elizabeth is a financial content specialist from Manchester. Her specialities include cryptocurrency, data analysis and financial regulation.