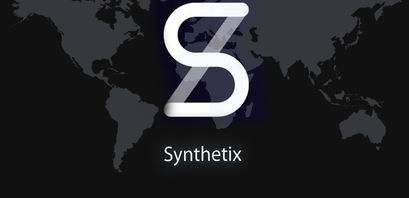 Synthetix Price Went Parabolic. Will the SNX Uptrend Continue?

Crispus Nyaga
Last updated 5th Aug 2022
Synthetix price has staged a strong recovery in the past few days.
The coin jumped by more than 100% from its lowest level on Saturday.
Synthetix partnered with Curve Finance, a leading DeFi platform.
The Synthetix price is bouncing back after crashing to a multi-month low during the weekend. The SNX token rose to a high of $3.33, which was the highest level since May 30th. It has now risen by more than 92% from its lowest level during the weekend, bringing its total market cap to more than $621 million.
Why is SNX soaring?
Synthetix is a leading blockchain project that was started by Ken Warwick, an Australian technology executive.
It is a platform that enables people to create synthetic assets across sectors. For example, developers can create assets like stocks, commodities, forex, and cryptocurrencies. It has been used to build synthetic assets like sUSD, sEUR, and sAAPL.
Like all other cryptocurrencies Synthetix had a difficult weekend as its price crashed to a multi-year low of $1.4270. This price was about 95% below its all-time high.
Now, the SNX price has bounced back at a faster pace than other coins like Ethereum and Bitcoin. This increase happened even as concerns about decentralized finance (DeFi) remained. The total value locked of all DeFi apps has crashed from over $250 billion to less than $100 billion.
Synthetix price is soaring after a new partnership with Curve Finance, one of the biggest DeFi platforms in the world. The partnership will facilitate the creation of Curve pools for sBTC/BTC, sETH/ETH, and sUSD/3CRV.
Learn more about how to buy Synthetix.
Earlier on, Ken Warwick published a long essay explaining why Synthetix still makes sense as an investment. He noted that the platform was well collateralized to deal with extreme volatility in the market. He noted that:
"There is some good news though, the recent volatility has led to a significant increase in trading volumes, which means even ignoring inflation, if SNX falls below $1 and exchange volume remains constant, staking yields from sUSD fees generated by the protocol will be well over 20% APY."
Synthetix price prediction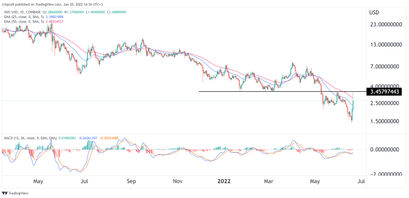 The daily chart shows that the SNX price went parabolic after the partnership with Curve Finance. As it rose, it retested the important resistance level at $3.45, which was the lowest level on February 24th. Now, it has moved between the 25-day and 50-day moving averages while the MACD is slightly below the neutral level.
Still, this rebound seems like a dead cat bounce. In the past, such parabolic moves tend to be short-lived, meaning that the coin likely pull back.

Crispus Nyaga
Crispus is a financial analyst with over 9 years in the industry. He covers cryptocurrencies, forex, equities, and commodities for some of the leading brands. He is also a passionate trader who operates his family account. Crispus lives in Nairobi with his wife and son.