Nexo price has been in a strong bearish trend in the past few months.
The drop is in line with the performance of other cryptocurrencies.
There are also concerns about the coin following the turmoil facing Celsius.
The Nexo price is hovering near its record low as demand for the company's products remain. The token is trading at $0.5860, which is about 85% below the all-time high. As a result, its total market cap has dropped to about $368 million.
Concerns about Nexo remain
Nexo is a leading company in the blockchain industry that provides a number of services. For example, the company has a feature that lets people buy and sell cryptocurrencies by following a few steps.
Nexo also offers collateralized cryptocurrencies loans. The idea behind this is simple. Cryptocurrency holders deposit their coins and then the company gives them cash. Like with a bank, these customers are then required to pay back the funds within an agreed period.
Further, Nexo has an investment product that makes it possible for people to earn interest from their crypto holdings. Some of the top earning coins in its ecosystem are Avalanche, Cronos, and Cosmos.
Therefore, the Nexo token price has dropped in the past few weeks as investors remain concerned about the industry. This is after several companies in the sector came under intense pressure.
For example, Celsius, a company that offers similar products to Nexo announced that it was suspending withdrawals and swaps. The firm is now in life support even as Goldman Sachs sources for capital to buy it. It is still unclear whether Goldman will acquire the company.
Meanwhile, BlockFi, a company that offers similar products has been acquired for just $25 million. At its peak, the company was valued at over $4 billion. Other companies that have come under pressure are Voyager Digital and Vauld. During the weekend, Voyager Digital said that it was suspending withdrawals.
Still, Nexo has announced that its finances are still safe. In a statement, the firm said that its principle of using collateralization, real-time auditing, risk management, and insurance will help it navigate these turbulent times.
Nexo price prediction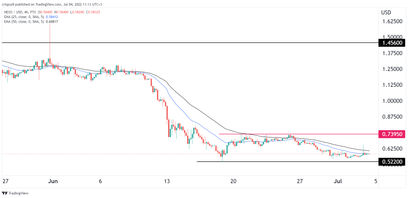 The four-hour chart shows that the Nexo token price has moved in a bearish trend in the past few weeks. It is now trading at $0.5820, which is slightly above the important support level at $0.5220. It is also slightly below the 25-day and 50-day moving averages and the important resistance at $0.7395.
Therefore, in my view, Nexo price will likely continue the downward trend in the coming weeks as the crypto industry collapse. A likely 75 basis point rate hike by the Fed will also lead to more weakness of the con.
Author Bio

Crispus Nyaga
Crispus is a financial analyst with over 9 years in the industry. He covers cryptocurrencies, forex, equities, and commodities for some of the leading brands. He is also a passionate trader who operates his family account. Crispus lives in Nairobi with his wife and son.