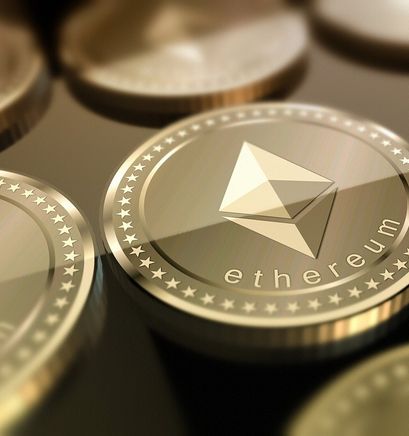 ETC Price Prediction as Ethereum Classic Hash Rate Rises

Crispus Nyaga
Last updated 15th Dec 2022
Ethereum Classic price has been in a strong bullish trend.
The rally is mostly because of the upcoming Ethereum merge.
Ethereum Classic price has performed well in the past few months as investors focused on the upcoming Ethereum Merge. ETC, the platform's cryptocurrency rose to a high of $38.76 on Friday, which was about 207% above the lowest level in July of this year.
Ethereum Merge ahead
Ethereum Classic is a popular cryptocurrency that emerged from a hard fork of the main Ethereum. As such, the platform has a similar role in the blockchain industry. It is simply used by developer to develop decentralized applications (dApps) in industries like DeFi, non-fungible tokens (NFT), and the metaverse.
Unlike Ethereum, Ethereum Classic's developers have decided to stand with its existing proof-of-work (PoW) technology. They believe that PoW is significantly safer and better for developers creating all types of projects.
However, a key challenge for Ethereum Classic is that the number of developers who have embraced the platform has been limited. In fact, it has been overtaken by some of the newest chains like Solana and Cronos.
ETC price has rallied in the past few weeks ahead of Ethereum's merge. Investors believe that the platform will attract more developers and miners in the coming months. Indeed, data shows that Ethereum Classic's hash rate has been in a strong bullish trend in the past few weeks. It has moved from a low of 28.47 TH/s on August 12 to 48.27 TH/s today.
A higher hash rate is usually an indicator of security because it makes it harder and more costly to take over the network. Analysts expect that the hsh rate will continue rising in the coming weeks.
Investors have also been moving to other proof-of-work cryptocurrencies. For example, Ravencoin price has jumped by more than 30% this week. Similarly, Kadena has seen its price jump by over 6% in the past 24 hours.
ETC price prediction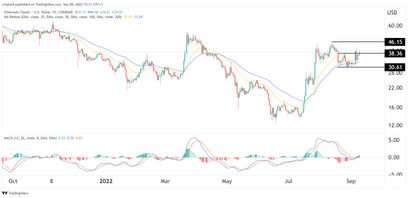 The daily chart shows that ETC price has been in a strong bullish trend in the past few weeks. It has jumped by over 212% from its lowest level in July. Along the way, the coin has moved above the 25-day and 50-day moving averages,
It has also formed what looks like an inverted head and shoulders pattern while the MACD has moved slightly above the neutral point. Therefore, Ethereum Classic will likely continue rising as bulls target the next key resistance level at $46.15.

Crispus Nyaga
Crispus is a financial analyst with over 9 years in the industry. He covers cryptocurrencies, forex, equities, and commodities for some of the leading brands. He is also a passionate trader who operates his family account. Crispus lives in Nairobi with his wife and son.