NFT Market Size Analysis for 2023

Aleksandar Hrubenja
Last updated 17th Feb 2023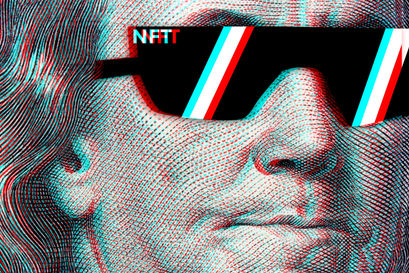 Denigrated by many as a fad, it seems that NFTs are actually here to stay. Growing to the level of a multi-billion dollar market, it needs to be analyzed and taken seriously. We did just that in the article below.
What Is the Size of the NFT Market?
In 2021, the NFT market size was valued at $11.3 billion dollars. Just to give you an idea of how huge this number is, the market is larger than the GDPs of many smaller countries, like Oman, Ethiopia, or Bulgaria.
(Verified Market Research)
In-Depth Data on the NFT Market
The NFT market is expanding, growing faster and faster with each passing day. What started as a market dedicated only to images, the non-fungible tokens market has branched out into gaming, sports, and music.
Let's see just how widespread it has become.
The NFT market is expected to reach a value of $231.98 billion by 2030.
The expected NFT market size projections show substantial growth and advancement. With an expected compound annual growth rate of 33.7%, it's projected to rise from $11.32 billion in 2021 to $231.98 billion in 2020—an increase of more than 2000%.
There are several factors behind this expected growth. First, more and more artists are generating digital artwork in North America. Secondly, there is growing support from large companies and brands, like Meta. In the Asia Pacific region, there is a marked increase in cryptocurrency use and blockchain development, which lays a healthy foundation for NFT adoption.
(Verified Market Research)
The number of unique NFT buyers rose by 14275% between 2019 and 2021.
Another aspect that shows clear NFT market growth is the ever-increasing number of buyers. In 2019, there were only 8,000 enthusiasts. In just two years, this number rose to 1.15 million by 2021.
Besides the development of the market itself, the promotion of various artists, and the advances in blockchain technology, this increase was also caused by increased news coverage.
Indeed, this news coverage had a snowball effect—more news coverage means more people learn about them, then they buy them or mint them, which leads to more news coverage, and so on and so forth.
(Vanderbilt University)
The NFT music market was valued at $1350.3 million in 2021.
NFTs are mostly recognized as images (think NFT apes), but albums, soundbites, and singles are becoming more and more prominent. In fact, the music NFT market size is expected to reach $6 billion by 2027, with a CAGR of 28.23%.
(Yahoo Finance)
The 2021 sports NFT market size was valued at $1.4 billion.
The NFT sports market comprises sports memorabilia, trading cards, as well as audio and video clips of famous sports moments. This $1.4 billion makes up 5.3% of the $26 billion sports memorabilia market.
Furthermore, this market is expected to grow at a CAGR of 36.6% between 2021 and 2032, reaching $41.6 billion during this time period.
(Market Decipher)
The NFT games market was valued $776.9 million in 2021.
An NFT game represents any game that uses NFTs within its mechanisms, player interactions, and rules. One example is the usage, and exchange, of weapon and player skins backed by a blockchain.
The NFT games market size is expected to have a compound annual growth rate of 20.4% between 2022 and 2028, and reach $2.8 billion by the end of that period.
(Global News Wire - Games)
The NFT art market was valued at $4.36 billion in 2021.
The NFT art market is probably the most popular type, made famous by the Bored Ape NFT collection. The NFT art market size is expected to have a 23.9% CAGR between 2022 and 2028. It will most likely reach $19.57 billion, almost five times its value in 2021.
(Global News Wire - Art)
NFT artwork "The Merge" sold for $91.8 million.
At the time of writing this article, "The Merge," an NFT created by digital artist (or art collective) PAK, was sold to 28,983 collectors for a total of $91.8 million.
The reason there were so many buyers is due to the mass system used within this artwork, which some can interpret as the NFT being more of a collection than a single item.
(Penta)
India leads the way in NFT ownership, with 7%.
In a poll that included users from 26 countries from all around the world, an average of 3% of respondents claimed that they owned an NFT. This puts India firmly in the lead, at the top spot, with 7% of people polled claiming they own an NFT.
It seems the Asia Pacific market is generally at the top when it comes to NFT ownership, with an expectation that the size of the NFT market there will only grow. Vietnam, Hong Kong, and Singapore poll responders were at the top, with ownership rates being at 6% for Vietnam and 5% for both Hong Kong and Singapore. Japan is an exception, being at 2%.
(Finder.com)
Roughly 6.6 million Americans own an NFT.
In the same poll, 3% of American poll respondents stated they own an NFT. Of this number, American men are 2.9 times more likely to own a non-fungible token compared to women.
On the other hand, only 1% of German respondents stated they have an NFT. The UK is also low, at 2%, as are Sweden, Canada, and Norway.
(Finder.com)
Art is the most popular type of NFT.
There are many different types of NFTs, but it seems art is the most popular, with the largest current NFT market size. Note that art includes both still images and video. As an example, "Crossroad," a 10-second video loop of Donald Trump lying on the ground, naked, sold for $6.6 million.
(Make Use Of)
The Exciting Future of NFTs
By now you must be convinced of just how popular this market has become. Its adoption rate is unprecedented and we can expect powerful NFT market size growth in the future. It's only a matter of time before they become as much a household name as cryptocurrencies have.
Sources:

Aleksandar Hrubenja
With a BA in English literature and linguistics, training provided by veteran licensed court interpreters, and direct content management experience, Aleksandar Hrubenja knows what good content looks like. He's tackled any topic thrown his way, spending the last six years writing articles on finance, cryptocurrency, and digital marketing — just to name a few.