Top NFT Marketplaces

Emma Dwyer
Last updated 29th Nov 2022
With the crypto market developing, digital assets are becoming more valuable than ever. NFTs or non-fungible tokens are unique, online-only assets. Each token has original metadata and code that you can't divide, copy or substitute. That uniqueness increases the value of each NFT.
A non-fungible token can represent anything digital. It could be drawing, animation, movies, etc. NFTs can also be virtual assets that prove you own the physical version of the item.
You can create, own, trade, or sell NFTs. All these actions are available at NFT marketplaces. These are platforms serving to buy and sell non-fungible tokens. Marketplaces can be based on different blockchains and offer various payment methods.
But what are the best NFT marketplaces? You need to choose carefully, so Bankless Times tried to make your choice easier. Our experts selected the top NFT marketplaces to try. They are all reliable, fast, and filled with useful features. Check out the list below and find your favorite!
1. BMall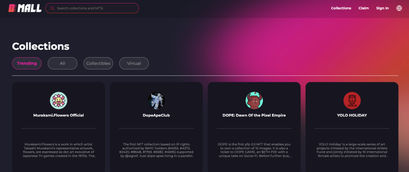 BMall is a new addition to NFT marketplaces since it was launched in 2022. PiLab Technology, a company from South Korea, is the platform's founder. It uses three different blockchains, including ETH, Polygon, and Klaytn.
NFT variety seems to be increasing slowly, with ten different options currently available. That includes Mooncatz, Yolo Holiday, Cool Cats NFT, etc. The service commission is 1%, and sellers are the ones paying it. There's no royalty or commission for the artists.
You can create a new wallet or sign in with Biport, Coinbase, MetaMask, or WalletConnect. BMall is an up-and-coming platform with loads of potential, making it worth trying.
2. OpenSea

OpenSea is a US-based NFT marketplace that's been around since 2018. It claims to be the largest marketplace for non-fungible tokens, and for a good reason. The platform has almost 600 different assets, ranging from trading cards and collectibles to sports and gaming assets.
You'll find ETH, KLAY, and MATIC among the supported blockchains on OpenSea. The marketplace has a referral program to recommend the platform to other customers. As for transaction fees, buyers pay 2.5% when purchasing tokens.
OpenSea doesn't support PayPal or debit and credit cards. You need to have tokens supported by the platform to trade here. But the reputability and generous NFT selection put this marketplace among the best options available.
3. GhostMarket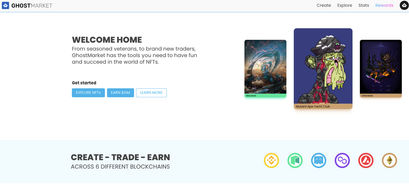 GhostMarket supports six blockchain technologies, making it one of the best in that category. The choices include NEO, Binance Smart Chain, ETH, MATIC, AVAX and Phantasma.
If you are looking for an art-focused platform, GhostMarket is the right choice. At this moment, ten NFTs are available, such as Criptera, Lords of Genesis, and srn Art. Although it doesn't support PayPal, you can use card payments at this marketplace.
4. Crypto.com NFT Platform

Crypto.com has a marketplace that only supports this platform's chain. CRO is incredibly popular, and the brand itself has a reputable image.
NFT selection focuses on collectibles. You'll find Boy George, Snoop Dog, Aston Martin Cognizant F1 Team, and other tempting tokens on this platform. Crypto.com is also an exchange platform for crypto tokens, so it's no wonder it supports card payments.
5. HoDooi.com NFT Marketplace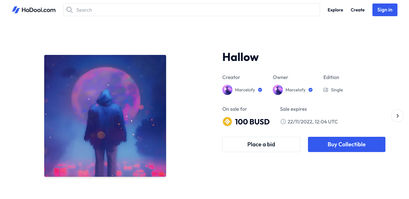 HoDooi only works with the Binance Smart Chain at this point. But since the marketplace was launched in 2021, we can expect more blockchains in the near future. HoDooi has a 15% fee for the first sale of a freshly-minted NFT. The subsequent charges are 2.5% on both seller and buyer, while the creator doesn't pay anything.
It's easy to use HoDooi since it has a user-friendly interface. The Vietnam-based marketplace now focuses on collectibles and art tokens. It doesn't offer PayPal or card payments but has a native token and supports several other digital options.
6. Blockparty Marketplace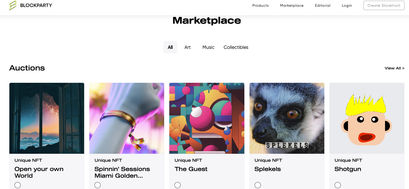 Blockparty goes the extra mile to secure card payments, including Visa and MasterCard's debit and credit variations. It uses the popular ETH blockchain and focuses on art tokens. That includes collections from Ryan Keeley, Tommy Wilson, etc.
It's interesting that the first version of Blockparty Marketplace was built in 2017. It only added NFTs in 2020 but had a huge success immediately. They sold tokens worth over USD100K in only four months. The marketplace is easy to use and offers an intuitive interface with fast page loading times.
7. Waxstash Marketplace

Waxstash adds a convenient escrow feature, which can attract artists and traders. The platform has been around since 2020, and it uses the WAX blockchain.
As for the NFT selection, the current number stands at ten. Splinterlands, Kevin Winger Arts, and Crypto Twerpz are among some collectibles that stand out. You get detailed information once you open the specific NFT page, and the loading times seem fast.
8. World of Ether Marketplace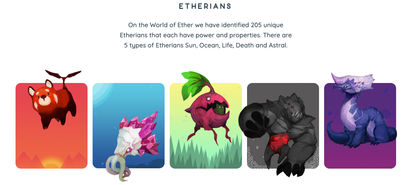 World of Ether is based in the USA, and, as you might assume, it uses the ETH blockchain. But WoE isn't a classic marketplace. It's actually a fantasy dueling game where your task is to breed monsters. You use these monsters to fight other players on the network.
It's possible to acquire or sell monsters in the World of Ether. The game itself is interesting, and the graphics are nice, especially if you enjoy this genre. WoE has been around since 2018 and has maintained its popularity successfully over the years.
9. Ethernity Marketplace

Ethernity is an NFT marketplace offering authenticated and licensed assets. The available options to buy and trade range from James Dean's signature glasses, as well as items authenticated by famous athletes like Dak Prescott, Luka Modric, etc.
The platform uses ETH and MATIC networks, and its marketplace also offers auctions. You can purchase Ethernity metaverse wearables, too. From its launch in 2021, the platform attracted much attention, showing it has a huge potential for the future.
10. MLB Champions Marketplace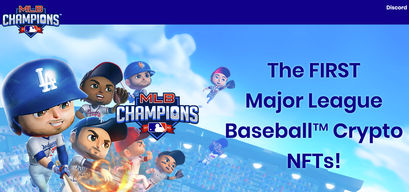 Baseball fans will appreciate the idea of getting NFTs related to their favorite sport. The story about MLB Champions goes back to 2018 when the company signed a partnership with Major League Baseball.
The hype around sports NFTs and collectibles was at its highest at the time. But as time passed, MLB Champions haven't shown much progress. Today, the partnership with MLB is discontinued. But you can still find MLB crypto NFTs at OpenSea and other platforms.
11. Enjin Marketplace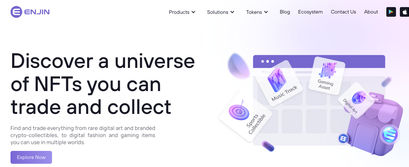 Enjin Marketplace has a decent NFT choice, with 21 collections available on the platform. The categories vary from trading cards and art to gaming assets and domains. Age of Rust, Bitcoin Hodler, and Alterverse are only some names available.
Although Enjin's history goes back to 2009, this Singaporean company only established the NFT marketplace in 2019. The platform uses the ETH blockchain, and the interface is user-friendly. It's easy to see the auction and other NFT details, with generous information available about each item.
12. SuperRare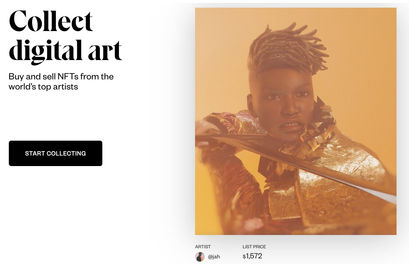 SuperRare offers ERC-721 NFTs, and its notable collections include Reisinger Andres, Krista Kim, and Frenetik Void. The marketplace focuses on digital art items created by reputable creators. You get detailed info, ranging from page views to bidding history and prices, about each token.
Artists will have to pay 15% gallery fees to the marketplace. However, you get a 10% royalty from secondary sales for the item. There's also a 3% buyer fee, and it's worth noting you need ETH to trade on the platform.
13. Sorare Marketplace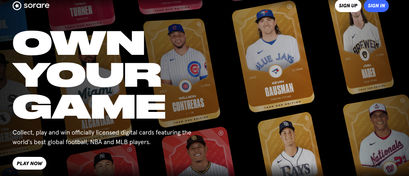 Sorate is a France-based marketplace focused on "the most important secondary thing in the world," and that's soccer or football. The platform got licenses from hundreds of clubs, and you can create squads with trading cards of players from different teams.
All the big names are there, such as Juventus, Liverpool, and Bayern Munich. You have different card scarcity, and the uniqueness increases the NFT value. Sorare accepts card payments, making buying football trading cards possible even with fiat currencies.
14. NFT Showroom

NFT Showroom uses the HIVE blockchain and coin. It launched in 2020 and sold around $250K worth of NFT in the first several months, which was encouraging.
The platform focuses on digital artwork and aims to become a true virtual gallery. It has a 10% fee, but the marketplace keeps only the entire first fee. From secondary sales, the charge is divided equally between the NFT Showroom and the creator.
15. Theta Drop NFT Marketplace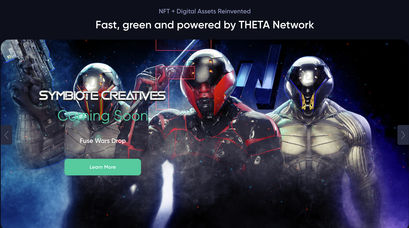 Theta Drop launched in 2021, and it started strongly with collectibles licensed by the World Poker Tour. This US-based platform now has a variety of sports and gaming-related collectibles, as well as digital art items.
It's interesting that Theta Drop streams auctions and drops live, and you can even follow these streams on some cable TVs. The marketplace uses the Theta blockchain, which has a gas fee for transactions.
16. CryptoPunks Marketplace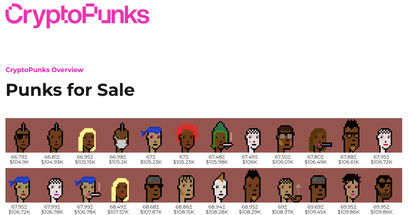 CryptoPunks has been among the industry's pioneers since its NFT collection appeared in 2017. The creators believe that crypto art draws inspiration from this project. CryptoPunks has an interesting idea since it only has a single collection with 10,000 unique characters.
You can see claimed characters, those available for sale, and those with active bids. It's easy to find your way around a simple layout. And the platform keeps breaking records. The reports indicate that 8,000ETH was the price of the most expensive CryptoPunk #5822. That's around $23.7 million!
17. Venly Market

Venly was the first NFT marketplace using the Polygon (MATIC) blockchain, although it was under the name Arkane Network. Today, this platform also uses Ethereum and Binance Smart Chain. According to the available information, it keeps over $5 million of assets in custody, and its ecosystem has over 100,000 gamers.
You can create games on Venly or be a player and collector. Auctions and trading are also available, and the commission is 4% per sale and 1% for secondary sales.
18. X2Y2 NFT Marketplace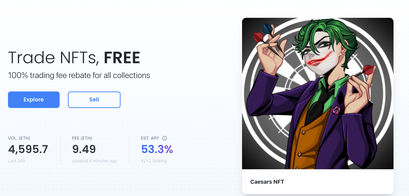 X2Y2 only launched in 2022, but it achieved a strong position in the market quickly. It operates on the ETH blockchain and offers interesting features. These are the options to purchase and sell bulk NFTs. You can offer an entire collection or multiple items in a single transaction.
Visitors will find listings of different art items, collectibles, and other NFTs on X2Y2. The platform has about 6,000ETH transaction volume daily, which is impressive. It also offers a 100% trading fee rebate for all collections, which is tempting.
19. Alcor Exchange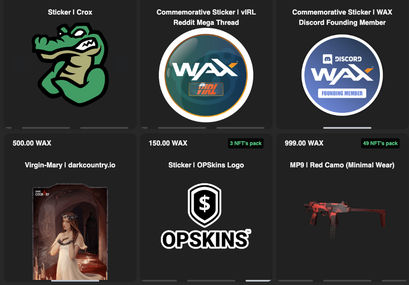 Alcor Exchange uses EOS, Proton, WAX, and Telos blockchains. While they are less popular, you'll appreciate the generous NFT selection available. Popular collections include 99 GuitarPics by CancerSucks, 10x10 Xs, and -NT-Nightdrawing.
A big benefit of the Alcor Exchange is you can buy and sell NFTs and trade cryptocurrencies. Creators will appreciate the option to list NFTs without paying any charges. Alcor implemented the DeFi liquidity pool, which locks assets up in a smart contract.
20. Terra Virtua Marketplace

The company's history goes back to 2016, but it seems the marketplace was launched two years later. Although it uses the ETH blockchain and the native TVK token, you can make fiat payments with credit cards.
Terra Virtua operates in the United Kingdom. It offers a variety of collectibles to interact with in your personal Terradome and Fancave. The idea is your character can compete with others in different games but also enjoy other immersive experiences in the Terra Virtua metaverse. The notable NFTs include Pacific Rim, Godfather, and other artworks from famous media companies.
21. Rarible

Rarible has a huge NFT selection, and that's the platform's main advantage. Considering the marketplace only launched in 2020, the list is impressive. You'll find anything from sports to trading cards, gaming assets, art, and other collectibles.
The platform doesn't have a listing fee, but the buyer pays a 2.5% commission. It's only possible to use cryptos on Rarible. That shouldn't be a problem when you see their impressive collections, such as Axie Infinity, F1 Delta Time, etc.
22. The Musician Marketplace

The Musician Marketplace is the leading NFT website in this category. It has active partnerships with many reputable companies, including Netflix, Kabuki, and the John F. Kennedy Center for Performing Arts.
Remy Adly is a US/Egyptian musician behind the project. The Musician Marketplace uses the ETH blockchain and offers to list different categories. It's possible to add anything from live and vocal performances to tutoring sessions over Skype. Artists will need to subscribe to use the platform, but there's no commission.
23. Decentraland Marketplace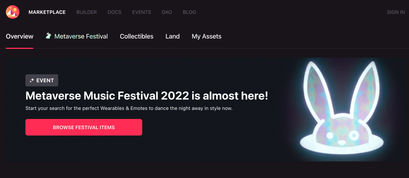 Decentraland offers an entire virtual world to its users and puts the ownership in their hands. You can explore different worlds, ranging from dungeons to space environments, and create scenes, challenges, and artworks.
The marketplace at Decentraland sells about 1.2K items weekly, and the usually combined value is about $80,000. It's possible to see new and trending items, as well as acquire names, parcels and estates, wearables and emotes. Decentraland offers an attractive concept that gains popularity as time passes.
24. CryptoKitties Marketplace

CryptoKitties is a specialized platform designed for kitty lovers. The platform only has a single collection, but it contains over two million CryptoKitties at this point (October 2022). Each cat is unique, and you are its owner, with the cartoonish portrayals being so adorable.
Your digital kitty also has unique characteristics and abilities. It's possible to breed two kitties and create a family. It's worth noting that Founder Cat #40 is the highest-valued sale of CryptoKitties, with its value reaching 225ETH in September 2021.
25. NFT One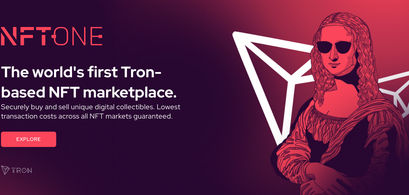 NFT One is the world's first non-fungible token marketplace based on the TRON blockchain. It launched in 2021, and it promises the lowest transaction costs. You can see live auctions or explore collections. The available options include Atelier1791, NoleVipcreations, Emoji vs. Life, and many others.
Artists don't pay a listing fee, but there's a 2% sale commission. As for the buyers, there's a 10TRX flat fee, including a small charge for updating ownership info. It's clear that NFT One is an emerging platform, but it has a huge potential, so now might be the right time to jump on board.
26. KnownOrigin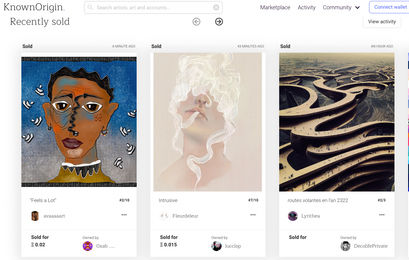 Gemini is the company behind KnownOrigin. Crypto enthusiasts have surely heard of it since it's a popular digital asset exchange.
KnownOrigin gathers thousands of artists, but you can see the trending ones in a separate section. Some creators, such as Benji Connell and Gary Cartlidge, sold hundreds of items, telling enough about their popularity. The platform has an interesting early-access feature that allows a pre-public sale of your artwork.
Final Thoughts
Thanks to the huge popularity of NFTs, you can pick between a large number of marketplaces. They vary in supported blockchains, fees, and available features.
The best NFT marketplace will depend on whether you are an artist or a creator. For both options, it's vital to stick to reputable platforms owned by licensed companies. Once you do that, you can focus on minting or trading NFTs. If you make the right moves, these marketplaces are a place where you can have much fun and make even more profit!

Emma Dwyer
Emma is a law graduate with seven years of experience working in financial services. She has been writing in the cryptocurrency and blockchain tech space for two years now. Recently she worked as a Managing Editor and Head of Content for different crypto publications.