What is ProfitTrailer?
ProfitTrailer is an "advanced and powerful crypto trading bot" that helps traders and investors find potential cryptocurrencies to trade and invest in. According to sources online, the trading robot was launched in Curacao in 2017. The robot also offers real-time market notifications, just as it allows you to integrate your TradingView alerts.
Trading across multiple cryptocurrency exchanges is not easy, especially when you are engaging in arbitrage trades. Rest assured that ProfitTrailer will do the heavy lifting on your behalf by finding and maximizing profitable cryptocurrency trading opportunities across multiple exchanges. The robot claims to do this in real-time to make little profits before the prices change across those exchanges.
Understandably, you may want to be in control of the trading bots at some points. This informs the reason why ProfitTrailer provided an option for the signal subscription. With a higher accuracy rate, you can leverage these signals to manually trade some of the coins, while ProfitTrailer does the bulk job of automating the rest.
Profit Trailer Overview
| | |
| --- | --- |
| 🤖 Robot Type: | Bitcoin Robot |
| 💸 Minimum Deposit: | $250 |
| ✅ Is It a Scam or Legit? | Legit |
| 🚀 Claimed Win Rate: | 85% |
| 💰 Trading Fees: | None |
| 💰 Account Fees: | None |
| 💰 Deposit/Withdrawal Fees: | None |
| 💰 Software cost: | 3 Subscription types |
| ⌛ Withdrawal Timeframe: | 24 Hours |
| 💱 Supported Cryptocurrencies: | BTC, ETH, USDT |
| 📱 Native Mobile App: | No |
| 🖥️ Free Demo Account: | Yes |
| 🎧 Customer Support: | Live chat, Online Form |
| ✅ Verification required: | KYC |
| 🔁 Automated Trading: | Yes |
| 📈 CFD Available | Yes |
Profit Trailer - visit now
Pros & Cons
Pros
A free version, including paper-trading
Supports multiple cryptocurrency exchanges
A wide variety of payment methods
Useful add-ons
Features a strong community
Cons
No money-back guarantee
The subscription is a bit pricey
ProfitTrailer markets, assets, and options
What assets and products can you trade using ProfitTrailer?
ProfitTrailer is primarily a cryptocurrency trading robot that can be used to automate the trading of different crypto asset classes. This automation is said to rely on the use of trailing stop losses to help the traders stay afloat even if the market is bearish.
ProfitTrailer also mentioned on the website that Foreign Exchange (FOREX) pairs can also be automated via the bot, but further information on that wasn't provided.
Some of the cryptocurrencies that can be automated using ProfitTrailer are Bitcoin (BTC), Ethereum (ETH), Tether USD (USDT), and several other coins listed on the partnered exchanges.
What leverage trading options are there?
ProfitTrailer didn't mention if it offers leverage trading options, but you are likely to find that feature available on some of the exchanges partnering with the platform.
If the option is available, do your due diligence and proceed with caution because leverage trading is risky.
What are the spreads?
There is no information on ProfitTrailer's website concerning the availability of spreads.
Get Started Today with ProfitTrailer
Fees, limits, and payment options on ProfitTrailer
How much does ProfitTrailer cost?
ProfitTrailer is a subscription-based trading robot, but that doesn't mean that it doesn't have a free option. The free trial allows you to use the paper-trading feature and just one exchange: Binance.
For the free paper-trading feature, you can be allowed to run two cryptocurrency trading robots and try paper-trading on several exchanges. Some of the supported exchanges are Bybit, Poloniex, BitMex, Bittrex, and Binance DEX.
You will also have access to try your hands on the Binance cryptocurrency exchange. Here you will have access to 5 store configurations, advanced statistics, live support on Discord, and advanced notifications.
The paid version of ProfitTrailer is where you will have access to a wide selection of tools that will bolster your cryptocurrency trading automation. The account or subscription types include:
Basic: The Basic plan costs €49 a month and €799 for a lifetime. Included in this plan/account type are signals subscription, live support on Discord, advanced paper-trading, and up to 40 Buy and Sell indicators. FOREX trading pairs are also available on OANDA.

Signals Edition: This account type starts at €30 a month. This plan is ideal for traders who just want to have access to profitable cryptocurrency and FOREX pair trading signals. The packages included here are access to all the exchanges partnering with ProfitTrailer, 2 months free signals, live support on Discord, access to signal indicators, and 3 store configurations.

Advanced: This is the most advanced account type offered by ProfitTrailer. It goes for €69 a month. You can also subscribe for the lifetime or one-time payment option of €999. Included in this plan is access to all the partnered exchanges, access to 2 bots for the monthly package, and up to 3 trading bots for the lifetime package. You will also get advanced notifications, 10 stored configurations, signals subscription, advanced paper-trading, and up to 40 trading indicators.
What are the payment methods accepted by ProfitTrailer?
ProfitTrailer accepts a wide range of payment options. These include but are not limited to credit cards, cryptocurrencies, such as Bitcoin and PayPal.
Does ProfitTrailer also charge fees and commissions?
ProfitTrailer doesn't charge additional or hidden fees. What you see on the pricing page is what you are expected to pay.
However, the partnered exchanges often charge maker and taker fees for the trades executed on the platforms.
ProfitTrailer trade sizes and limits
ProfitTrailer didn't specify if there are limits to the number of trades you can execute with the bots.
One of the most outstanding features is the blacklist option that allows you to remove or blacklist cryptocurrencies that you don't want to trade.
Sign up to ProfitTrailer
ProfitTrailer's platform
How does ProfitTrailer work?
Have in mind that ProfitTrailer is not a get-rich-quick trading robot. Just like every other cryptocurrency trading automation tool out there, the bot scans the market for buying and selling opportunities. It can make losses at some points, but the profit margin can cover up for that.
With that being said, let us get into how the software works. ProfitTrailer reportedly works by following the programmed settings of the existing robots. These settings help the bots trigger both the Buy and Sell orders under different cryptocurrency market conditions. The auto-execution of the trades goes a long way to accumulate multiple crypto coins at lower prices and make money from the same when the price/value spikes.
What devices can I use ProfitTrailer on?
ProfitTrailer claims to be "available on all devices", but it appears to be missing one thing – the mobile app. There is no mobile application for the platform. So, you can make do with using the web-based platform.
The supported devices are Linux, macOS, and Windows.
What exchanges and brokers does ProfitTrailer partner with?
ProfitTrailer is in collaboration with most of the popular and trusted cryptocurrency exchanges. Some of these exchanges are:
Binance

Binance Future

Kucoin

Kucoin Futures

Bittrex

Poloniex

Binance DEX

Huobi

BitMEX
Can I use ProfitTrailer in my country?
ProfitTrailer is available in the Netherlands, but mention isn't made of the other countries where the trading software is available.
The platform also mentioned that over 20,000 traders are using the software, but it didn't state where they are from.
Is ProfitTrailer available in my language?
English is the primary language supported by ProfitTrailer. You may want to contact the customer care department for a list of the supported languages.
How easy is it to use ProfitTrailer?
Using ProfitTrailer is very easy. The platform has practically made cryptocurrency trading a hassle-free experience, thanks to the innovative trading bots that do the most important jobs.
You can also have a bit of human interaction by leveraging the signals subscriptions to trade using the rules set by the bots.
You can choose from any of the account types to get access to a plethora of cryptocurrency trading features.
Register with ProfitTrailer
Key features
ProfitTrailer offers different flavors of cryptocurrency trading via the wide selection of cryptocurrency trading features. This includes a monitor, trading indicators, and a strong community.
Monitor
Have access to the intuitive interface provided via the ProfitTrailer's GUI. Through the monitor, you will keep track of your investments and the assets being traded on your behalf by ProfitTrailer's trading bots.
A Wide Selection of Trading Indicators
ProfitTrailer also offers a wide selection of built-in indicators that enhance your cryptocurrency trades. There are up to 40 indicators.
A Strong Community
Having access to a community where ideas and issues are resolved is everything. Gain access to ProfitTrailer's wide and dedicated community where cryptocurrency strategies are discussed. The ProfitTrailer team members are also available to help you in any way they can.
Security & Regulation
Is ProfitTrailer legit?
ProfitTrailer is said to have helped thousands of cryptocurrency traders automate their trades. The accuracy rate and the testimonies of some of these traders on trusted review platforms point to the fact that ProfitTrailer is legitimate.
Is ProfitTrailer safe?
The safety of ProfitTrailer is not in doubt. The parent company, ProfitTrailer B.V has done an amazing job of getting the trading bots to comply with the best security aspects.
First, ProfitTrailer is registered with the Curacao Chamber of Commerce in the Netherlands. The trading software is also regulated in the Netherlands, where it complies with the strict laws of the government of Curacao.
Second and most important, ProfitTrailer takes the security of its users seriously. This informs the reason why the platform is fully protected with the Secure Socket Layer (SSL) encryption.
Are me and my money protected?
The security of your information is the primary duty of ProfitTrailer, and that is why it uses SSL encryption.
However, the cryptocurrency exchanges allowing the use of ProfitTrailer on their platforms are responsible for the protection of your funds. Since most of these exchanges are regulated, you can be confident that your funds are in safe hands.
Also, consider taking additional security precautions for your protection. Some of the things you can do are enabling Two-Factor Authentication (2FA), changing your password frequently, and using a hardware wallet to store the crypto coins you don't want to sell anytime soon.
Is ProfitTrailer regulated?
ProfitTrailer has a full license from the government of Curacao. It is also fully regulated in the same jurisdiction.
Do I have to verify my account with ProfitTrailer?
No, you simply choose a plan, pay for it and start automating the trades. You will only be required to verify your account or pass the know-your-customer (KYC) test on the cryptocurrency exchanges that allow the use of ProfitTrailer trading bots.
Get Started Today
Extra information
Educational Resources
Yes, some educational resources guide you on how to use ProfitTrailer. You can find this via the "Wiki" tab on the homepage.
Tools and Charting
ProfitTrailer doesn't offer charting tools. You can only find this on cryptocurrency exchanges.
But why spend time looking at charts, when you can use the signals to trade and automate the bots?
Customer Support
ProfitTrailer offers extensive customer support. You can reach out to customer service via live chat. You can also open a ticket and your queries will be resolved in real-time.
How to get started with ProfitTrailer
Here are the steps to opening an automated cryptocurrency trading account with ProfitTrailer:
Step 1 - Sign Up for an Account
Create and account with your email address, and preferred password.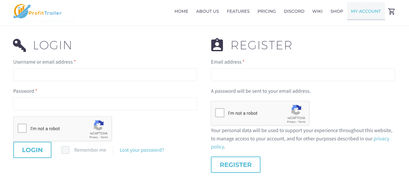 Choose from any of the three subscription plans on the list – Basic, Signals Edition, or Advanced.
Step 3 - Install Your Preferred Settings
Customize the settings or rules of the trading bots. You can either choose between "Gain" and "Loss" or from any of the other trading strategies, including EMAGAIN, RSI, and MACD.
Your ProfitTrailer trading bots are now ready to start automating your crypto trades, based on the strategies you selected.
Sign up to ProfitTrailer
Is there a Profit Revolution alternative?
Yes, there are many more crypto robots available. If you don't want to use Profit Revolution, check out some of our other reviews:
Conclusion
ProfitTrailer is credited with the successes of thousands of traders, the availability of multiple trading options, and the flexible use of trading indicators and signals make it a seemingly great bot for crypto trades. Try to run background checks on the exchanges to see if they are legit, and don't forget to make further independent research into ProfitTrailer before using it

Khashayar Abbasi
Khashayar discovered Bitcoin back in 2014 and has since spent countless hours researching the different use cases of cryptocurrencies. He has a bachelor's degree in International Relations and has been a writer in the financial services industry for nearly half a decade. In his spare time, Khashayar enjoys photography, cycling, and ice skating.