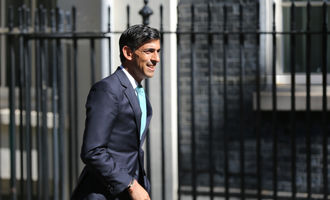 UK government to announce crypto regulation plans in coming weeks

Daniela Kirova
Last updated 31st Oct 2022
Rishi Sunak is expected to announce a new regulatory regime for crypto
It is likely to be favorable to the industry
Along with increasing interest in crypto in general, stablecoins have seen exponential growth over the last several years
The UK government will reveal plans to regulate the cryptocurrency market in the coming weeks. They will focus on stablecoins according to industry insiders, CNBC reported.
British Finance Minister Rishi Sunak is expected to announce a new regulatory regime for crypto. The Treasury has not commented at this time.
Plans 'likely favorable'
While plan details are still in the works, they are likely to be favorable to the industry according to CNBC's sources. They will bring legal clarity for a sector that is largely unregulated at this time.
According to the insiders, Treasury officials are willing to grasp the complexities of the stablecoins and the crypto market in general.
Most stablecoins are in a 1:1 currency peg with the USD. There are also some in EUR and other leading currencies.
UK Treasury talks to Gemini
The Treasury has been talking to a number of companies and trade groups, including Gemini crypto exchange, owned by the Winklevoss brothers. Gemini's Gemini dollar is a stablecoin pegged to the USD.
Stablecoins are growing exponentially
Along with increasing interest in crypto in general, stablecoins have seen exponential growth over the last several years in terms of use. The biggest stablecoin in the world by market cap, Tether, has a total circulating supply of more than $80 billion. Just two years ago, this was just $4 billion.
Concerns over the asset
Regulators worry that stablecoins can be used for illegal activities like money laundering. Another issue is the lack of adequate backing by an equivalent amount of fiat reserves. They are also concerned about possible exposure of the financial system to crypto and its being used by Russia to evade sanctions.
Real risks
In view of the above real risks to financial stability, The Bank of England issued a statement asking policymakers to expand regulatory frameworks.
The UK government's initiative can be seen as a response to President Joe Biden's recent executive order, which requested that US federal agencies coordinate to regulate digital assets.
The aftermath
Companies like Blockchain.com, Revolut, and Copper might have to limit their crypto operations in the UK as soon as this week. The UK Financial Conduct Authority requested they register as crypto asset transaction providers by March 31.
They are not the only firms that aren't meeting the required anti-money laundering standards, the FCA laments. Just 33 have registered so far. As many as four out of five companies evaluated by the regulator have either been rejected or withdrawn their applications.
View the latest on cryptocurrency regulations here.
Related Content
If you still haven't purchased your desired crypto, check out these guides: