55 Amazing Virtual Reality Statistics for 2022

Keith Hodges
Last updated 30th Nov 2022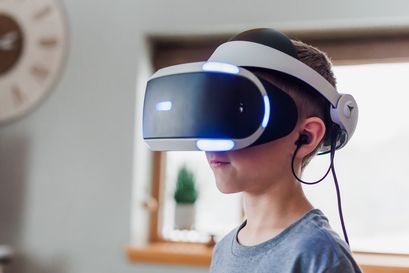 Immersive technology has come a long way, with virtual reality(VR) and augmented reality(AR) evolving in leaps and bounds. Traditionally, this tech was predominantly used in applications around gaming and entertainment. However, this notion has shifted, with virtual reality stats showing increased usage spanning many other industries.
There's an overarching wave of positive sentiment across the VR/AR industry due to better internet, cheaper hardware, and content availability.
To comprehensively understand the VR trends and stats, we've compiled a list of the most standout virtual reality statistics today.
10 Key Virtual Reality Facts and Statistics
The VR market is estimated to be worth $16.67 billion in 2022

The VR gaming market size was estimated to be worth $1.4 billion in 2021

The US VR market was estimated to be worth $4.6 billion in 2021

The global VR market size was estimated to be worth $21.83 billion in 2021

Meta's quest 2 dominated the VR/AR headset market by 78% in Q4 of 2021

The VR/AR technology is expected to create 23 million jobs in the US by 2030

VR/AR will create 400,000 jobs in the UK and Germany by 2030

80% of consumers report a positive impact from VR branded marketing experiences

VR/AR will create 400,000 jobs in the UK and Germany by 2030

35% of users in the 16 to 34 age bracket own a VR headset in the US and the UK
Virtual Reality Market Statistics
AR/VR headset sales numbers grew by 92% in 2021.
The dramatic growth was primarily attributed to high VR sales volumes for Meta's Quest 2 worldwide. There were over 11.2 million headsets sold, with the holiday season in quarter four of 2021 seeing significant numbers.
(IDC)
78% of the AR/VR headset market share was held by Meta's quest 2 in 2021.
DPVR came in second at 5.1%, with its success attributed to the Asian market. Pico VR was third at 4.5%, doing well in Asia, Europe, and North America. HTC and iQIYI headsets made up the top five.
(IDC)
Meta's quest 2 cumulative shipment was 1.5 times more than its biggest competitor.
VR headset sales for quest 2 by Meta, Facebook's parent company, jumped to over 10 million between 2016-2021. The Sony Playstation VR came in second at 6.6 million devices shipped.
(Counterpoint)
Meta expects its VR headset numbers to increase, with 12 million headsets projected to be shipped in 2022.
The Quest 2 headset is expected to account for 80% of the total shipments. The company banks on better showcasing of the product capability and price as the key drivers for adoption.
(Counterpoint)
AR/VR headset shipments are expected to grow by 46.9% in 2022.
Inexpensive headsets and moving beyond the core industry that utilizes VR/QR headsets will propel this growth. Broader adoption by the commercial sector and new entrants will also push the high VR sales volumes.
(IDC)
AR/VR headset shipments are set for double-digit growth through 2026.
Global headset shipments are forecast to surpass 50 million units by 2026. Industry players expect a 35% compounded annual growth rate(CAGR)
(IDC)
Due to the AR/VR industry growth, the technology is set to contribute $68.2 billion to the US economy in 2022.
The figures are expected to rise to a staggering $537 billion by 2030. Jobs are also expected to soar from 250,000 in 2021 to 2.3 million in 2023.
(Statista)
The market size for VR hardware and software was valued at $2.6 billion in 2020.
The value was expected to hit $3.7 billion in 2021, $4.6 in 2022, and $5.1 billion in 2023.
(Superdata)
Consumer applications account for 54.7% of the total VR market.
Sales from new products such as HMD and GTD coupled with new product launches drive the VR market. For instance, HMD devices are expected to have a CAGR of 38.6% between 2020 to 2025.
(Markets and Markets)
VR User Statistics
83% of immersive technology industry players believe the industry's future is bright.
The survey conducted in early 2020 showed that industry players believed high levels of investment in immersive technology would bear fruits. When Covid-19 hit, more people worked remotely, significantly affecting AR/VR sales trends.
(Perkins Coie)
37% of VR/AR consumers showed strong optimism for the industry in 2021.
An AR/VR consumer survey showed respondents were bullish about the prospects of immersive tech. 8 out of 10 respondents believed there would be increased investment and adoption of the tech. Those who showed strong optimism in 2021 were notably higher than in 2020, where about 26% expected a significant pace of investment into the tech.
(Perkins Coie)
65% of VR consumers say user experience is a Key barrier to mass adoption.
Other challenges affecting the mass adoption of VR include content offering at 53% and underlying costs at 27%.
(Perkins Coie)
35% of users in the 16 to 34 age bracket own a VR headset in the US and the UK.
A survey to check the demographics of those who own VR headsets found that young males were likelier to own a headset. The ownership levels drop to 26% for the 35-44 age group while it's only 12% for the 45-54 age group.
The survey also checked the distribution by gender. 30% of the male respondents had used a VR headset previously at least once, compared to only 16% of women.
(GlobalWebIndex)
50% of VR users say the development of more accessible software will drive enterprise adoption.
44% of industry players in a survey also believed that requisite infrastructure was imperative for enterprise adoption. 40% believed government support was the missing link.
(Perkins Coie)
55% of those who've never tried VR headsets are not interested in VR technology.
The consumer report released in 2020 detailed that VR was doing well despite several hurdles, including hardware hitches. Frailing adoption rates are a major concern for industry players, with some quarters believing that VR tech is a fad.
(ReportLinker)
The VR market size was estimated to be $16.92 billion in 2021.
Based on primary research, the market size is expected to hit $105 billion in 2028. The virtual reality market size is predicted to grow at a CAGR of 35.7% between 2021 and 2028. Prominent players such as Sony, Google, and Apple are expected to drive this growth.
(Vantage Market Research)
The size of the VR market is projected to hit $37 billion in 2022.
Increasing usage in healthcare, partnerships with telecoms, retail, e-commerce, training, and education are some factors fuelling the industry's growth. Currently, the market is controlled by established global players such as Google, Sony, and Samsung.
(Markets and Markets)
Research shows that 89% of industry players believe that fashion and retail represent great opportunities for VR.
During and post-pandemic, there was a notable shift in consumer shopping behavior. Fashion and retail players used VR/AR for virtual merchandise try-ons and virtual product customization.
73% of the respondents believed virtual try-on would significantly impact the industry. 63% of the respondents see product customization as critical, while 42% said virtual interactive campaigns were impactful.
(Markets and Markets)
Consumer and enterprise VR revenue is expected to top $11 billion in 2022.
This is a 167% increase in revenue since 2020. Consumer and enterprise hardware were the biggest drivers of the growth, with the software component chipping in significantly. Revenue is predicted to exceed $22 billion by 2024.
(Statista)
Global VR/AR spending was projected to reach 18.8 billion in 2020.
Data shows that China leads in AR/VR popularity and expenditure, with projections showing a total of $5.8 billion would be spent in the country. The US is the second-largest spender at $5.1 billion. The two countries were expected to account for 58% of the total VR/AR spending globally.
(Statista)
China is expected to account for 36% of the $72.4 billion projected to be spent on VR technology by 2024.
The US and Western Europe are also boasting significant numbers, with CAGRs projected to hit 75.1% and 72.8%, respectively, by 2024.
(IDC)
VR/AR spending is expected to balloon to 72.4 billion in 2024.
VR technology is increasing in popularity, with about 70 million people expected to use the tech by 2023.
(IDC)
78% of Americans are familiar with VR in 2018.
Research also shows that 18% of Americans consider themselves subject experts on matters of VR, having followed the technology for years. Generation Z and millennials lead this group. However, 53% say they've never heard about VR.
(Forbes)
The AR/VR market is forecast to reach $20.9 billion by 2025.
With businesses using VR/AR for wider spheres, many European countries continue to realize the use of this technology. The VR technology is set to boost the German economy by close to $29.8 billion and the UK the economy by $20.1 billion
(Markets and Markets)
44% of industry players expect VR to be used in urban planning and traffic management.
Apart from education, fashion, retail, and manufacturing, industry players see VR/AR as making some headway in urban planning.
(Perkins Coie)
400 thousand jobs are likely to be created in Germany and UK through VR by 2030.
Data shows that 10K and 15K jobs were created in Germany and UK, respectively, in 2019.
(Statista)
Virtual Reality Future Predictions
The global VR sales market size is set to grow to $16.67 in 2022.
The VR sales projection will eclipse $200 billion by 2029 with a CAGR of 45.2%.
(Fortune Business Insights)
VR Industry Growth
The AR/VR market size was estimated at $213 million in 2017.
The market is set to register a CAGR of 175% going from 2018 to 2025.
(Valuates)
82% of companies who've incorporated VR into their processes report the benefits exceeded expectations.
The benefits of implementing VR/AR in business operations met and surpassed the expectation of most companies. There was a marked improvement in productivity and efficiency, especially when the tech was rolled out on a large scale.
(Capgemini)
China boasts the highest level of VR implementation at 51% in manufacturing.
Through concerted efforts in policy implementation by the government and consistent uptake by the private sector, the adoption of VR in the manufacturing sector has witnessed staggering numbers.
(Capgemini)
80% of consumers report a positive impact from branded VR experiences.
Marketers using VR for their brands report more impact compared to traditional marketing methods. Consumers report feeling more intimate with the brands and excitement by diverse content offerings.
(Touchstone Research)
Three-quarters of the Forbes top brands have invested in VR.
The massive potential in using VR has been clear to many companies, although hardware and software issues have impeded the absorption of the tech. As things continue to improve, major companies have taken advantage of introducing various forms of VR in their business processes.
(Hypergrid Business)
97% of industry players in education agree that VR will contribute to a significant advancement in education through 2026.
Most of the sub-sectors in education would see better engagement and interaction, especially during the pandemic. 59% of the respondents alluded that research is needed to integrate VR/AR into education properly.
(Perkins Coie)
66% of industry players in the education sector say post-graduate programs would benefit from using VR.
Another 64% of the respondents believe AR/VR would significantly contribute to colleges and universities. The University of Maryland and Michigan have made significant efforts to utilize immersive technology.
(Perkins Coie)
VR Gaming Statistics
VR game revenue shot up by 25% in 2020.
Data shows that revenue crossed the $589 million mark for the year, buoyed by people spending lots of time indoors.
(Superdata)
The VR gaming statistics show that revenue hit $6.26 billion in 2020.
The VR gaming segment is set to experience explosive growth moving forward. A study indicates that the market is projected to grow to $53 billion by 2028
(Fortune Business Insights)
The size of the VR market in gaming is expected to reach $92.3 billion by 2027.
The market is estimated to grow 30.2% through 2027, with millennials being the key drivers of VR adoption.
(Grand Review Research)
Statistics show that the most prominent use cases of VR are virtual gaming and video.
About $20.8 billion is expected to be spent on VR gaming and video globally by 2023.
(Statista)
10% of gamers in Poland used VR devices in 2020.
A further 41% of gamers were set to use mobile VR in the country.
(Statista)
VR Usage Statistics
The number of VR users in the US is projected to reach 65.9 million users by 2023.
There's a considerable year-on-year increase in the number of VR users in the country. There was a 123% increase in VR users between 2017 and 2020.
(Forbes)
Consumer spending on VR content and application was forecasted to reach $3.5 billion in 2021.
Location-based VR, AR/VR, was estimated to reach over $11.8 billion, a 21.6% increase from the estimates in 2020.
(Statista)
A survey in 2019 showed that 9 out of 10 respondents believed that VR would Soon be as ubiquitous as smartphones.
39% of the respondents held strong optimism about the industry's future. A further 47% say they agree with this notion. Better content and availability of devices played a significant factor in influencing the response. About 7% believe that poor user experience and content quality still dampen the pace of adoption.
(Perkins Coie)
The VR market for hardware accounted for $10.78 billion in revenue in 2020.
The revenue is expected to grow by a CAGR of 17% between 2020 and 2028. This growth will be buoyed by the growing demand for smartphones which will complement VR hardware devices. Increasing usage in theme parks, amusement parks, and commercial applications will also contribute to this growth.
(Grand View Research)
The VR software segment is expected to witness substantial growth of around from 2021 to 2028.
The growth will be influenced by an increasing trend to integrate external applications into VR headsets.
(Grand View Research)
Healthcare leads in market opportunity(CAGR) by 22.7% from 2021 to 2028 based on VR market segmentation.
Commercial and enterprise applications also have a significant market opportunity between 2021 and 2028 at 19.5% and 18.9% CAGR, respectively.
(Grand View Research)
A survey indicated that Gesture-Tracking Device (GTD) will lead in CAGR by 20.6% between 2021 to 2028.
Head-Mounted Displays (HMDs) and projectors & Display Wall (PDW) also have significant market opportunities by device type. HMDs have an expected CAGR of 18.4%, while PDW has a CAGR OF 11.6% through 2028.
(Grand View Research)
About 23 million jobs will be using virtual reality and augmented reality by 2030.
The research reports that tech can also contribute billions to the economy. The impact of this tech will be felt in larger economies such as the US, UK, Germany, and China.
(PwC)
Virtual Reality Adoption Statistics
Bulky hardware and technical glitches at 27% are the biggest obstacles to VR adoption.
Consumer and business reluctance to adopt VR/AR, content offering, regulations, and legal risks are other factors hindering mass adoption of this tech. Cost to consumers is another obstacle, with 11% of respondents claiming it to be a significant impediment to VR/AR adoption.
(Perkins Coie)
Slow adoption at 69% is the greatest concern for VR and other immersive technology startups.
The VR adoption rate is a significant concern amongst investors. Some of their main fears are the lack of an established market at 58% and untested technology at 36%.
(Perkins Coie)
The hot and most promising investment region for VR and immersive technology in North America at 62%
Stakeholders also believe that North America, at 57%, is likely to witness the fastest growth in immersive technology. Europe is also considered an investment hotspot, coming second at 21%, with Asia Pacific third at 13%. Virtual reality data shows that China's massive middle class will lead in adopting VR technology.
(Perkins Coie)
Research among VR startups shows that consumer and data privacy was the biggest legal concern at 61%
Product liability at 49%, difficulty in licensing, and health issues at 49% are some of the legal hurdles startups face.
(Perkins Coie)
69% of respondents in a survey indicated that they get VR and immersive technology news from industry association publications and websites.
64% of the respondents suggested that social media was also a primary means of getting VR/AR news. Other options include industry thought leaders' websites at 44% and print media at 22%.
(Perkins Coie)
VR and immersive technology startup firms are inclined towards developing content for Google ARCore ad Oculus Rift at 34% and 33%, respectively.
HTC Vive at 28%, Playstation VR at 27%, and Samsung Gear VR at 26% make up the top 5 most popular platforms.
(Perkins Coie)
48% of VR content developers favor creating video games.
Social content development ranked second among content creators at 31%, followed by advertising at 26%. Livestream, film, and entertainment made the top five at 25% and 24%, respectively.
(Perkins Coie)
A recent study shows that VR forms the biggest area of focus at 41% compared to other immersive technologies.
Augmented reality at 28% came in a distant second. Other firms' primary focus was mixed reality at 26%, while only a small percentage(6%) concentrated on all forms of immersive technology.
(Perkins Coie)
FAQ
What percentage of people use virtual reality?
19% of adults in the US have used virtual reality.
How big is the market for virtual reality?
The VR market was worth 11.64 billion in 2021.
How many VR users are there?
58.9 million people in the US used VR at least once every month in 2021.
What demographic uses VR the most?
The 16-34 age group uses VR the most.
Conclusion
All the different VR stats show that VR and its use cases are on an upward trajectory. VR has found a footing across various domains, including consumer, enterprise, and industrial apps.
The future for VR looks rosy with double digits CAGR across different aspects. The number of VR users will increase as the tech gears towards mass adoption. VR headsets' availability, better content, and enterprise applications are expected to aid in this adoption.
Sources:
Read More About the Metaverse

Keith Hodges
Keith is a finance SEO specialist, having worked previously as a journalist in the industry. He is currently the Head of SEO at BanklessTimes and is based in London. Keith has written and worked extensively in the personal finance and investment industries, with particular focus on international and digital currencies.