Web Browser Market Share – US and Worldwide Data for 2023

Hristina Nikolovska
Last updated 17th Feb 2023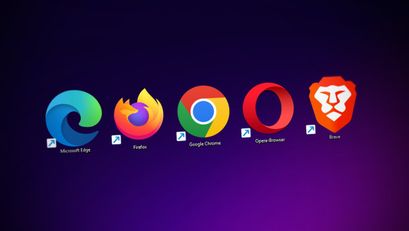 According to some estimates, currently, there are about 200 different browsers in the world. Hundreds of them have tried to make it in the tough market by offering all kinds of unique features, but ultimately, the vast majority failed. And while plenty of browsers found their place on the market and hold specific niches of users, it all comes down to a few big players.
Web Browser Market Share
Google Chrome, Safari, Microsoft Edge, Firefox, and Opera. As most internet users, you have probably tried, if not all five, at least three of these giants from the browser industry. Maybe you even tried some of the less renowned alternatives, but in the end, we all go back to them. If you are using a different browser by default, you can consider yourself special, as the collective share of these five browsers on the global browser market is 95.95%.
Web Browsers by Market Share Worldwide
The most recent findings show that almost two-thirds of internet users worldwide browsed the web using Google Chrome in the past year. More precisely, Chrome dominates the global web browser market with a whopping 65.68% share. The only other browser on the market that has a somewhat considerable share is Safari, with 18.68%.
Browser usage statistics further reveal that no other web browser even exceeds the 5% global market share mark and currently place Microsoft Edge in the third spot, with 4.33%. Firefox is next on the list, with a 3.15% share, followed by Samsung Internet, whose share accounts for 2.75% of the market.
Opera is the last entry on the list of most used web browsers that has a market share of over 1%, with 2.26%. Interestingly, a number of users, large enough to account for 0.73% of the market share, use the Android Browser to access the internet, 0.71% do it via the UC Browser, and the last browser that made the list is Internet Explorer with a 0.33% market share.
Mobile Browser Market Share
The number of mobile internet users exceeded the number of desktop internet users in November 2016 for the first time in internet history. Nowadays, mobile users constantly outweigh desktop users by notable margins, and when they do browse the web through their smartphone, chances are they are using Chrome or Safari.
Mobile browser user share statistics show that these two browsers collectively hold close to 90% of the mobile browser market. Chrome is miles ahead with a 65.23% portion, while the share of Safari is 24.62%. The Samsung Internet is the third most popular mobile browser with a 4.69% market share.
Outside the top three, Opera is the fourth most popular web browser for mobile, with a share of 1.86%. Other popular browsers worthy of a mention are UC Browser (1.17%), Android Browser (0.73%), Firefox (0.49%), Instabride (0.29%), and QQ Browser (0.23%). The remaining 0.69% of the market is split among hundreds of other less popular mobile browsers.
Market Share of Web Browsers Used on Desktops
Google Chrome's domination as the world's most popular web browser is the most prominent among desktop users. A huge portion of 67.34% of desktop internet users browse the web via Chrome, while 10.8% use Microsoft Edge, and only 8.93% use Safari. Apple's browser is second best in most categories, but Microsoft's browser slightly edges it (pun indented) in the desktop browser usage share segment.
Next on the list is Firefox, with a 7.27% market share, followed up by Opera, whose users account for 2.93% of the global desktop browser market. Lastly, the most recent stats reveal that there still is a significant number of users who are loyal to Internet Explorer, just enough for it to be kept in the conversation, with a 0.84% market share.
Internet Browser Market Share on Tablets
According to recent findings, the popularity of tablets has been on a decline since 2017, though there are still more than enough of them in circulation to make a difference in the browser market. As per the latest stats, Google Chrome is also the most popular choice of web browser for tablet users as well, though with considerably slimmer margins.
Namely, Chrome's market share among tablet users is 47.99%, while Safari's is 35.4%. Even though Apple has the largest share of tablet vendors in the world, there are simply too many Android tablets from different manufacturers circulating. As a result, the third most popular tablet browser is Android Browser, with a share of 14.46%. Other browsers that tablet users like to use that deserve mention are Opera (0.78%), Edge (0.36%), and Puffin (0.25%).
Web Browser Market Share by Region
With the global statistics out of the way, we can start focusing on more region-specific data and gain more detailed market insights.
In North America, Google Chrome is the web browser with the highest market share of 53.2%, and Safari, with a 32.28% share, is the second on the list of browsers by popularity. The NA market is a bit of a duopoly and the only browsers, outside the big two, with a somewhat significant market share are Microsoft Edge with 6.15%, Firefox with 3.5%, and Samsung Internet with 2.07%.
In Europe, Chrome is a bit more dominant, with a 58.91% market share, while Safari's browser usage share is less widespread and accounts for 20.91% of the market. Several other browsers are in contention for the number three spot in the EU market, which is currently held by Microsoft Edge, with a 6.04% share. Firefox is also a popular choice in this region and holds a 5.45% portion, followed by Samsung Internet and Opera, which have 3.21% and 3.13% market share, respectively.
The browser market share in Oceania is very similar to the one in North America. The largest portion of 52.67% belongs to Google Chrome, while Safari is next in line with a 31.98% share. The browsers that follow are Microsoft Edge with 6.64%, Firefox with 3.47%, Samsung Internet with 3.2%, and Opera with 1.02%.
In Asia however, Google Chrome is convincingly the most popular browser, with a colossal 75.44% market share. Safari is traditionally second-best with an 11.1% portion, though Samsung Internet is ahead of Microsoft Edge in this region Their respective shares are 2.82% and 2.57% and push Firefox to the number five spot, with a market share of 1.82%.
Google Chrome's supremacy is even more outstanding in the South American market, where browser usage statistics show it holds a stupendous share of 80.44%. Safari users only account for 7.23% in SA, while Microsoft Edge and Opera users account for 3.35% and 3.15% of this region's market. Interestingly, in February 2022, the market share of Instabridge surged to 13.02% but then fell to under 1% in the following months.
Finally, the market share of web browsers in Africa is also dominated by Google Chrome, whose portion in the region is 69.04%. What's unique about this region is that Opera has the second-largest share of the market, or 11.7%, while Safari is in the number three spot with a share of 9.11%. Furthermore, Samsung Internet is next on the list with 3.95%, and Microsoft Edge rounds up the top five, with a 2.44% market share.
Web Browser Market Share in the US
While Apple has the lead in the mobile OS market and iPhones are marginally more popular than Android phones in the US, the same can't be said about their respective browsers. Even in one of the most Apple-dominated markets, Google Chrome is the most used browser with a 50.58% market share, while Safari is second with 34.63%.
Google Chrome Market Share in the US
In the US mobile web browser market, Google Chrome's share of 42.39% isn't enough to put it on top, and it is below the leader Safari. Chrome has the runner-up position in the tablet market as well, with a 35.41% share. On the desktop market, however, its place at the top of the market is undisputed, with a 60.78% portion.
Safari Browser Market Share in the US
Safari is at the top of the US web browser market in both the mobile and tablet segments, with shares of 51.37% and 38.67%. However, its share of the desktop browser market is too low, at 15.65%, for it to come out on top in the overall web browser market.
Microsoft Edge Market Share in the US
As the third player in the US web browser market, Microsoft Edge's share is almost entirely made of desktop users. Its share of the desktop browser market is 13.61%, while on the mobile and tablet markets its presence is almost non-existent, with 0.25% and 0.62% portions.
Firefox Market Share in the US
Similar to Microsoft Edge, most of Firefox's share in the US market consists of desktop users. They account for 6.75% of US desktop users, while in the mobile market, Firefox's share is only 0.84%. On the tablet market, the market share of Firefox is too small to be noted.
The Summary
Google Chrome has been the world's most popular browser since 2013, and there is no reason to believe that it will be dethroned any time soon. Unless Google decides to shut it down, Apple is going to need nothing short of a miracle to come out on top. Safari's place on the number two spot is also guaranteed, while the number three spot is up for the taking.
It is interesting to see Microsoft Edge gaining traction while Internet Explorer's market share slowly but surely becomes part of history. Firefox may be away from its glory days, but it still has a place among the top five, just above Samsung Internet, which recently pushed Opera out of the world's five most popular browsers.
Find Out More About Web 3
Hristina Nikolovska
An internship in a digital marketing agency during her freshman year of university got Tina into content. A decade later, she's utilizing her educational background in English and knack for research to craft website content on crypto and ensure readers are fully informed. When she's not investigating the crypto market and expanding her knowledge, you'll find her randomly roaming cities and sunny coasts all over the world.