What Crypto Does Elon Musk Own in 2022

Aleksandar Hrubenja
Last updated 30th Nov 2022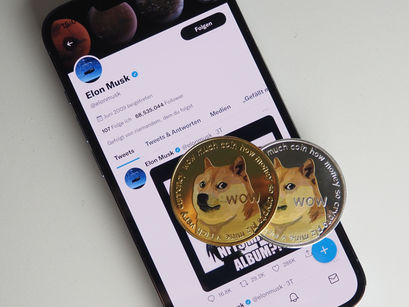 It's well-known that Elon Musk is a big fan of cryptocurrencies, praising their structure as "brilliant" and claiming it will one day replace paper money. But how much does he actually own? And how much crypto is owned by Tesla?
In this article, we'll dive deep into Elon Musk's and Tesla's known historic and current cryptocurrency assets, so read on and find out all about it!
What Crypto Does Elon Musk Own?
The short answer is: very little, if any. In 2019, he stated that, at the time, he only owned 0.25 Bitcoin, and only because a friend gifted it to him. However, two years later, Musk did claim that he acquired Bitcoin, Ethereum, and Doge ASCII hash strings.
Musk never disclosed the number of other cryptocurrencies he personally owns. His companies, however, are another matter.
(Yahoo Finance, Twitter)
Elon Musk on Bitcoin and Crypto: An In-Depth Look
There is no official information on the amount of crypto Elon Musk personally owns, only guesswork and internet snooping. However, his companies are easier to analyze. Let's see how these other companies fare and how much Bitcoin Tesla owns.
A recent comment from Musk boosted Dogecoin's value by 18%.
Musk's love for Dogecoin is well-known by now. When talking about the recent FTX collapse, Musk's comments about Dogecoin lead to a breaking of a key resistance level as well.
If you want to buy Dogecoin, it's up to you to do so, but have his comment in mind: "Don't bet the farm on DOGE, but I'm working hard on the DOGE."
(News.Bitcoin)
Tesla Invested $1.5 billion in Bitcoin in February of 2021…
Many people have been waiting for Musk to take the plunge and invest in crypto. Almost two years ago, he did exactly that, through Tesla. This long-awaited Elon Musk Bitcoin investment was held based on new investment policies centering around Tesla's further diversification of assets.
(CoinDesk)
….and sold 75% of its Bitcoin in the second quarter of 2022.
And then, Tesla sold a large quantity of Bitcoin a year and a half later. At the time, this 75% was sold at a value of $936 million. Tesla claimed that the reasons behind this decision centered on the company's need to increase liquidity.
(NPR, EuroNews)
Now Tesla only accepts Dogecoin…
Before, Tesla accepted Bitcoin as payment for their cars. A year ago, they dropped it as a payment method, citing Bitcoin mining's environmental impact as too severe. However, you can open up your crypto wallet and still pay for a Tesla by using Dogecoin.
(Tesla, BBC)
…as does the Boring Company.
In July, the Tesla and Boring Company CEO announced they will accept Dogecoin as a payment method for their Vegas Loop.
People will be able to pay for their rides by scanning a QR code at the Vegas Loop premises.
(Mashable)
In July 2022, Tesla owned roughly 10,500 BTC.
The exact number of Dogecoin was not disclosed, but Musk did mention that they did not sell any of their stock. We also don't know how much Dogecoin does Elon Musk own personaly.
They did announce that Tesla owns digital assets valued at $218 million at the time. An estimation purports that they owned 42,000 BTC before selling 75% of it last year, leaving them with 10,500.
(TechCrunch)
A SpaceX intern started the rumor that Musk is the creator of Bitcoin.
The rumors behind Elon Musk being Satoshi Nakamoto, the creator of Bitcoin, seem to have been started by a SpaceX employee in 2017.
Musk, of course, denied this and even posted on Twitter how the name Satoshi Nakamoto is a combination of the following brand names:
Samsung

Toshiba

Nakamichi

Motorola
This rumor is especially strange when you consider how much did Tesla invest in Bitcoin in 2021 and then how much did it sell a year later.
(Twitter, CNBC)
Musk never trusted Sam Bankman-Fried.
The FTX collapse sent shockwaves through the crypto world. Musk, however, claimed that Bankman-Fried set off his "BS detector" in March of 2022.
At the time, the former FTX CEO offered $3 billion to assist in Musk's acquisition of Twitter, hoping to talk about integrating blockchain into social media. Musk was doubtful of whether Bankman-Fried even had the liquidity to back up the potential $3 billion investment.
It might be interesting to think how much Elon Musk's Bitcoin net worth, and Tesla's for that matter, stands after this crash.
(Decrypt.co)
Bitcoin Will Make It, With Difficulty
Musk definitely believes in cryptocurrencies and especially Bitcoin. However, it seems that he is still playing it safe. In his own words, "BTC will make it, but [it] might be a long winter."
Sources:

Aleksandar Hrubenja
With a BA in English literature and linguistics, training provided by veteran licensed court interpreters, and direct SEO management experience, Aleksandar Hrubenja knows what good content looks like. He's tackled any topic thrown his way, spending the last six years writing articles on SEO, digital marketing, and finance - just to name a few.