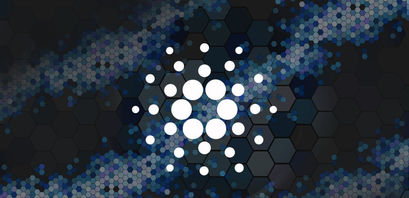 Cardano price prediction: ADA set to rebound according to this pattern

Crispus Nyaga
Last updated 29th Jun 2022
Cardano price has been in a strong bearish trend in the past few months.
Its market cap has collapsed from over $91 billion to $28 billion.
The giant falling wedge pattern points to a sharp rebound.
The Cardano price has been in a strong bearish trend in the past few months as concerns about its present and future remain. The ADA token is trading at $0.87, which is slightly above the year-to-date low of $0.746. The price is about 72% below the all-time high of $3 while the market cap has dropped to $28 billion from an all-time high of $91 billion.
Is Cardano a good investment?
Cardano is one of the biggest blockchain projects in the world. Its token is position 9 of the biggest coins globally.
However, the coin has been in a strong bearish trend in the past few months as investors remain concerned about its current ecosystem and the platform's future.
The main concern is that the network has not achieved significant uptake from developers. For example, a quick look at DeFi Llama shows that there are just six DeFi platforms built using Cardano.
Of these six, only two - MinSwap and SundaeSwap - have a TVL of over $100 million. MuesliSwap has a TVL of about $1.49 million while the rest have no assets tied in the ecosystem.
The same trend is seen in other industries like metaverse and non-fungible tokens. While there have been several projects in the ecosystem, none has become a widespread success.
In my view, the only positive thing about Cardano is its popularity among investors. Millions of users globally own ADA, which has helped to support its price. And most of these users are diehard fans who have been with it for months.
According to Staking Rewards, Cardano has an APY of 5.28%, which is higher than that of Ethereum. What's notable is that the staked value in Cardano is $20 billion while the total market cap of the coin is $28 billion.
Cardano price prediction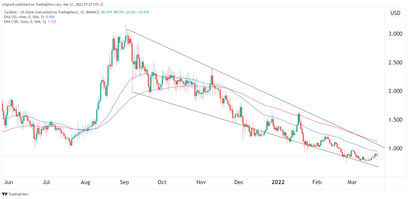 The daily chart shows that the ADA price has been in a strong bearish trend in the past few months. As a result, the coin remains below the 50-day and 100-day moving averages (MA). This is a sign that bears are in total control.
A closer look shows that the Cardano price has formed a giant falling wedge pattern that is shown in black. In price action analysis, a falling wedge is usually a bullish sign.
Therefore, with the wedge nearing its peak, there is a likelihood that Cardano will soon bounce back sharply in the coming months. This is a sign that the coin is bottoming.

Crispus Nyaga
Crispus is a financial analyst with over 9 years in the industry. He covers cryptocurrencies, forex, equities, and commodities for some of the leading brands. He is also a passionate trader who operates his family account. Crispus lives in Nairobi with his wife and son.