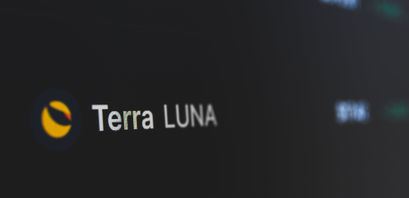 Terra LUNA Price Has Plummeted. Is Tron TRX Next?

Crispus Nyaga
Last updated 23rd Sep 2022
Terra LUNA price has dived by over 90%.
The decline is mostly because of the collapse of Terra USD.
Is Tron the next cryptocurrency to plummet?
Terra had it all. The LUNA token came from nowhere and became one of the biggest cryptocurrencies in the world. Terra USD became the third-biggest stablecoin in the world. At the same time, it evolved to become the biggest platform for DeFi applications in the world with popular apps like Anchor Protocol and Astroport. All this has now come crumbling down as the Terra LUNA price has crashed by over 90%.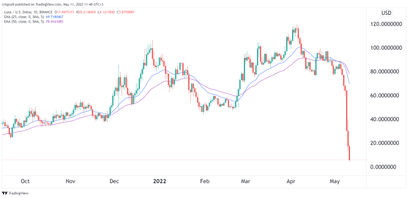 The rise and fall of Terra LUNA
Terra is a blockchain project that was built using the Cosmos SDK. It is a platform that is widely known for many things. For example, in South Korea, its Chai application has more than 4 million users. It is also known for its popular DeFi applications like Anchor Protocol, Lido, Mirror Protocol, and Astroport.
Learn how to buy the Cosmos ATOM.
Terra is also known for the Luna Foundation Guard, an organization that has raised billions of dollars from venture capital companies.
Most importantly, Terra was known for its stablecoins that differentiated themselves from USD Coin and Tether because of their algorithmic nature. The stablecoin has been in the spotlight in the past few months. For example, the Luna Foundation announced that it would acquire Bitcoins worth $10 billion to back it up. They also bought a basket of other cryptocurrencies like Avalanche.
This week, the Terra USD lost its peg and crashed from $1. It has now moved to about $0.40, meaning that it is becoming worthless. Holders who had $1 in UST now have 40 cents. As a result, the LUNA price has crashed to $5.40, which is significantly lower than its all-time high of $120. The total value locked in Terra's ecosystem has plummeted from over $30 billion to just $3.8 billion.
Is Tron's TRX next?
The biggest question among investors is whether Tron is next. For one, Terra and Tron have a close resemblance. They both have charismatic founders and their platforms are popular among developers and investors. For example, Tron has a total value locked of over $4.3 billion.
Notably, one reason why the Tron price has done well recently is because of its new Terra USD clone known as USDD. The stablecoin has a close resemblance to UST. In the past few days, the USDD market cap has jumped from zero to $256 million.
Therefore, there is a likelihood that USDD will also lose its peg just as Terra UST has done. Besides, most algorithmic stablecoins have lost their pegs recently as well. The most notable one was Neutrino (USDN), which lost its peg in April of this year. Since then, Neutrino has traded below $1.

Crispus Nyaga
Crispus is a financial analyst with over 9 years in the industry. He covers cryptocurrencies, forex, equities, and commodities for some of the leading brands. He is also a passionate trader who operates his family account. Crispus lives in Nairobi with his wife and son.