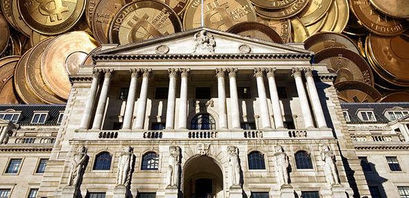 Bank Of England's Warning About Potential Cryptocurrency Risks

Ruby Layram
Last updated 11th Aug 2022
According to a senior Bank of England official, cryptocurrency assets could be a risk to the established financial system. However, Brits are still far from holding the majority of their wealth in such assets. 
Nevertheless, cryptocurrency is becoming more mainstream which means that many people could be affected if their value were to fall sharply. Bank of England Governor, Jon Cunliffe has said that the bank needs to be ready to deal with such risks. 
The governor has revealed that around 0.1% of UK households' wealth is held in crypto-currencies. Around 2.3 million Brits are said to hold cryptocurrencies with the average value per person being £300. 
The governor explained that cryptocurrencies are growing very fast. Recently, fund managers across the country have been adding assets to their portfolios.
1
Minimum Deposit
$10
Exclusive Promotion
More than 3,000 assets, including currencies, stocks, cryptocurrencies, ETFs, indices and commodities
Buy crypto, or trade cryptocurrencies via CFDs
This ad promotes virtual cryptocurrency investing within the EU (by eToro Europe Ltd. and eToro UK Ltd.) & USA (by eToro USA LLC); which is highly volatile, unregulated in most EU countries, no EU protections & not supervised by the EU regulatory framework. Investments are subject to market risk, including the loss of principal.
Sir Jon warned that "their price can vary quite considerably and they could theoretically or practically drop to zero." Adding, "the point, I think, at which one worries is when it becomes integrated into the financial system when a big price correction could really affect other markets and affect established financial market players."
Cunliffe stressed the importance of establishing a regulatory framework that can contain the risks posed by cryptocurrencies. He went on to explain, "We really need to roll our sleeves up and get on with it, so that by the time this becomes a much bigger issue, we've actually got the regulatory framework to contain the risks."
Sir Jon's remarks came the day after the Bank of England published its latest financial stability report. The country is currently recovering from the Covid-19 pandemic and many are wondering whether this may be preventing some people from investing in crypto assets. 
As the economy recovers, more and more people are expected to delve into the world of cryptocurrency which means that it could play a much larger role in our financial system one day. 

Ruby Layram
Ruby is a writer for Bankless Times, covering the latest news on the cryptocurrency market and blockchain industry. Ruby has been a professional personal finance and investment writer for 2 years and is currently building her own portfolio of altcoins. She is currently studying Psychology at the University of Winchester, specialising in Statistical analysis.