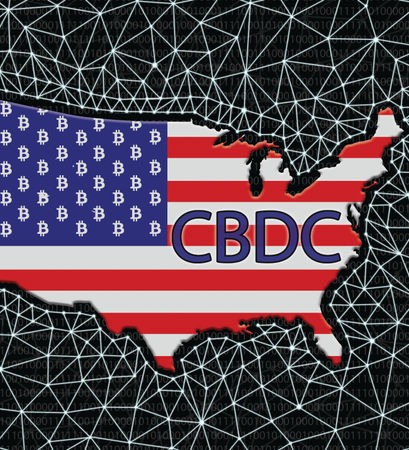 US CBDC— Rise of Crypto and fall of the Dollar? Industry Giants React as the US Joins 80 Other Nations Pursuing CBDCs

Amala Pillai
Last updated 31st Jan 2023
EO laid out support to explore the research and development of a US Central Bank Digital Currency
Countries actively pursuing CBDCs increased 160% from 2020 to 2021
Russia and India have completed research and are piloting their CBDCs
In a watershed moment for cryptocurrency, US President Joe Biden signed a first-of-its-kind Executive Order (EO) on cryptocurrency on March 9th directing federal agencies to coordinate their approach to the sector.
The "whole-of-government" effort to regulate the crypto industry focuses on consumer protection, financial stability, illicit uses, US competitiveness, financial inclusion, responsible innovation. Notably, the EO laid out support to explore the research and development of a, "US Central Bank Digital Currency," or CBDC.
Rise of Crypto and fall of the Dollar?
The urgency cited within Biden's EO for "the [US] government to roll out a plan to create a new digital currency" within the next six months has led many to believe that the collapse of the US dollar is on the horizon.
ARK 36's Executive Director Mikkel Mørch said,
"It is becoming clear that the US will need a strong CBDC to keep that status of the dollar as the world's reserve currency. This is a positive development for the crypto sphere as well. Even though such state-sponsored digital currencies are much different from independent cryptocurrencies like Bitcoin, the adoption of CBDCs will likely enhance the mainstream adoption of crypto as a whole."
Mørch also said that the development of a US version of a CBDC is something that we will hear more of— not only from the US but from other countries as well.
"China has an already functioning CBDC and with all the geopolitical changes happening at the moment, they will likely try to leverage it to weaken the status of the dollar as the currency of international trade," Mørch said.
BanklessTimes research found that at least 91 countries are working on CBDC projects in 2021. This is a 160% increase from 2020 when only 35 countries were interested in CBDC.
The research found that currently, there are 80 countries actively pursuing CBDCs at various stages. Russia and India have completed research and are piloting their CBDCs while nine other countries, including the Bahamas and Nigeria, have already launched CBDCs.
40 countries, including most of Europe, the US, and the UK are still in the research phase.
Biggest Twitter reactions to Biden's EO
Many saw talk of a CBDC initiative as further a legitimate and important part of the economy. Mark Warner, the US Senator from Virginia and Chairman of the Senate Intel Committee tweeted,
This is an important EO from the Biden admin at a critical time – I look forward to working alongside the administration further as they continue to develop a clear federal strategy for crypto that prioritizes competition and economic security

Mark Warner, the US Senator from Virginia and Chairman of the Senate Intel Committee
While reactions on Twitter has been largely positive amongst crypto bigwigs, Known crypto-critics like Elizabeth Warren were less optimistic:
I've been ringing the alarm bell on crypto, from consumer protection to the environment to national security – especially since Russian elites can use digital assets to undermine sanctions. POTUS is right to spotlight crypto's risks and we need strong rules before it's too late.

Elizabeth Warren, US Senator from Massachusetts
Reactions from the crypto community were largely positive, with several industry giants showing support on Twitter:
US Treasury Secretary Janet Yellen is due to submit her report of the Future of Money and Payment Systems to President Biden on the 9th of September 2022— this will include an assessment of a US CBDC.
Amala Pillai
Amala is custom content and news editor based in London. She is a former financial journalist based in Singapore with 7 years of experience covering a range of business and financial topics. Now she focuses on crypto and macro-economics. She has also covered feature profiles, tech, business politics and ESG— she was the Environment Editor for the Solutions Newspaper, 2016 and worked in an editorial capacity at both News corp (Dow Jones) and JBN. She also has experience as a content creator, strategist and brand editor for various financial institutions and banks.