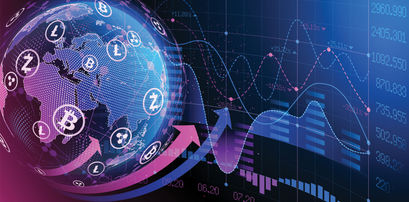 The number of cryptocurrencies worldwide are now in excess of 10,000

Elizabeth Kerr
Last updated 31st Jan 2023
Crypto enthusiasts can choose to invest and trade using over 10,000 different cryptocurrencies.
The number of crypto assets available today has been growing exponentially.
Bitcoin remains the market leader despite it losing its share progressively.
Crypto lovers are spoilt for choices of the digital assets they can invest in or trade. Banklesstimes.com has presented an analysis of the sector's growth. The presentation shows that by February 2022, there were 10,397 digital assets in circulation. Only a handful of these are worth mentioning as the majority are low to zero value coins with dim futures.
The growth of cryptos is due to the piquing interest of investors pursuing alternative investment options outside traditional ones. As they gain popularity globally, it's easy to see why cryptos will become a most sought-after investment option in the future.
BTC remains dominant despite its declining market share
Bitcoin (BTC) is the predominant crypto asset in market capitalization terms. The premier crypto has a cap of $752.48B at writing, but that is on a downward trend. Many alternative coins (Altcoins) have sprung up, challenging BTC's stranglehold of the crypto market.
BTC's shortcomings are its scalability issues, high transaction fees, and slow confirmation times. These have allowed Altcoins to chip at its market share. Altcoins have gained popularity among investors seeking BTC alternatives but with better functionality at lower fees.
Regardless of its declining stock, BTC remains attractive to many crypto enthusiasts. Many see it as the equivalent of gold within the financial circle. They regard it as more of a store of value rather than a medium of payment hence the best hedge against inflation. That explains the recent spike in institutional investors acquiring the coin in volumes.
Which are the top 10 cryptocurrencies?
Ethereum is the second most popular crypto after BTC, with a market cap of $353.62B, that's half the latter's. Once touted as the BTC flipper, it has struggled to live up to that expectation; like Bitcoin, its Achilles heel has been its exorbitant gas fees.
Rounding up the top three is the Tether (USDT) stablecoin. The digital asset has a cap of $83.15B and is the most traded currency. Others making it to the top ten are BNB, USDC, SOL, XRP, LUNA, ADA and LUNA-1_USD. A deeper look at the top ten digital assets shows dominance by smart contract coins and stablecoins.
What's the crypto attraction?
There are various reasons why people invest in cryptocurrencies. One reason is that they believe in these assets' long-term potential and growth rate. Cryptos have some of the highest returns on investments (ROI), making investors find them better options than traditional stocks or bonds.
Secondly, some want to profit from trading cryptocurrency coins and not just holding them. The highly fluid crypto space is perfect for experienced hands to quickly make profits trading cryptos. Besides, new developments in the space like DeFi enable investors to earn handsome returns by providing financial services.
While there is no doubt that blockchain technology has disrupted many industries, it is still important to be cautious when investing in cryptos. They are highly volatile and risky ventures, resulting in substantial losses to investors who don't conduct due diligence before making investment decisions.

Elizabeth Kerr
Elizabeth is a financial content specialist from Manchester. Her specialities include cryptocurrency, data analysis and financial regulation.