Safemoon Price Prediction for July. Is SFM a Good Buy?

Crispus Nyaga
Last updated 5th Aug 2022
Safemoon price has been in a strong bearish trend in the past few months.
It has formed a bearish pennant pattern on the four-hour chart.
SFM will likely have a bearish breakout in July.
Safemoon price has remained above an important support level as cryptocurrencies struggle. The SFM token is trading at $0.00047, which is slightly above the important support at $0.00045. This price is more than 80% below its all-time high, bringing its total market cap to over $259 million.
Can Safemoon survive the turmoil?
Safemoon is a highly controversial cryptocurrency that became popular during the meme coin frenzy that happened in 2021. At the time, the coin was put in the same category as other meme tokens like Dogecoin, Shiba Inu, and Floki Inu.
Since then, Safemoon has gone through remarkable changes. For example, the developers launched Safemoon V2 in a bid to let developers build platforms like Decentralized Finance (DeFi), Non-Fungible Tokens (NFT), and the metaverse. They also envisioned that V2 will have enhanced security and more autonomy.
At the same time, the network came under intense scrutiny as more senior executives exited the company. They were accused of running both a pyramid and a pump and dump scheme by analysts like Coffeezilla.
Learn more about how to buy Safemoon
Most importantly, Safemoon pivoted to clean energy. The developers showcased wind turbines as they launched Operation Pheonix. The idea is to bring wind turbines to single households in places like Asia and Africa. In all, the clean energy angle will become part of the Safemoon ecosystem.
Still, there are concerns about Operation Pheonix. For example, it is still unclear how it marries with the concept of blockchain and even how it will make money. In a statement, the developers say that the wind power angle will be integrated with its metaverse.
Meanwhile, Safemoon price has dropped in line with the ongoing performance of other cryptocurrencies like Solana and Bitcoin. The sell-off is mostly because of the rising interest rates and the weak sentiment in the market.
Safemoon price prediction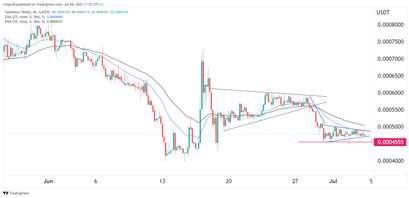 The four-hour chart shows that the SFM price has been in a strong bearish trend in the past few weeks. Recently, however, Safemoon has remained in a tight range and formed a bearish pennant pattern. It has also formed what looks like a bearish pennant pattern that is shown in blue.
Safemoon is still below the 25-day and 50-day moving average. Therefore, since a bearish pennant is a sign of continuation, there is a likelihood that the coin will have a bearish breakout in July. If this happens, the next key support to watch will be at $0.00040.

Crispus Nyaga
Crispus is a financial analyst with over 9 years in the industry. He covers cryptocurrencies, forex, equities, and commodities for some of the leading brands. He is also a passionate trader who operates his family account. Crispus lives in Nairobi with his wife and son.