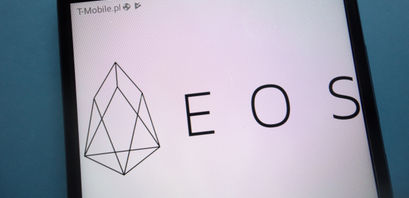 EOS Price Prediction as Network Activity Slips

Crispus Nyaga
Last updated 11th Aug 2022
EOS price has crashed in the past few months.
The coin has fallen by over 95% from its all-time high.
The volume and number of transactions in the network has crashed.
EOS price is moving sideways as investors assess the falling activity in its ecosystem amid the cryptocurrency sell-off. The token is trading at $1.0, which is about 25% above the lowest level this month. This price is about 95% below its all-time high while its market cap has crashed to about $996 million.
Falling transactions in EOS
EOS was once the hottest cryptocurrency around. The coin was introduced by Block, the company that had the biggest Initial Coin Offering (ICO) on record. At the time, the developers raised over $4 billion to build the biggest blockchain operating system in the world.
EOS has been a disappointment since then. In fact, Block was forced to pay $25 million for raising capital without following the law. Since then, EOS has been spun-off and is now overseen by an independent organization while Block has become a venture investment company.
Analysts believe that EOS has missed an opportunity to become the biggest alternative to Ethereum since it had the capital and all human resources. Today, only a handful of applications are built using EOS technology. It has even been overtaken by relatively smaller and newer projects like Solana and Avalanche.
Learn more about how to buy EOS.
According to DeFi Llama, EOS has a total value locked of over $110 million. About half of these funds are tied to EOS REX, which has a TVL of over $53 million. It is followed by PayCash, DeFiBox, and Defis Network.
According to DappRadar, the volume of transactions in the biggest applications in EOS has been falling. In the past 30 days, DefiBox has transacted just $29.14 million in the past 30 days.
The EOS price has also declined because of Bullish, a company that announced 10% layoffs this week. Bullish is a fledgling online exchange that was unveiled by Block in 2021. It was to go public in New York via a SPAC deal. According to DappRadar, Bullish has handled just $5.7 million in the past 30 days.
EOS price forecast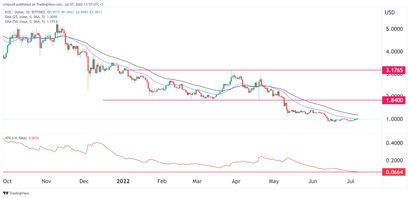 The four-hour chart shows that the EOS price has been in a strong bearish trend in the past few months. The coin managed to move below the support at $1.84, which was the lowest level between February and April of this year.
EOS has moved below all moving averages while the Average True Range (ATR) has moved to the lowest level in more than a year.
Therefore, there is a possibility that the EOS coin price will continue falling as bears target the key support level at $0.70.

Crispus Nyaga
Crispus is a financial analyst with over 9 years in the industry. He covers cryptocurrencies, forex, equities, and commodities for some of the leading brands. He is also a passionate trader who operates his family account. Crispus lives in Nairobi with his wife and son.