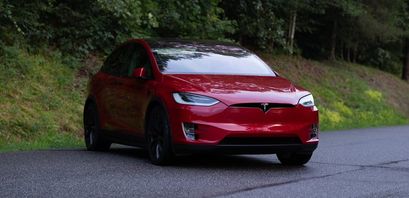 Tesla's Move to Sell 75% of Bitcoin Holdings Legitimizes the Flagship Crypto

Daniela Kirova
Last updated 11th Aug 2022
Tesla sold the Bitcoin to maximize its cash position
Tesla's act is a move to legitimize the world's largest electronic currency
Tesla revealed it had sold 75% of its Bitcoin holdings in its earnings report for the second quarter of the year, leading world media reported.
In 2021, Tesla invested around $1.5 billion in the world's most popular cryptocurrency. They sold three-quarters of it for $936 million, at a loss of $189 million.
Environmental concerns
Soon after buying Bitcoin, Tesla said it would start accepting it as a payment method for its vehicles. A few months later, that practice was suspended, with CEO Elon Musk saying he would start accepting it again when it got environmentally friendlier.
At the time, he also said Tesla would not be selling any Bitcoin.
Improving Tesla's "cash" position
Musk explained Tesla sold the Bitcoin to maximize fiat currency in light of the uncertainty associated with pandemic lockdowns in China. He assured his company remained open to buying Bitcoin again in the future.
Legitimizing Bitcoin
Some media sources have described Tesla's act as a move to legitimize the world's largest electronic currency and counteract illicit practices, which are increasing in frequency. One of these is wash trading, where someone buys and sells an asset to swindle other traders about an asset's true value.
Good news for Dogecoin fans
On the earnings call, Musk assured Tesla hadn't sold any of its DOGE. The car giant began accepting it as a payment method for some items in January this year, then started accepting it at some Supercharger stations.
Data suggests Tesla's digital assets currently stand at $218 million, although most of that is still in Bitcoin. Musk has hinted in the past that SpaceX might also begin accepting Dogecoin for merchandise purchases at some point.
Bitcoin bull reactions
MicroStrategy Inc., another major corporate buyer of Bitcoin, lost around 4% on the news in post-market trading. Their Bitcoin is worth almost $3.5 billion less at the end of the second quarter compared to the previous one.
MicroStrategy CEO, Michael Saylor, took a shot at Elon Musk on Twitter over the sale, which he perceives as hasty. The extended bear market hasn't deterred MicroStrategy from buying the dip.
In June, Saylor reported they had spent another $10 million on around 480 Bitcoin, coming to an average price of roughly $20,000 per BTC.
Daniela Kirova
Daniela is a writer at Bankless Times, covering the latest news on the cryptocurrency market and blockchain industry. She has over 15 years of experience as a writer, having ghostwritten for several online publications in the financial sector.