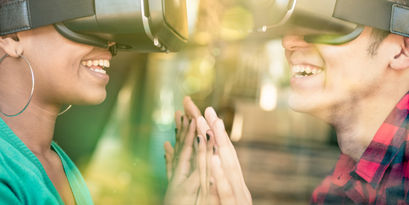 AI Dating: 66% Prefer AI to Regular Dating Apps

Nellius Mukuhi
Last updated 30th Nov 2022
The online dating scene is about to witness a major transformation.
That's because the advent of the metaverse will usher in a new era of artificial intelligence-powered dating apps.
These online dating apps will enable users to connect their virtual worlds faster, efficiently, and in more fulfilling ways.
The coming of the metaverse is promising to transform the online dating scene radically. Another shift that could advance online dating is artificial intelligence and how AI infused dating apps could advance online dating app user experiences. According to a BanklessTimes analysis, 66% of online daters would pick an AI dating app over a regular one.
BanklessTimes' CEO Jonathan Merry agrees that AI could revolutionize the dating scene. He says:
"Many online daters are craving immersive and interactive experiences that regular dating apps can't provide.
Merry adds, "AI dating apps will allow users to benefit from features like predictive matching and real-time guidance. Thus, they can automatically screen profile photos for inappropriate content and weed out false profiles. As a result, AI will make online dating safer and more efficient, leading to better matches and more fulfilling relationships."
AI and Matchmaking
It's no secret that AI is becoming increasingly important in our lives. From how we commute to how we do our shopping, AI is slowly but surely becoming woven into the fabric of our everyday existence. So it's not surprising that many people believe AI will also soon be playing matchmaker.
According to a recent survey, 60% of respondents believe AI will most likely choose our partners for us ten years from now. While the idea of AI choosing our partners may seem daunting at first, it's not all that far-fetched.
With the advent of AI, the line between our physical and digital worlds is increasingly blurred. AI will likely play an even bigger role in helping people connect. That said, 13% of the respondents don't see the likelihood of that happening. The remaining 27% don't hold any opinion on that or are unsure about it.
Many Prefer Real-Life Partners Over Virtual Ones
While VR has many potential applications, one of the most popular is its use in creating virtual partners. This raises the question: would people rather meet someone in real life or create a perfect partner in a VR world?
The Value of Human Interactions
According to our analysis of Tidio's survey, more than half of potential online daters would prefer to meet someone in real life. VR can be a great way to escape reality, but people still value human connections.
At the same time, 31% of respondents said they would willingly engage with a VR partner, and 16% said they wouldn't mind having both. VR may still have some way to go before it becomes mainstream, but it's clear that there is a demand for virtual partners.
Married People Have a High Preference for VR Partners
Further, as many as 43% of married people prefer to create a perfect virtual partner. That contrasts with 11% of singles and 22% of those in an open relationship/marriage.
This suggests that many married people are not satisfied with their current partner and are looking for something more. A virtual partner could provide the perfect solution, as their partners can customize them to meet every need and desire.
Men Are More Open to Virtual Love
Interestingly, men are more willing to engage in a relationship with a virtual partner than women. This tallies with the AI trends study that revealed that 35% of men are open to falling in love virtually. It seems that men are more comfortable with the idea of virtual relationships than women (27%).
Perhaps this is because virtual relationships offer more flexibility and freedom than traditional relationships. Or maybe it's because they can customize their virtual partners to their liking. Whatever the reason, it's clear that virtual relationships could rise with men leading the charge.

Nellius Mukuhi
Nellius is a cryptocurrency investor and journalist who has been in the nascent space since 2018. She is a seasoned writer who loves to travel and focuses on delivering relevant, valuable content for audiences.