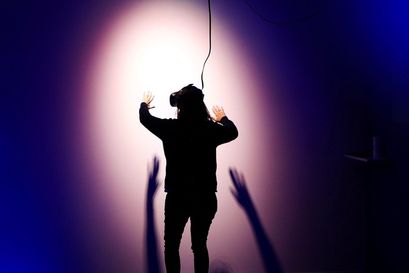 Metaverse is a term coined by writer Neal Stephenson in his science fiction novel Snow Crash. It refers to a virtual reality world generated by computer programming, in which people can interact with each other and create a shared space.
Having become a hot topic in the tech and gaming industries in the past few years, here are some of the most informative metaverse statistics that will shed light on just how big of a deal it is.
Metaverse Statistics - 2023 Highlights
The market size of the metaverse is over $38.5 billion.

The majority of people are willing to spend up to $1,000 on advanced VR gear.

Over $500 million worth of real estate was purchased in the metaverse so far.

53% of companies investing in the metaverse invest in cryptocurrencies.

There are over 400 million metaverse monthly active users.

Roblox is the biggest virtual world in the metaverse.

51% of the metaverse user base is 13 or younger.

74% of American adults are joining or considering joining the metaverse.

By 2026, 25% of people will spend an hour or more in the metaverse each day.

10.7 million players saw Marshmello perform live in a Fortnite concert.
Metaverse Economy Statistics
The metaverse market size reached $38.5 billion by the end of 2021.
The market is expected to exceed $47 billion in 2022, while projections for 2030 estimate that the figure will reach $678.8 billion.
When it comes to the metaverse's market capitalization, the combined market cap of all Web 2.0 metaverse companies totals $14.8 trillion. The gaming and eSports industry has a market cap of $1.98 trillion, while Meta's cap stands at $900 billion.
The next generation of internet services focused on the metaverse, also known as Web 3.0, has a relatively low market cap of $30 billion when compared to the others.
(Statista)
Most people would spend up to $1,000 on advanced VR gear.
Metaverse facts reveal that 35% of people are willing to spend between $700 and $1,000 on VR gear that allows them to physically feel everything they experience in the metaverse.
Those willing to spend up to $700 rank second with 33%, followed by those who would spend $1,000-$1,500 on advanced VR gear (10%) and those who are willing to splurge more than $1,500 (4%).
19% of people wouldn't spend any money on advanced VR gear such as haptic suits, treadmills, gloves, shoes, etc., that would allow them to physically feel everything they experience in the metaverse.
(Statista)
$501 million were spent on metaverse real estate in 2021 alone.
Metaverse predictions show that this figure could double in 2022, and forecasts for the metaverse real estate market predict a compound annual growth rate of 31% a year by 2028.
There are dozens of platforms that deal with metaverse real estate sales, but the market is dominated by the "Big Four", i.e., Sandbox, Decentraland, Cryptovoxels, and Somnium, which host a total of 268,645 parcels, all of varying sizes.
(CNBC)
Sandbox is arguably the largest player on the metaverse real estate market.
The platform holds the record for the most expensive virtual land sold since Republic Realm purchased estate worth $4.3 million from it, as metaverse stats reveal.
Sandbox is developing 100 Fantasy Islands with their own villas and a related market of boats and jet skis, 90 of which sold for $15,000 each on the first day of launch, with some of them now being flipped for over $100,000 each. Sandbox also holds 62% of the available metaverse land and 75% of all metaverse land sales in 2022.
(CNBC)
In 2021, Christie's sold the first digital-only artwork for $69.4 million.
Created by digital artist Beeple, the name of the art piece is "Everydays: The First 5,000 Days." Facts about the metaverse reveal that this was the first time that a major auction house offered digital-only artwork with its authenticity guaranteed with an NFT, as well as the first time that cryptocurrency was used as a payment method at an artwork auction.
What's more, the piece sold at the highest price in an online-only auction, as well as the highest price for any winning bid placed online. 22 million people from 11 different countries attended the auction on Christie's website.
(The Guardian)
A digital Gucci bag was sold for $4,115 on Roblox.
Available for only an hour on May 17th, 2021, during the virtual Gucci Garden exhibition, the digital iteration of the Dionysus Bag with Bee sold for an original price of 475 Robux (about $6). Once the exhibition was over, metaverse data reveals that scalpers started flipping the item and one user bought it for 350,000 Robux.
Even though the bag is not an NFT and therefore has no value or use and cannot be transferred outside of the Roblox virtual world, it sold for nearly $800 more than its real-world counterpart.
(HypeBeast)
53% of the companies that invested in the metaverse, invested in cryptocurrencies.
NFTs are in second place, with 44% of the businesses investing in them, followed by the work environment and remote work-related investments with 40%. 30% of businesses have made a metaverse investment related to branding and positioning, followed by 27% who invested in projects related to product purchase.
Metaverse investments in gaming and product creation projects tie with 24% of businesses investing in them in the metaverse. The least attractive are real estate investments (18%), as well as entertainment and projects that deal with the creation of proprietary virtual worlds, with only 15% of investments coming their way, each.
(Statista)
Sony and KIRKBI each invested $1 billion in Epic Games to support its metaverse projects.
The creator of Fortnite, Epic Games, is one of the companies strongly focused on the metaverse's growth. After these massive financial boosts in April 2022 (which marked some of the top metaverse investments so far), Epic Games' equity valuation is $31.5 billion. This is the second time Sony has invested in Epic Games. In April 2021, the Japanese giant supported Epic with $200 million.
(EpicGames)
Meta lost more than $20 billion to investments in Reality Labs since its inception.
In 2019, the first year since it took over from Oculus, the project cost the company $4.5 billion in net losses on $501 million in revenue. The following year it generated net losses of $6.62 billion on $1.14 billion in revenue. The net losses related to Meta's Reality Labs stood at $10.19 billion in 2021, on $2.27 billion in revenue.
(CNBC)
Metaverse Adoption and Awareness Statistics
The metaverse reached an all-time high of 400 million monthly active users in 2022.
With an MAU count comparable to the likes of Reddit and Pinterest, the metaverse seems to be taking off. To put it in a different perspective, the combined total population of the US and the UK is close to 400 million. Considering the young age of the average metaverse user, the number of metaverse MAU is projected to steadily keep growing in the future.
(Metaversed)
With about 230 million monthly active users, Roblox is the biggest metaverse virtual world.
This means that more than half of all users of the metaverse visit the Roblox world on a monthly basis. Other platforms with considerable userbases include Minecraft with 165 million and Fortnite with 85 million monthly active users.
(Metaversed)
51% of the metaverse userbase is aged 13 and younger.
Expanding the age range of users up to 16, the above figure increases to 78.7%, while observing all the users aged 18 or less adds up to a whopping 83.5% of the total metaverse userbase count. In fact, users of the most popular virtual worlds mentioned above are typically between 12 and 13 years old, as metaverse user demographics reveal.
(Metaversed)
Only 13.2% of active metaverse monthly users can legally register on a blockchain-based virtual world.
Considering the majority of virtual worlds are blockchain-based, the above figure denotes a large user gap. In line with that, the highest portion of metaverse MAUs (85% or 340 million users) are ones under 13 years of age using browser-based virtual worlds.
The rest consists of users over 13 on browser-based virtual worlds (11.3% or 45 million users), users of VR-based virtual worlds (2.5% or 10 million users), and on-chain browser or VR-based virtual world users (1.3% or 5 million users), according to metaverse stats.
(Metaversed)
74% of adults in the United States are joining or considering joining the metaverse.
As far as the reasons for joining are concerned, experiencing things they can't in physical reality emerges as the top one, as agreed by 41% of American adults. Wanting to communicate with others in virtual worlds ranks second (40%), followed by thinking it could be a positive way to unite people (38%). Wanting to escape physical surroundings and foreseeing educational opportunities tie in fourth place, as agreed by 28% of adults in the United States.
Metaverse trends reveal that wanting to become a different person than their real self is the reason why 23% of American adults are joining or considering joining the metaverse.
(Statista)
Estimates say that by 2026, 25% of people will spend an hour or more in the metaverse each day.
As far as the activities performed in the metaverse, predictions say they will mostly relate to work, shopping, education, socializing, and entertainment. This will, in turn, contribute toward the virtual economy powered by digital currencies and nonfungible tokens (NFTs).
When it comes to the future of work and the recently increased popularity of virtual events, metaverse usage statistics estimate that 30% of business organizations around the world will have their products and/or services ready for the metaverse.
(Gartner)
68% of adults in the United States aren't interested in Meta's metaverse.
In terms of gender demographics, a higher portion of men (39%) seems to be interested in Meta's (formerly Facebook) latest project when compared to women (27%). Age-wise, the 35-44-year-old demographic is the one most interested in Meta (48%), followed by those aged 18-34 (43%).
The age groups who are least eager to know about Facebook's metaverse include 45-64-year-olds and those aged 65 or older, with respective 27% and 14% of them saying they're interested in this project, as metaverse demographics reveal.
(Statista)
10.7 million players saw Marshmello perform live in a Fortnite concert.
The event that took place in early 2019 broke Fortnite's concurrent player count record of 8.3 million recorded in November 2018 for their in-game butterfly event. While this was the first metaverse event of such magnitude, it is not the very first attempt at a virtual gig.
Just a year before, Minecraft hosted Coachella, and a few years before that, the platform hosted a live charity event featuring Canadian EDM label Monstercat.
(BBC, Variety)
Lil Nas X's Roblox performance gathered 33 million views in two days.
Metaverse fun facts reveal that the show was broadcast four times in one weekend in late 2020. While it wasn't a live performance, the show featured a motion-captured Roblox incarnation of the artist in a few different backgrounds that matched his songs.
Either way, the figure moves Roblox closer to Fortnite's virtual event success. Earlier that year, Fortnite hosted a Travis Scott performance that attracted 45.8 million viewers across five shows, 27.7 million of which were unique attendees.
(The Verge)
60% of US gamers participate in non-gaming activities or events within video games.
When it comes to the types of activities that US gamers participate in, trends in the metaverse reveal that the largest portion takes part in virtual recreations of social/life events within games (28%), followed by those who watch in-game movies, previews, and TV shows (27%). 22% of US gamers socialize/meet new people in video games, while 20% attend live in-game concerts. 17% shop at virtual recreations of stores/marketplaces, while 14% attend in-game meetings.
Traveling to digital versions of real-world locations, investing/lending in-game currencies, and betting in-game currencies tie at 13% of US gamers each, while 11% attend educational classes in-game.
(Statista)
In January 2022, 27 mobile apps added the word 'metaverse' to their name.
In comparison, metaverse popularity data reveals that just three months earlier, in October 2011, only 11 apps added the word to their name. However, since Mark Zuckerberg announced Facebook's name change on October 28th, many other companies followed suit. In November, there were 29, and in December, there were 30 apps that updated their names to include the word 'metaverse'.
(Statista)
There are more than 5,000 apps available for SteamVR.
Obtained in January 2022, the above figure indicates that SteamVR outranks the competition by a mile in terms of the number of available apps. Oculus PC is ranked second with about 1,400 available apps, closely followed by Oculus Go with 1,150, as revealed by metaverse statistics. Launched in February 2021 by Meta, Oculus App Lab has 837 available apps, while Oculus Quest hosts 341.
(Statista)
55% of US internet users have never heard of Horizon Workrooms.
Even though it is one of the most popular metaverse collaboration platforms developed by Meta, most of the general public knows nothing about it. 20% say they haven't heard much about it, 17% say they have heard some about it, while only 8% say they know a lot about Horizon Workrooms, Meta Platform's virtual reality workspace project.
(Statista)
Roblox accumulated over 11.8 billion hours worth of user engagement in Q1 2022.
Interesting facts about the metaverse reveal that this is an increase of over 2 billion hours compared to the 9.6 billion recorded in the first quarter of the year before. However, the user engagement becomes even more impressive when we compare it to Q1 2020 when it stood at over 4.8 billion hours.
(Statista)
Metaverse FAQs
Who created the metaverse?
Is metaverse the next version of the internet?
How do you access the metaverse?
What can you do in the metaverse?
When will the metaverse launch?
How many metaverses are there?
How many people use the metaverse?
Conclusion
The metaverse and its associated industries are rapidly growing and starting to live up to their immense potential. Even though they are still in their inception stages, many big companies are not shy to invest enormous sums of money in them.
At the moment, the most popular metaverse platforms focus on gaming, but with future technological advancements, that is likely to change. Once VR gear starts selling at more affordable prices, the adoption of the metaverse will skyrocket and create many opportunities for all kinds of apps.
Sources:
Read More About the Metaverse
Author Bio

Hristina Nikolovska
An internship in a digital marketing agency during her freshman year of university got Tina into content. A decade later, she's utilizing her educational background in English and knack for research to craft website content on crypto and ensure readers are fully informed. When she's not investigating the crypto market and expanding her knowledge, you'll find her randomly roaming cities and sunny coasts all over the world.