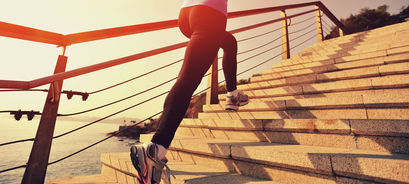 GMT Crypto Price Diverges as StepN Users Plunge

Crispus Nyaga
Last updated 24th Jan 2023
GMT price has risen by more than 162% from its December lows.
The number of monthly users in StepN and sneaker sales has plunged.
GMT crypto price has been in an unstoppable bull run even as concerns about the ecosystem remained. StepN's token rose to a high of $0.6688, the highest point since September last year. It has jumped by more than 162% from the lowest level in December.
StepN monthly users crash
The number of people actively using StepN has been in a strong downward trend. Data compiled by Dune Analytics, the number of monthly users rose to an all-time high of 705,452 in May last year. That was shortly after the mainnet was launched.
Since then, the number of users has continued to fall month over month. It dropped to 478,824 in June followed by 245,036, 139,512, and 98,580 in July, August, and September, respectively. The downward trend continued in December when it dropped to 44,892. The number of new and existing users in the network has continued to fall. Therefore, there is a likelihood that the trend will continue in the coming months.

Other numbers paint a picture of what is going on in the ecosystem. Data also compiled by Dune shows that the number of StepN shows and sneakers minted in the ecosystem has crashed. The number peaked at 478 on September 9 to less than 400. There were only 303 sneakers minted in the past 24 hours.
Meanwhile, the amount of SOL deposited and withdrawn from StepN has been in a downward trend. On December 12, the amount of SOL withdrawn from StepN jumped to over 33,638 while those deposited increased to 5,869. On January 4, the amount of SOL withdrawn was 354 and that deposited was 1,485.
Therefore, the ongoing GST and GMT price rally is not based on fundamentals. Instead, it is mostly because of the ongoing rebound in crypto prices. Bitcoin has risen above $23,000 while Litecoin's price has been in an unstoppable bull run.
GMT price prediction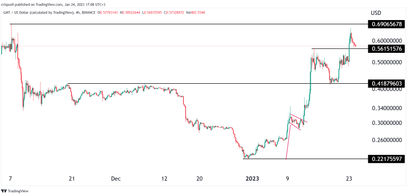 My last StepN prediction was accurate. At the time, I wrote that the coin would drop to $0.6, which it did. The uptick of the GMT crypto price started at the end of the year when it was trading at $0.2217. A the time, it made a series of higher highs anf higher lows. It also formed a bullish flag pattern two weeks ago. Most recently, the coin crossed the important resistance level at $0.4187, the highest level on December 7. It then retested it, confirming that the bullish trend was intact.
StepN is now attempting to retest the support at $0.5651 (January 15 high). Therefore, while fundamentals are weak, we can't rule out a situation where the coin rebounds to a high of $0.6906 (November 7 high).

Crispus Nyaga
Crispus is a financial analyst with over 9 years in the industry. He covers cryptocurrencies, forex, equities, and commodities for some of the leading brands. He is also a passionate trader who operates his family account. Crispus lives in Nairobi with his wife and son.