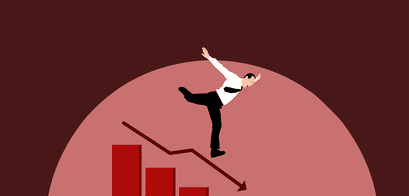 The DeFi Sector Lost $18.6B in Market Capitalization in Q2

Elizabeth Kerr
The market capitalization of the DeFi sector fell by $18.6 billion during Q2.
Despite the losses, there are still opportunities for investors and developers in the DeFi space.
Several major crypto lenders, such as Coinbase and Gemini, have boomed in the last two years, attracting billions of dollars in bitcoin, ether, and other cryptocurrencies. These firms then lent or invested this money in various decentralized finance projects with enormous returns. However, as cryptocurrency markets suffer setbacks, DeFi activity is badly affected, robbing lenders of their most profitable returns while posing a risk to the entire sector.
BanklessTimes analysis of the QoQ performance of major DeFi sectors revealed a significant decline in the market capitalization of most sectors. The DeFi sector took a major hit in the second quarter of 2022, with market capitalization declining by $18.6 billion.
This was a significant drop from the previous quarter, and it appears that the DeFi market is currently in an existential crisis. In its entirety, the DeFi sector has lost -67% of its market value compared to the previous quarter.
DeFi Setbacks
As DeFi market capitalization decreased, it seems that Ethereum's plunge from $3,300 to $1,100 is mainly responsible for the sector's woes. The collapse of prominent stablecoins such as TerraUSD Classic, often known as Terra USTC, has also contributed to this market condition.
According to BanklessTimes CEO,
The DeFi market faces a few pressing issues, the most serious of which is the abrupt increase in DeFi exploits. The crypto hacks by Inverse Finance and Rari have been valued at $1.2 million and $11 million, respectively. These hacks undermine investors' confidence in some native protocols, which might be one of the reasons for the sector's free fall.

Jonathan Merry
DeFi Market Retains User Activity
Despite the massive reduction in DeFi on-chain activity, the sector retained most of its users. While the number of users engaged daily has decreased by 40%, from almost 50,000 to just under 30,000 in the second quarter, there were several occasions where DeFi activity skyrocketed.
The first was in early May when the Terra catastrophe occurred. Hundreds of thousands of DeFi users flocked to decentralized (DEXs) exchanges like Curve Finance and Uniswap to offload their LUNA and UST holdings as numerous centralized exchanges (CEXs) periodically halted trade for these assets. As a result, trading volumes on these DEXs increased dramatically.
The second occurrence was in June when the crypto lender, Celsius, imposed withdrawal limits on its customers. Traders flocked to DeFi protocols for permissionless transactions, resulting in a 24% increase in daily active users of DeFi protocols.
This suggests that users are still interested in DeFi protocols and applications, but they are no longer interacting with them on the same level as before. Users may be holding their assets in DeFi protocols for long-term purposes rather than engaging in short-term trading or other activities.
The DeFi sector's future remains uncertain. The current market conditions make it difficult to predict when or if the DeFi sector will recover. However, the sector retains a significant amount of user interest, which suggests there is still potential for growth in the future.
For now, it seems that the DeFi sector is in a state of flux, and it will be interesting to see how the market develops in the coming months.

Elizabeth Kerr
Elizabeth is a financial content specialist from Manchester. Her specialities include cryptocurrency, data analysis and financial regulation.