Fascinating Artificial Intelligence Statistics for 2023

Hristina Nikolovska
Last updated 16th Feb 2023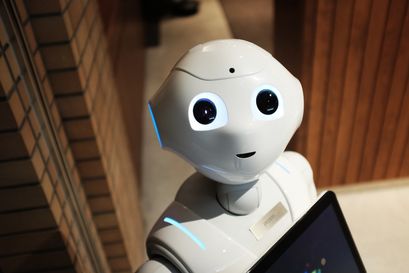 Originally dating back to 1956, artificial intelligence has been a hot topic for decades. Some see it as the most remarkable human invention, while others fear it may lead to the extinction of all humanity. Nonetheless, no one is indifferent when it comes to AI. Nowadays, it is more popular than ever, as we finally have the technology to integrate AI into our everyday lives.
Today's article will provide you with 30 of the most fascinating artificial intelligence statistics that will reveal the industry's current state, its adoption, usage rates, and the technology's impact on the world.
10 Key Artificial Intelligence Statistics to Know in 2023
Experts predict that AI will contribute to a 14% world GDP growth by 2030.

With 10.3%, IBM has the largest share of the AI market.

AI technologies are adopted by 35% of businesses around the world.

25% of US employees face a high risk of being substituted by AI automation.

AI could increase the productivity of labor by 35% by 2035.

72% of consumers believe that they understand what AI is.

57% of US consumers use at least one voice assistant.

84% of people use AI-powered technology, while only 34% of them realize they are doing so.

53% of Americans think of robots when they think of AI.

The AI system called LipNet can read lips with 93% accuracy.
AI Market Size Statistics
The value of the global AI market was $93.5 billion at the end of 2021.
By the end of 2023, the AI market is expected to reach a value of $136.6 billion. Moreover, AI's growth is projected to sky-rocket throughout the entire decade and reach $1.811 trillion in 2030, with a CAGR of 38.1%. Holding the largest share of 42%, North America currently dominates the AI market.
(Grand View Research)
Experts predict that AI will contribute to a 14% world GDP growth by 2030.
The above figure translates to $15.7 trillion and places the utilization of AI technologies among the best business opportunities of today. AI trends show that the sectors estimated to gain the most from them are retail, financial services, and healthcare. Additionally, the projections show that China will be the country that gains the most from AI technologies and will increase its GDP by 26% in this period. On the other hand, the USA has an estimated growth of 14% due to AI technologies in the same time bracket.
(PWC)
With 10.3%, IBM has the largest share of the AI market.
Google is in second place with a portion of 8.2%, while Microsoft is third with a 7.6% AI market share. Amazon Web Services currently holds 7.1%, and Facebook, with its 6.6%, rounds up the list of the top five players in the AI market.
(Analytics Insight)
AI software solutions are the leading drivers of the AI market, contributing the largest share of 39%.
While hardware and service solutions are behind software at the moment, AI hardware is expected to grow the fastest in the following years. Furthermore, deep learning is the biggest segment of AI, accounting for 38% of the AI market in 2021.
As it stands right now, the advertising and media industry is the biggest user of AI solutions, accounting for 21% of the global AI market. However, artificial intelligence future trends show that the healthcare sector is expected to take its place as the industry that uses AI tech the most by the end of the decade.
(Globe News Wire)
Only 11% of companies reported significant financial benefits of utilizing AI in 2020.
Nonetheless, 71% of them agree that AI will change the way their organizations will generate business value in the future. In addition, 59% of businesses in 2020 reported having AI implementation and utilization strategies, while 57% had already deployed AI pilots.
(Sloan Review)
AI Adoption Statistics
AI technologies are adopted by 35% of businesses around the world.
Compared to the year before, the above figure shows a four-point increase in the global AI adoption rate. At the same time, statistics reveal that businesses are 13% more likely to adopt AI than they were last year. Additionally, another 42% of companies report exploring the options that AI technologies provide, so it is fair to assess that AI adoption is growing steadily.
(IBM)
31% of businesses adopt AI because of competitive pressure.
According to 43% of companies, the key factor contributing to the acceleration of global AI adoption is the recent technological advancement that made AI more accessible. AI stats also show that for 42% of organizations, reducing costs and automating critical processes were the main reason they adopted AI solutions. Only 20% of businesses adopted AI because of environmental pressures.
(IBM)
54% of IT professionals use AI, making them the most prevalent AI users by job title.
Other job titles in the top five are data engineers (35%), developers and data scientists (29%), security professionals (26%), and customer service professionals (25%).
(IBM)
The lack of AI expertise is the biggest hurdle to adopting AI technology for 34% of businesses.
Statistics about artificial intelligence further reveal that for another 29% of companies, the price of AI is too high, while 25% don't have the necessary tools or platforms to build the needed models. Finally, 24% of organizations consider their projects too difficult to integrate and scale, and an equal percentage believe that AI adoption would introduce too much data complexity.
(IBM)
The largest portion, or 33% of organizations, use AI to automate IT processes.
Other popular use cases for AI are security and threat detection, utilized by 29% of companies, while 28% use it to automate their business processes. In addition, AI statistics show that 26% of businesses use AI for marketing and sales, and another 26% use it for business analytics or intelligence. There are also 23% of organizations that use AI for fraud detection, 22% for AI monitoring and governance, and another 22% that use AI-driven virtual assistants.
(IBM)
The Impact of AI on Jobs Statistics
50% of today's work activities can theoretically be automated by adopting contemporary AI technologies.
Only 5% of current occupations are comprised exclusively of work activities that cannot be automated or enhanced by AI. Moreover, according to AI replacing jobs statistics, six out of ten occupations have more than 30% of work activities that can be automated.
(McKinsey)
25% of US employees face a high risk of being substituted by AI automation.
This means that at least 70% of the work activities in about 36 million jobs in the US can be replaced by automation. Additionally, 52 million jobs, or 36% of the US employment, are at medium risk, meaning 30% to 70% of the tasks they do can be automated. Finally, 57 million jobs, accounting for 39% of the US workforce, are at low risk. Only up to 30% of their work activities can be replaced by AI automation, as per the latest technology taking over jobs statistics.
(Brookings)
73% of the work activities performed by employees in the accommodation and food service industry can be automated.
Other industries with significant portions of tasks that can be automated are agriculture and manufacturing, with 60% each, transportation and warehousing, with 57%, and retail trade, with 53%. Conversely, among the sectors with the lowest amount of work activities that AI can replace are educational services with only 27%, management with 35%, and healthcare and social assistance with 36%.
(Business Insider)
According to experts, 85 million jobs may be deemed obsolete due to AI technologies by 2025.
However, future projections based on current trends in AI also predict that 97 million new jobs with an adapted division of labor between humans and machines will be created at the same time. However, 40% of workers will need reskilling of up to six months to remain employed. 94% of business leaders expect their employees to pick up these new skills on the job.
(WE Forum)
AI could increase the productivity of labor by 35% by 2035.
According to the same projections, it can increase the profitability of all industries. The education sector is estimated to be the biggest winner, with an 84% profit increase. Artificial intelligence trends also predict a 74% growth for the accommodation and food services industry. Finally, the construction industry is expected to gain a 71% profit increase, while the wholesale and retail sector should increase its profitability by 59% by 2035.
(Accenture)
AI and Consumers Statistics
28% of consumers are uncomfortable doing business by interacting with AI.
Just over a third (or 35%) of consumers are comfortable interacting with AI, while 37% don't have an opinion. Additionally, 33% think an AI will never know them and their preferences, as well as a human would.
One of the most interesting facts about AI is that 24% of people fear that all of humanity will be enslaved in a robot uprising. Furthermore, 10% of consumers say they are worried that they might get along with a robot better than they do with their friends and family. Finally, 5% fear that the robot might uncover their deepest secrets.
(PEGA)
62% of consumers are open to using AI to improve their customer experience.
In addition, 59% believe AI will revolutionize the way they interact with businesses. However, just over half, or 54%, say they trust companies to use AI technology in a way that's beneficial to them. Artificial intelligence stats also show that 48% of consumers believe that AI is the most significant technology of their lifetime, but only 40% of them can think of an example of AI they use on a daily basis.
(Sales Force)
72% of consumers believe that they understand what AI is.
17% say they don't, while 11% are unsure if they understand it. When asked to describe AI, the largest portion of consumers, or 57%, say it has the ability to learn. 51% say AI has the ability to think logically, and 50% say it can solve problems.
(PEGA)
57% of US consumers use at least one voice assistant.
According to artificial intelligence data, 9% use their voice assistants every day, while 23% say they use them multiple times a day. Additionally, 13% say they use them two to three times a week, and 7% only use them two to three times a month. Statistics also show that Siri is the most popular voice assistant for users in the 18-to-24 and 25-to-34 age groups. Alexa is the most used assistant for all age groups older than 35 in the US.
(Vixen Labs)
37% of users regularly use their voice assistant to perform a search query, i.e. ask a question.
Artificial intelligence usage statistics show that 35% of users also regularly use their voice assistant to check the weather, while 33% ask it to play music for them. Additionally, 22% ask their assistants to place a call for them, and just as many require them to search for info on products and services. While these are some of the most common requests, 16% of users regularly use some of the more advanced features like automating tasks and controlling other integrated tech in the house.
(Vixen Labs)
Fun Facts About AI
80% of the time, Netflix users choose what to watch based on the recommendations.
According to Netflix research, users use the search function to look up movies and shows only 20% of the time. Considering that the average Netflix user spends 60 to 90 seconds to make a choice or give up, Netflix only has about a minute and a half to grab their attention. This is why Netflix believes that its AI-based recommendations engine contributes at least $1 billion in revenue per year.
(Business Insider)
Google Assistant is the most accurate voice assistant, with 92.9% accuracy.
This artificial intelligence fact was provided by a recent voice assistant "IQ test," in which Siri answered 83.1%, and Alexa only answered 79.8% of the questions correctly. The test contained 800 questions and requests for the assistants, in which Google Assistant came out on top in four out of the five categories. The only category in which it fell short behind Siri was command, where Siri performed with 93% accuracy, and Google Assistant only had 86%.
(Loup Funds)
131.4 million households around the world own a smart speaker.
By 2027, the above figure is estimated to increase to 335.3 million, according to the latest trends in artificial intelligence tech purchases. Additionally, data shows that 77.5 million households own smart security cameras, 73.1 million own smart big appliances, and 72.2 million own smart small appliances.
(Statista)
84% of people use AI-powered technology, while only 34% of them realize they are doing so.
A recent survey shows that only 34% of people say they use AI, an equal portion say they don't, and 32% say they are not sure. However, in a separate question about the technologies they use in their everyday life, 84% answered that they use AI in some way or form without knowing it.
Artificial intelligence statistics on its usage reveal that 51% use email spam filters, 46% use predictive search terms, 36% use Siri, etc. Finally, when asked to identify AI-powered devices, only 41% of people know that Google Home and Amazon's Alexa utilize AI technology.
(PEGA)
3.3% of all US job postings in the information sector in 2021 were AI-related.
Additionally, 2.59% of the job postings in the professional, scientific, and technical services, 2.02% in manufacturing, and 1.81% in the finance and insurance sectors were related to AI. Furthermore, AI career stats also reveal that most of the job openings, or 80,238, were posted in California, while 34,021 were in Texas, and New York had 24,494 AI-related job postings.
(AI Index)
27% of people are comfortable with their doctors using AI to make a better diagnosis.
While just over a fourth of all people accept the use of AI in healthcare, a more significant portion, or 34%, see no problem with using AI in online retail that can provide more personalized recommendations. Another 25% are comfortable with AI usage in telecommunications, and 20% are okay with banks and financial advisors relying on AI. However, most people don't think it is a good idea for their governments to use AI, and only 10% are comfortable with its usage in public service.
(PEGA)
53% of Americans think of robots when they think of AI.
Another 40% think of self-driving cars. Nevertheless, 46% of them believe they have a strong understanding of AI, and 26% say they interact with AI at least once a day. One of the most revealing AI facts is that exactly 50% of Americans are optimistic about AI, while the other half are fearful. Finally, 58% of the US population gets information about AI from movies, TV, and social media, which could explain why their opinions are so split.
(Blumberg Capital)
Just over two-thirds, or 67% of Americans, believe that self-driving cars will be safer than those controlled by humans.
Be that as it may, 87% of them still feel there should be a licensed driver behind the wheel, ready to take control if needed. Statistics on artificial intelligence also show that Americans are not so optimistic when it comes to getting an Uber, and only 44% would get into a self-driving Uber vehicle. Lastly, there are also 35% who would never get in a self-driving car.
(Drivers Ed)
The average robot density in manufacturing industries is 126 per 10,000 employees.
The number of robots has more than doubled since 2015, when their ratio was only 66 robots per 10,00 employees. South Korea is the country that is most densely automated, with 932 robots, for every 10,000 human employees. Artificial intelligence growth statistics show that the USA is currently seventh on the list with 255 robots per 10,000 manufacturing workers.
(IFR)
The AI system called LipNet can read lips with 93% accuracy.
The scientists of Oxford University created this AI by feeding it 29,000 three-second long videos with a similar grammatical pattern. When it was put to the test, the AI could read lips from other videos with an error rate of only 6,6%. In contrast, the human testers had an error rate of 47.7%.
(BBC)
Artificial Intelligence FAQ
What is the success rate of AI?
What percentage of companies use artificial intelligence?
What is the smartest AI in the world?
What is the probability of AI taking over the world?
Conclusion
There is no denying that AI is a big part of everyone's life, and we can only imagine how far it can take us in the future. In the meantime, we can read interesting facts about artificial intelligence and consider ourselves lucky we live in a time when we can witness the inception of one of the most significant achievements in human history.
Sources:
Hristina Nikolovska
An internship in a digital marketing agency during her freshman year of university got Tina into content. A decade later, she's utilizing her educational background in English and knack for research to craft website content on crypto and ensure readers are fully informed. When she's not investigating the crypto market and expanding her knowledge, you'll find her randomly roaming cities and sunny coasts all over the world.