Crypto assets are highly volatile and largely unregulated. There is no guarantee that any crypto asset will have at any time in the future certain value (if any) or market liquidity. Crypto assets are at risk of losing substantial (or all) value within a short time period.
What Can I Do On Coinmama?
Founded in 2013, Coinmama boasts a three million-strong member base in over 188 countries. Unlike other exchanges, users buy crypto from Coinmama's own inventory using their personal digital wallet funds.
Coinmama's key features include:
10 supported cryptocurrencies, including Bitcoin and Ethereum.

A streamlined mobile application is available for Android devices.

Multiple payment options, including Visa and Mastercard credit cards.

Email, phone, social media, and chat customer support options
Coinmama Overview
| | |
| --- | --- |
| 💼 Provider Type: | Exchange |
| 💸 Minimum Deposit: | $100 |
| 💰 Trading Fees: | 3.81% on purchases and up to 0.9% on Bitcoin sales |
| 💰 Deposit Fees: | Varied based on payment method |
| 💰 Withdrawal Fees: | Varied |
| 💰 Management Fees: | $0 |
| 🔀 Minimum trade order | $30 for buying/ $100 for selling |
| ⌛ Withdrawal Timeframe: | 1 - 3 business days |
| #️⃣ Number of Cryptocurrencies Supported: | 1 |
| #️⃣ Number of Crypto Pairs Supported: | 0 |
| 💱 Top supported Cryptocurrencies: | BTC |
| 📊 Leverage: | None |
| 📱 Native Mobile App: | Yes |
| 🖥️ Free Demo Account: | No |
| 🎧 Customer Support: | Email, phone, social media, and chat |
| ✅ Verification required: | KYC |
| 📈 CFD Available | No |
| 📊 Software: | Website, web app, mobile app |
| ⚽ Social Trading: | No |
| ✂️ Copy Trading: | No |
| 👮‍♂️ Regulators | FinCEN (Financial Crimes Enforcement Network) |
Pros And Cons Of Using Coinmama
Coinmama Cryptocurrencies And Trading Options
What Cryptocurrencies Can You Trade On Coinmama?
Coinmama offers 10 cryptocurrencies to buy. These are:
Bitcoin (BTC) - BTC/USD, BTC/GBP, BTC/AUD

Bitcoin Cash - BCH/USD, BCH/GBP, BCH/AUD

Litecoin (LTC) - LTC/USD, LTC/AUD, LTC/GBP

Ethereum (ETH) - ETH/USD, ETH/GBP, ETH/AUD

Tezos (XTZ) - XTZ/USD, XTZ/AUD, XTZ/GBP

Ripple (XRP) - XRP/GBP, XRP/USD, XRP/AUD

Cardano (ADA) - ADA/USD, ADA/GBP, ADA/AUD

Dogecoin (DOGE) - DOGE/USD, DOGE/AUD, DOGE/GBP

Uniswap (UNI) - UNI/USD, UNI/GBP, UNI/AUD

Chainlink (LINK) - LINK/USD, LINK/GBP, LINK/AUD
It's worth noting that you can only sell Bitcoin on Coinmama.
Different Trading Options Offered By Coinbase
Coinbase offers numerous trading options.
Spot Markets
Coinmama is a regulated spot exchange platform, allowing crypto commodities to be bought and sold with immediate delivery. You can buy crypto for instant delivery with fiat currencies as a buyer.
Some of the most popular cryptocurrencies you can buy on Coinmama spot exchange include:
Bitcoin (BTC)

Ethereum (ETH)

Litecoin (LTC)

Dogecoin (DOGE)

Cardano (ADA)
Options Trading
Coinmama operates a simple trade flow and limited trading options outside of spot trading. As such, it does not have many options trading features.
If you are looking for an exchange that offers options trading, try Binance or Coinbase.
Can I Trade With Leverage On Coinbase?
No, Coinmama does not offer leveraged trading.
Exercise caution if you want to trade with leverage through a broker; leveraged trading comes with added risk.
What Are The Spreads?
Coinmama charges variable spreads that can rise up to 6%. Expect these rates to fluctuate with the market.
Fees, Limits, And Payment Options On Coinmama
What Are The Deposit And Withdrawal Fees, Limits, And Speeds?
Coinmama lets you deposit and withdraw via several payment methods. These include:
Deposit Methods
SWIFT and SEPA Bank Transfer: Coinmama allows SEPA (for EU users), Faster payment transfers (UK), and SWIFT bank transfers with a flat fee of 20 GBP unless you spend over $1000.

Debit or Credit Card: Debit card and credit card deposits are subject to an additional 5% fee. Your bank may add its own charges for Visa and Mastercard purchases. Debit and credit card deposits are processed instantly.

Apple Pay: Coinmama accepts Apple Pay for speedy deposits. Like debit and credit cards, Apple Pay deposits incur a 5% fee.

Cryptocurrency Deposits: Crypto deposits are instantaneous and incur no fees.
Withdrawal Methods
Bank Transfer: All fiat withdrawals are sent to your bank account via bank transfer. These transactions will take a few days to reach your account.

Crypto Withdrawals: Crypto withdrawals go through instantly and do not incur any transaction fees.
How Much Are Coinmama Fees And Commissions?
Coinmama charges a fee based on TradeBlock's XBX Index, plus an additional 2%. The exchange also has a commission fee of up to 3.81% on purchases and up to 0.9% on Bitcoin sales.
Additional fees will be added depending on your payment method. Coinbase charges an added 5% for Apple Pay, debit card, or credit card purchases. Visa and Mastercard purchases may also incur extra fees from your bank.
Bank transfers made through SWIFT, SEPA, and Faster are charged a fee of 20 GBP (roughly $27) for purchases below $1,000 and zero fees for bank transfers of more than $1,000.
Coinmama offers a loyalty program to reduce fees for regular users. If you make $5,000 in purchases within 90 days, your sales fee is reduced by 12.5%; $18,000 in 90 days or an overall purchase of $50,000 gets a 25% sales fee reduction.
Coinmama Trade Sizes And Limits
Coinmama lets you buy up to $15,000 worth of crypto coins per day.
However, the minimum amount to buy is $30 based on the current market value, while the minimum sale amount is $100.
Coinmama only lets you sell Bitcoin. You may find another exchange with better sale limits if you want to sell other cryptocurrencies.
Coinmama Trading Platform
What Devices Can I Use Coinmama On?
Coinmama can be used on numerous devices. These include:
Desktop: Coinmama can be accessed via desktop. The desktop version offers total site functionality. Purchase and sell cryptocurrencies, make deposits or withdrawals, access FAQs, and manage your account with ease.

Mobile phone app: Coinmama also offers a mobile app exclusively for Android. The app offers the same functionality as the desktop variation. Make trades, deposits, withdrawals, and manage your account on the go. Download the app for free from the app store. Coinmama is not currently available on iOS.
Can I Use Coinmama In Any Country?
Coinmama is available in over 180 countries. Some of these countries include:
United States

United Kingdom

Australia

Japan
Cryptocurrencies are illegal in certain places, such as China. Consult the laws in your area before signing up to Coinmama.
In addition, Coinmama is not available in New York or Hawaii. Also, anybody living in the following states will be directed to a third-party exchange when signing up for an account:
Alabama

Arkansas

Connecticut

Delaware

Georgia

Florida

Iowa

Louisiana

Nevada

New Mexico

Oregon

Rhode Island

South Dakota

Vermont

Washington
Is Coinmama Available In My Language?
Coinmama is available in eight different languages. Some of the most popular languages include:
English

Spanish

French

Arabic
How Easy Is It to Use Coinmama?
Coinmama offers a straightforward trading service for beginners and experienced traders to enjoy. The trading process is simple, and additional features are kept to a minimum. Coinmama is also easy to use on mobile. We recommend Coinmama to new traders. Experienced traders may prefer other exchanges that offer options trading and in-depth features.
Key Features
Coinmama has numerous key features. These include:
Crypto Calculator
COinmama offers a bitcoin calculator that converts Bitcoin price to fiat currencies (and vice versa) in real-time. This calculator also lets you check conversion rates between Ethereum as well. However, the calculator does not include Coinmama's fees.
Mobile App
Coinmama's mobile app is free to download for Android and easy to use. The app lets you purchase crypto coins at your own convenience, offering the same features as the desktop version.
Quick And Easy Payment
Coinmama lets clients complete crypto transactions in three simple steps: account creation, verification, and order placement. The transaction process is more simplified than some other exchanges.
Security And Regulation
Is Coinmama Safe?
Coinmama uses industry-standard safety features to protect your funds, information, and crypto-assets. Users must complete a KYC test and provide a form of a government-issued ID to create an account. Coinmama services are Comodo secure; the exchange uses SSL encryption and PCI Guard security scanning technology.
Coinmama does not keep financial information saved in its database. Any stored information is fully encrypted and kept on secure services.
However, Coinmama also reported a massive loss of email addresses and passwords in the past, so they are not immune to data breaches.
Am I And My Cryptocurrency Protected?
Yes. Coinmama uses SSL encryption and PCI Guard security to protect your sensitive information. In addition, users provide their own digital wallets to store their crypto assets, offering additional security. When transactions are completed, Coinmama delivers those coins straight to your wallet.
Is Coinmama Regulated?
Yes, Coinmama is regulated by FinCEN (Financial Crimes Enforcement Network). The exchange follows FinCEN guidance and adheres to local regulations in every available country.
Do I Have To Verify My Account With Coinmama?
Yes. Before you can create a Coinmama account, you'll have to verify your email address, phone number, and identity. The exchange asks for one type of photo identification for KYC purposes. This includes your driving license or passport.
However, some customers have struggled to pass the KYC process, being rejected for no legitimate reason. Contact customer support if you have any queries.
Extra Information
Educational Resources
Coinmama has numerous FAQ sections so you can learn more about cryptocurrencies and the Coinmama service. The exchange also has a blog with numerous articles about Coinmama and the further crypto industry. The blog is usually updated once or twice a month.
Tools And Charting
Coimama is an easy-to-use service with numerous features and tools to make buying crypto easier. The exchange offers crypto calculators (Bitcoin and Ethereum only) and easy trading protocols to buy crypto coins quickly. Coinmama also offers real-time market charts to show you the latest crypto values.
However, Coinmama does not have as many advanced tools as other exchanges. If you require greater control over your crypto transactions, try another service like Binance or Kraken.
Customer Support
Coinmama offers numerous customer support options, including email, social media, phone, and chat. However, many users struggle to reach Coinmama by phone, so try one of the other options first. The exchange also has a help section to answer any queries about its service.
How To Buy And Sell Cryptocurrency On Coinmama
How To Buy Crypto On Coinmama
Step 1 - Create an account on Coinmama
Visit Coinmama's oficial website and sign up.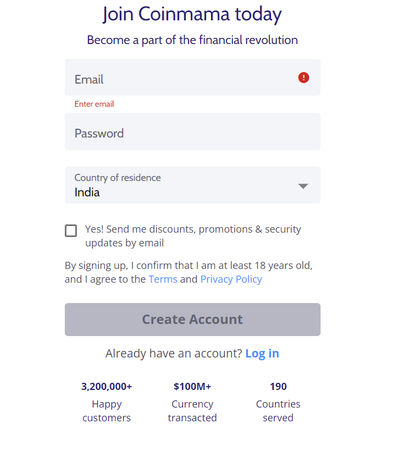 Step 2 - Verify your identity
Complete the KYC procedure.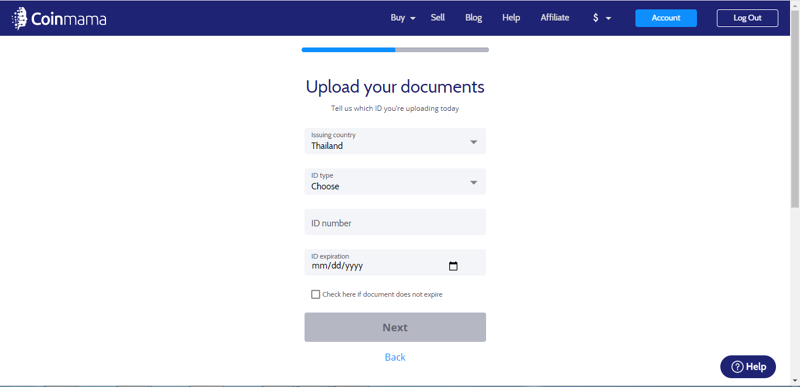 Step 3 - Head over to the "Buy" section.
Ensure you are trading with the correct fiat currency. You can change your fiat currency from a drop-down menu at the top of the page.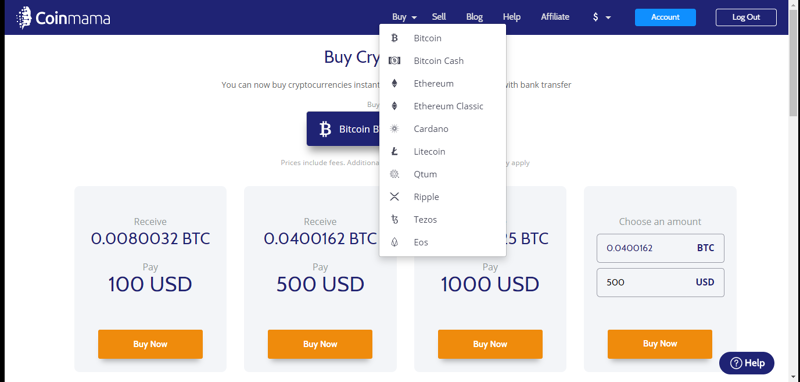 Locate your desired cryptocurrency from the drop-down menu, set a trading pair and fill out the Coinmama transaction form.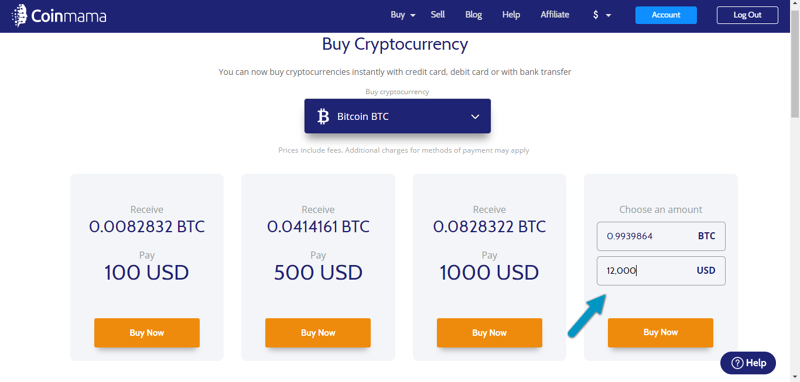 Step 5 - Connect your crypto wallet to your Coinmama account.

Step 6 - Choose a payment method & make payment
Select your preferred payment method. Choose from debit or credit card, bank transfer, or Apple Pay. Finalize your order — you can spend up to $15,000 on a single cryptocurrency transaction.
How To Sell Crypto On Coinmama
Step 1: Log in to your Coinmama account
Step 2: Choose "Sell" from the top of the page.
Step 3: Enter the BTC amount you want to sell.
Step 4: Check the conversion rate for your fiat currency or enter a currency amount (USD, GBP, etc.) to view the BTC quantity.
Step 5: Follow the on-screen prompts to create your sell order.
Step 6: Enter your bank account information and other details.
Step 7: Send the number of Bitcoins to the Coinmama wallet address provided in one transaction. Alternatively, scan the QR code for your digital wallet.
Step 8: Once Coinmama receives those funds, your fiat currency funds will be transferred to your bank account.
Is there an alternative to Coinmama?
Yes, there are many more ways to trade cryptocurrencies. Check out some of our reviews for the best brokers:
1
Minimum Deposit
$50
Exclusive Promotion
More than 3,000 assets, including currencies, stocks, cryptocurrencies, ETFs, indices and commodities
Buy crypto, or trade cryptocurrencies via CFDs
This ad promotes virtual cryptocurrency investing within the EU (by eToro Europe Ltd. and eToro UK Ltd.) & USA (by eToro USA LLC); which is highly volatile, unregulated in most EU countries, no EU protections & not supervised by the EU regulatory framework. Investments are subject to market risk, including the loss of principal.
2
Minimum Deposit
$200
Exclusive Promotion
Variety of Crypto CFDs and Crypto Indices
In trading crypto CFDs you do not own or have any rights to the underlying assets
Spread bets and CFDs are complex instruments and come with a high risk of losing money rapidly due to leverage. 75.8% of retail investor accounts lose money when trading spread bets and CFDs with this provider. You should consider whether you understand how spread bets and CFDs work, and whether you can afford to take the high risk of losing your money.
3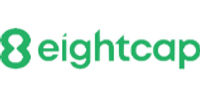 Minimum Deposit
$100
Exclusive Promotion
Trade Cryptocurrency Derivatives on MT4 and MT5
Expert customer service support
Final Thoughts
In summary, Coinmama offers a straightforward platform to buy and sell 10 different cryptocurrencies. However, the exchange does not offer many advanced features, tailoring its service to beginner traders. In addition, the customer support feature is not as responsive as other exchanges.
If you are looking to trade popular currencies like Bitcoin and Ethereum, Coinmama will work for you. However, if you want to buy and sell altcoins, you may prefer another exchange.
Still, Coinmama offers numerous loyalty perks, such as reduced fees, and is available in over 180 countries. We'd recommend Coinmama as a trustworthy service for buying crypto coins, but if you want options trading and futures trading, you should look somewhere else.
Find out More About Brokers
Author Bio

Amala Pillai
Amala is custom content and news editor based in London. She is a former financial journalist based in Singapore with 7 years of experience covering a range of business and financial topics. Now she focuses on crypto and macro-economics. She has also covered feature profiles, tech, business politics and ESG— she was the Environment Editor for the Solutions Newspaper, 2016 and worked in an editorial capacity at both News corp (Dow Jones) and JBN. She also has experience as a content creator, strategist and brand editor for various financial institutions and banks.