Introduction
eToro is one of the largest social trading communities in the world. It is a well-liked and dependable option for millions of investors worldwide.
The trading platform has a lot to offer its users. For example, eToro users can copy the trades of experienced investors or choose to receive exciting benefits by sharing their own trading strategies on the easy-to-use trading platform. Although eToro is a bit expensive, it offers a comprehensive trading experience.
The ability to monitor trends, analyze markets and comprehend a variety of technical indicators are all necessary for crypto trading in the financial markets, whether you are investing in stocks or cryptocurrencies. It may take some time to learn, but they are necessary skills to become a great trader.
However, the eToro platform has made learning these skills and gathering essential information more accessible than ever.
When eToro launched in 2007, it completely changed the crypto trading landscape in the financial markets.
It is one of the world's best social trading and copy-trading sites. To make important crypto trading decisions, you do not have to be an experienced technical analyst or keep up with the news. Instead, all you need to do is "copy" the trades and tactics already used by some successful traders and investors on the trading platform.
Main Features and Highlights
Almost anyone can access short-, medium- and long-term investment options thanks to eToro's platform, which gives traders and investors access to more than 2,000 different financial assets, including stocks, cryptocurrencies, ETFs, indices, currencies, and commodities. Moreover, users can invest in these assets with or without leverage.
The below details eToro's main features.
| | |
| --- | --- |
| 💼 Provider Type: | Broker |
| 💸 Minimum Deposit: | $50 |
| 💰 Trading Fees: | 1% |
| 💰 Deposit Fees: | $0 |
| 💰 Withdrawal Fees: | $5 |
| 💰 Management Fees: | $0 |
| 💰 Inactivity Fee | $10 after a year |
| 💰Minimum withdrawal | $30 |
| 🔀 Minimum trade order | $10 |
| ⌛ Withdrawal Timeframe: | Up to 2 business days |
| #️⃣ Number of Cryptocurrencies Supported: | 75 |
| #️⃣ Number of Crypto Pairs Supported: | 16 |
| 💱 Top supported Cryptocurrencies: | BTC, ADA, ETH, BNB, IOTA |
| 📊 Leverage: | 30:1 |
| 📱 Native Mobile App: | Yes |
| 🖥️ Free Demo Account: | Yes |
| 🎧 Customer Support: | Email, Live Chat, Support Portal, Phone, Forum |
| 🖥️ Metatrader | N/A |
| ✅ Verification required: | Yes |
| 📈 CFD Available | Yes |
| 📊 Software: | Website, web app, mobile app |
| ⚽ Social Trading: | Yes |
| ✂️ Copy Trading: | Yes |
| 👮‍♂️ Regulators | Financial Conduct Authority (FCA), Cyprus Securities and Exchange Commission (CySEC), Markets In Financial Instruments Directive (MiFID), Australian Securities and Investments Commission (ASIC) |
Pros and Cons of Using eToro
Pros
eToro allows users to begin trading cryptocurrency, stocks, and ETFs for as little as $10
It supports several currencies and is regulated by top authorities
Excellent customer service
Cons
Some customers are limited to trading cryptocurrencies
The service is only available in select states in the US
There are high non-trading fees
1
Minimum Deposit
$50
Exclusive Promotion
More than 3,000 assets, including currencies, stocks, cryptocurrencies, ETFs, indices and commodities
Buy crypto, or trade cryptocurrencies via CFDs
This ad promotes virtual cryptocurrency investing within the EU (by eToro Europe Ltd. and eToro UK Ltd.) & USA (by eToro USA LLC); which is highly volatile, unregulated in most EU countries, no EU protections & not supervised by the EU regulatory framework. Investments are subject to market risk, including the loss of principal.
What Can I Do on eToro?
With more than 28 million members across 140 countries, eToro offers a cryptocurrency exchange that facilitates crypto trading. It also acts as an online brokerage platform for a limited number of stocks and exchange-traded funds (ETFs). In addition, individuals who desire a more collaborative trading experience may consider this platform due to its social features and vibrant community.
However, eToro's high crypto trading costs may be a bit excessive if you are looking for a cheap cryptocurrency exchange.
At eToro, you can trade stocks in two different ways:
1. Stocks can be bought and sold directly.
2. You can use Contracts for Difference (CFDs) to trade changes in stock prices. You can trade up and down with CFDs while leveraging your exposure.
In addition, eToro's CopyTrader allows you to replicate the actions of other traders and trade automatically. With just the press of a button, you can start replicating the positions of your chosen investor automatically (with the option of a stop-loss level to limit potential losses). The service is offered exclusively for cryptocurrencies.
A user can be copied for as little as $200. Users have the ability to imitate up to 100 traders at a time. Users can view millions of other traders' portfolios, statistics, and risk ratings, even without using CopyTrader. (US customers can only duplicate other US users but also have full access to all publicly available profiles from around the world).
eToro is best for cryptocurrency, stock, and ETF traders. It is also a great choice for social or copy-trading investors.
eToro Trading Products and Options
Pros
eToro is a great choice for social trading and copy trading. It is also great for trading crypto
Exciting perks are available for eToro club members who reach a higher status on the platform
eToro is always expanding its selection of markets
Cons
Algorithm trading strategies are not available on eToro
Compulsary stop-loss and take-profit may disrupt some trading strategies
eToro has limited trading tools in comparison to some of its competitors
Cryptocurrency Selection
Initially, the list of financial instruments to be included in the eToro copy trading platform did not include cryptocurrencies. However, eToro later added cryptocurrencies to its holdings to promote financial inclusion.
In 2017, the company deepened its integration with the blockchain community and added cryptocurrencies to its selection of financial investment instruments. It did so by enabling crypto trading in a number of digital currencies, including Litecoin, Ethereum, and Ripple's XRP.
For US investors in 2022, eToro offers more than 25 different cryptocurrencies. This selection of cryptocurrencies is substantial compared to cryptocurrency brokers that also offer stocks and other assets but are less extensive than certain exchanges that only trade cryptocurrencies.
For investors outside the US, eToro offers about 75 cryptocurrencies. Even though some cryptocurrency exchanges have 200 or more different currencies and tokens available, eToro still offers a good selection. Investors have access to DeFi tokens, gaming, metaverse, and smart contract cryptocurrencies.
eToro core cryptocurrency pairs
Like fiat currencies, cryptocurrencies are exchanged in pairs. This rule is followed by eToro, which has included various trading pairs for its cryptocurrency coins.
Most of these digital assets can be easily traded against Bitcoin (BTC), the most valuable cryptocurrency in terms of market capitalization. Moreover, you can exchange the coins for alternatives or cryptocurrencies.
Some of the most traded cryptocurrency pairs are:
BTC/EOS

ZEC/LTC

XRP/DASH

ETH/EOS

EOS/XLM

ZEC/ETH

ETH/XLM

BCH/LTC

ETH/BTC

ZEC/XRP
Different Trading Options Offered by eToro
eToro Cryptocurrency CFDs
Most of the time, cryptocurrencies follow the best standards for traditional financial investments, which include hedging risks. Traders can participate in the market while exercising caution by using CFDs. One of the main brokers offering CFD trading in cryptocurrencies is eToro.
So what are CFDs? CFDs allow you to trade various financial asset classes without owning the underlying assets. You have to make predictions or speculative bets regarding the next price movement of these assets. If your prediction comes true, you are successful and receive a payout. However, if it does not come true, you lose your money.
You need to open a CFD account with the broker, in this case, eToro, to trade using a CFD. The goal is for you to open a position that may be long or short. After that, you decide on your leverage to reduce the risk or increase the profit, determine the amount you trade, and make other decisions that will facilitate the trade.
Bitcoin CFDs, introduced in 2014, are one of the various crypto assets available in eToro's cryptocurrency CFDs. Today, there is a wide range of cryptocurrencies available for CFDs.
These crypto coins include:
Other eToro Trading Options
As mentioned, the copy trading feature of eToro is great because it offers both experienced and amateur traders the chance to trade a wide range of financial assets with ease.
Below are some additional trading options worth considering when using eToro:
Multi-asset
eToro is a multi-asset brokerage company that offers a wide selection of financial asset classes to choose from. You can trade a selection of cryptocurrencies and other assets of your choice.
eToro has over 2,000 financial asset classes cutting across cryptocurrencies, commodities, fiat currencies, indices, and ETFs. These assets are also available in a variety of options, including leverage trading.
CopyPortfolios
This is a long-term investment product. It was formerly called CopyFunds before it was renamed CopyPortfolios in 2016.
The concept here is to take advantage of eToro's machine-learning tools to dive deeper into the trading strategies developed by its users. This goes a long way to help traders brainstorm ideas that can help them come up with better strategies. Over time, these traders will be positioned to receive maximum returns on their investments.
Leverage trading is available on eToro. This is possible because the broker offers CFDs. With eToro's CFDs, you can enjoy up to 30x the amount you borrowed from the broker to trade.
But keep in mind that as much as leverage allows for flexible trading, it can be risky as well. Leverage trading is calculated in both profits and losses. Depending on the leverage you used, you could pay back as much as 10x the amount you borrowed if the trading strategy you used didn't pan out as expected.
This is why you should consider familiarizing yourself with how eToro's leverage trading and take note of the risks and benefits. This will help you decide whether you can afford to risk losing your borrowed capital if the trade goes south.
You can also use x2 leverage to trade specific crypto CFDs, such as XLM, BTC, EOS, and ETH.
eToro applies spreads to both its CFDs and crypto assets. In the case of eToro's CFDs, the traders do not own the assets. They only pay the overnight fees and spreads.
The spreads on currencies are as low as 1 Pip and can be as high as 3 Pips, depending on the currency pairs.
It is important to note that the spreads are only calculated to be paid once you close the position you have been holding. Additionally, the adjustments will be made at that time with reference to the closing price of the asset you have been holding.
What is a Pip? According to the eToro website, one pip is the smallest price change that a given exchange rate can make, and so refers to the very last digit of a price. For instance, if the EUR/USD moves from 1.1190 to 1.1191, this would be a movement of 1 pip in the exchange rate.**
Below we have created a table that compares eToro to three of its main competitors.
| | | | | |
| --- | --- | --- | --- | --- |
| Features | eToro | Robinhood | Fidelity | Webull |
| Cryptocurrency Available | Yes | Yes | Yes | Yes |
| Copy Trading | Yes | No | No | Yes |
| Leverage Available | Yes | Yes | Yes | Yes |
| Price Alerts | Yes | Yes | Yes | Yes |
| Candlestick Charts | Yes | Yes | Yes | Yes |
| Minimum Deposit | $10 ($500 for bank transfers) | None | None | None |
| CFD Trading | Yes | No | Yes | No |
eToro Review of Fees
Are you trying to make a deposit or withdrawal on eToro? Even though the process is straightforward, you should first check what the eToro fees are. According to the website, eToro does not usually charge any fees.
There are no fees for setting up an account. You will not be charged any additional brokerage fees or rollover fees. There are no commissions, shares, or ticket fees to pay. In addition, eToro has announced that there are no eToro fees for consumers to deposit funds into their eToro accounts.
However, you will be charged a withdrawal fee. A $5 fee is charged for each withdrawal from the eToro website. This fee is used to pay or settle some of the costs that are often incurred when sending money abroad.
There are numerous ways to deposit money into your eToro account. Debit and credit cards, digital wallets, PayPal, and bank transfer are just a few of them.
Pros
The forex and CFD fees are relatively low
There are no deposit fees
No management fees
Cons
Non-trading fees are high
Users must pay a $5 withdrawal fee
$10 inactivity fee after 1 year which is not ideal for crypto holders
Below is an overview of the types of fees and the cost:
| | |
| --- | --- |
| Type of Fee | Cost |
| Trading Fees Class | 1% |
| Inactivity Fee | $10 after 1 year |
| Withdrawal Fee | $5 |
| Minimum Deposit | $50 |
eToro cryptocurrency trading fees
The next table is a fee comparison between Robinhood and eToro.
| | | |
| --- | --- | --- |
| Fee | Robinhood | eToro |
| Stock and ETF Trading Fees | None | None |
| Inactivity fee | None | $10 |
| Deposit and Withdrawal Fee | None | $5 |
eToro non-trading fees
There are three different categories of non-trading fees at eToro:
1. Non-USD deposits and withdrawals are subject to a conversion fee.
2. Withdrawal Fees: A $5 USD fee is charged for each withdrawal request.
3. An inactivity fee is charged after one year of inactivity.
Additionally, there are fees for using the eToro wallet and trading cryptocurrencies. Dividends may be applied to or deducted from your available balance in addition to the fees.
Opening eToro Account
There are two different trading accounts available on eToro; standard and professional.
eToro standard account
Commissions: Only floating spreads start at one pip. Commissions on stocks and ETFs are low. If held overnight, CFD assets are subject to a rollover fee.

Features: Trading in cryptocurrencies and fractional shares starting at $10. Excellent social trading and copy features.

Account opening: Accessing an unlimited demo account and switching to a live account are both options.

Markets: Forex, commodities, stocks, ETFs, indices, and cryptocurrencies are just a few of the more than 1000 assets available on the market.
eToro professional account
Commissions: Starting at one pip for floating spreads.

Features: Users get access to more leverage for all assets. Trade rebates are available to high-volume traders.

Account opening: The minimum deposit ranges from $10 to $10,000, depending on your country of residence.

Markets: Forex, commodities, equities, ETFs, indexes, and cryptocurrencies are only a few of the markets' 1000+ available assets.
How to Open an Account With eToro
Opening an account with eToro is as easy as following the steps below:
Step 1: Visit eToro's official site
Click on the "Start investing" button on the homepage.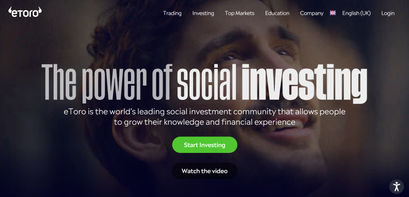 Step 2: Sign up
Choose a registration procedure: social media, email, or simply enter your details. You can easily connect either your Facebook or Google account and go to the next step. Otherwise, enter your full name, email address, telephone number, preferred username, and password.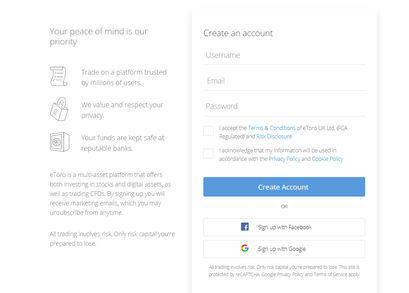 Step 3: Read & Accept Terms
Go through the Terms & Conditions and the Privacy Policy pages. Come back and tick the boxes of both to accept the conditions.
Step 4: Complete Registration Process
Click on the "Sign Up" or "Create Account" button to proceed (demo account or live)
Step 5: Complete Verification
Go through the Know Your Customer (KYC) process and wait for your account to be verified.
Step 6: Start Trading
Start trading and potentially make huge profits by copying the trades of the other successful traders on eToro.
eToro Deposit and Withdrawal
Deposit methods
Bank Transfer: Unlimited deposits via the following currencies: EUR, USD, and GBP

Credit and Debit Cards: Deposits can be made via AUD, USD, EUR, and GBP. The maximum single deposit is $40,000.

Rapid Transfer: Maximum single deposit of $5,500.

PayPal: Maximum single deposit of $10,000 payable via USD, AUD, GBP, and EUR.

Klarna/Sofort Banking: Up to $30,000 single deposits.

POLi: Maximum single deposit of $70,000.

Neteller and Skrill: Maximum single deposit of $10,000 each.

Trustly: Up to $40,000 per single deposit.

iDEAL: Up to $50,000 maximum single deposit.
In order to deposit money to eToro, choose your preferred method and follow the instructions below:
How to make a withdrawal on eToro
Follow the below steps to easily withdraw funds from eToro.
Step 1 Log in to your account
Withdrawal methods:
· Credit and Debit Cards
· Skrill
· iDEAL
· PayPal
· POLi
· Neteller
· Klarna/Sofort Banking
· Bank Transfer
Most of the deposit and withdrawal methods offered by eToro are instant. The only exceptions is bank transfer, which can take up to 7 days, and Klarna/Sofort Banking, which only allows you to withdraw funds after seven business days of making the deposit.
eToro Trading Platform Review
The web platform is user-friendly and satisfies basic investor requirements.
eToro Web Trading Platform Review
The systems supported by eToro are:
In addition to its website, eToro has also developed two mobile applications for easy access. The first is the main eToro mobile application that is used to access the platform. The other is the eToro Wallet.
The eToro Wallet is a dedicated digital wallet that is used to primarily store the crypto assets you want to hold for the long term. The wallet is downloadable as a mobile application from both the Apple Store (for iOS users) and the Google Play Store (for Android users).
Overall, eToro offers a wonderful user experience, both on its website and through mobile apps. It offers an easy-to-use interface and a straightforward design.
In order to keep your account safe and secure, eToro uses state-of-the-art security solutions for the best possible protection of your money and personal information.
You can use the search tool by typing in the box in the header of the eToro OpenBook website. This tool allows you to search for markets and other eToro users.
You can activate price alerts by swiping to the right of the instrument or clicking on the three dots next to the instrument in the web version of eToro.
Bullsheet allows you to manage your eToro portfolio easily. Users can choose who they copy, analyze risk, and track their investments after hours.
You can locate the earnings reports on the home page of your eToro account.
eToro review (App)
Overall, using eToro on a mobile device is a good experience. There is high usability, and almost identical features are offered by eToro on both the web platform and the mobile app.
Overview of the apps
eToro offers the eToro app and eToro Money for cryptocurrencies and money transfers. Both apps are available in the Apple App Store and Google Play.
Usefulness
The eToro mobile app retains the look and feel of the web version and offers helpful features such as dark and light modes and synchronized watchlists, which contribute to a smooth platform experience across all devices.
Charting
The charts, like the rest of the mobile app, are responsive and similar to the web platform, although only five indicators are available, as opposed to 67 on the web. The app lacks drawing features, which would be a great addition to an otherwise well-integrated and cleanly designed mobile app.
eToro review (Desctop)
The user-friendly layout of the eToro website makes it easy for traders to find what they're looking for. Users can enjoy similar features and capabilities of the app on the website.
Is it easy to trade on eToro?
The platform is usable on a variety of devices, including mobile apps and web browsers. The ground-breaking CopyTrader and CopyPortfolios tools on eToro make trading as easy as "copy and paste."
How to Buy Crypto on eToro
How to sell cryptocurrencies using eToro
Selling cryptocurrency on eToro is as simple as buying it.
Step 1 Log in to your account
eToro Trading Tools and Charting
Here are some tools for both amateur and professional traders on eToro:
Technical analysis
Technical analysis, the most widely used tool by traders around the world, focuses on gathering data from charts and graphs related to the asset you want to trade. In order to predict where the charts of financial instruments will move next, analysts using this strategy look for recurring patterns and apply various models to them.
Fundamental analysis
Fundamental analysis is another popular approach. Unlike technical analysis, fundamental analysis focuses on finding market opportunities by examining different types of information, such as:
News
The cryptocurrency market is often influenced by the media. News about major financial events, such as the consideration of a bitcoin ETF by the SEC, can also impact the cryptocurrency market.
Financial events
International financial summits where the topic of cryptocurrencies is discussed, speeches by government officials on the topic, and other similar occasions can impact cryptocurrencies.
Automated orders
Many traders use specialized orders to save time and execute some financial decisions automatically. There are numerous ways to accomplish this. An order can be set up to automatically execute automatically on an asset, but only at a certain price.
Other types of orders are stop-loss orders, which automatically close a trade when a predetermined loss amount is reached, and take-profit orders, which do the same when a predetermined profit amount is reached.
eToro Customer Service
| | |
| --- | --- |
| eToro Customer Support | Details |
| Live Chat | Users can engage with the live chat function |
| Email | Available on website |
| Request a call | Depends on the country but also available though the website |
eToro customer satisfaction
The fact that eToro reported having over 28 million users shows how popular and trusted the platform is.
More than 17,000 consumers have reviewed eToro on Trustpilot, giving the company an average rating of 4.3 out of 5 stars and a 59% excellent rating.
On Reddit, the discussions around eToro are mostly positive, and there is also an active eToro community.
In general, app users also favored eToro. They have a rating of 4.1 on the Google Play Store and 4.7 out of 5 stars on the App Store.
However, there have been some unfavorable comments. Many of them center on the challenges users encountered while trying to withdraw money and contact customer service, which some users found to be aggravating.
Educational & Learning Materials
eToro has a dedicated learning ecosystem called eToro Academy. It is an online educational learning ecosystem where you will learn most of the things you need to know about investing in cryptocurrencies.
You can choose your learning materials based on the type you find convenient. There are guides, videos, webinars, and podcasts. Users can also choose the educational resources based on their learning levels, such as beginner or advanced.
The resources have been sorted based on the different strategies. There are resources for investing in addition to trading cryptocurrencies.
Safety & Security eToro
How am I protected with eToro?
Both your information and your portfolio are protected. The broker uses advanced security measures, including an SSL certificate, to protect your information. Your funds and cryptocurrency portfolios are protected by segregated accounts. The broker also offers you the option to download the eToro Wallet, which allows you to have full control over your crypto assets.
Is eToro regulated?
eToro offers the best cryptocurrency services while operating under the stringent compliance practices.
The broker is regulated in the United Kingdom by the Financial Conduct Authority (FCA). It is also regulated in Europe by both the Cyprus Securities and Exchanges Commission (CySEC) and the Cypriot Investment Firm (CIF). The regulation in both the UK and Europe places eToro in compliance with the Market in Financial Instruments Directive (MiFID).
eToro is also regulated in Australia by the Australian Securities and Investments Commission (ASIC). It holds the Australian Financial Services License (ASFL) issued by the same regulator body.
Do I have to verify my account with eToro?
Yes, eToro requires new users to verify their accounts because that is part of the regulatory policies the broker keeps. Verification comes with the added advantage of having unlimited access to all that the broker has to offer.
To verify your account, you will be asked to provide specific documents, including:
· Proof of address. For example, an internet bill, bank statement, or phone bill.
· Proof of identity. This can be a driver's license, passport, or any other government-issued ID card. Note: the proof of identity documents should include your full name, date of birth, issue date, and expiry date.
eToro background
Yoni Assia, Ronen Assia, and David Ring founded eToro in Tel Aviv in 2007 under the name RetailFX. The company launched the eToro OpenBook social investment platform in 2010, along with its CopyTrader feature, which allows users to copy the top traders in the network automatically.
How Does eToro Make Money? By retaining the difference between the bid and ask price, eToro generates revenue. Even if a platform explicitly states commission-free trading, this approach is a common way for brokers to price trades and collect fees.
Alternatives to Consider
If you want to trade cryptocurrencies and stocks in one place, Robinhood is a good alternative. It also charges no transaction fees and offers more than ten different cryptocurrencies.
If you want to browse a wider selection of cryptocurrencies, Coinbase is worth considering. Although Coinbase does not offer stocks or other investments, it is still a reputable exchange worth investigating.
It offers a huge selection of cryptocurrencies and has a great platform for experienced investors. Despite Coinbase's complicated (and often high) fee structure, there are still many positive aspects to this platform.
Finally, you can trade cryptocurrencies using cryptocurrency trading robots.
A limited selection of cryptocurrencies
eToro has a smaller selection of crypto compared to some of the best exchanges. While non-US investors have access to about 75 different cryptocurrencies, US investors only have access to about 25. Other US exchanges offer hundreds of coins and tokens.
However, eToro might be the best option for you if you want to manage all your investments in one place and invest in the best cryptocurrencies alongside stocks.
Fees could be lower
For cryptocurrency transactions, eToro charges a 1% fee plus per spread. This is less expensive than some of its competitors, but there are better prices than this one. Some cryptocurrency trading platforms offer commissions as low as 0.1%.
If you pay more than 1% in fees every time you buy or sell a digital currency, your profits will reduce your profits. It is important to note that eToro charges an inactivity fee for accounts that have not been active for a year if you are a buy-and-hold investor who intends to buy cryptocurrencies and hold them for a long time.
Not accessible in all states of the US
All residents of the US can open a virtual trading account. But at the moment, users from Hawaii, Minnesota, Nevada, and New York cannot buy and sell cryptocurrencies on the eToro website. In the future, the company plans to be accessible in all 50 states. Some traders will have to look elsewhere until then.
Final Thoughts
With a low investment of $50, eToro is an excellent choice for both experienced traders who want to be compensated for sharing their strategies and regular traders who want to harness the power of copy trading.
The user-friendly platform is an added bonus for less experienced traders who need some guidance. However, it is not advisable for aggressive or high turnover traders to use eToro due to the large spreads and limited maximum trade sizes.
eToro is an excellent choice for social copy trading and cryptocurrency trading in 2022.
Trading crypto is high-risk and speculative
Find out More About Brokers
1
Minimum Deposit
$50
Exclusive Promotion
More than 3,000 assets, including currencies, stocks, cryptocurrencies, ETFs, indices and commodities
Buy crypto, or trade cryptocurrencies via CFDs
This ad promotes virtual cryptocurrency investing within the EU (by eToro Europe Ltd. and eToro UK Ltd.) & USA (by eToro USA LLC); which is highly volatile, unregulated in most EU countries, no EU protections & not supervised by the EU regulatory framework. Investments are subject to market risk, including the loss of principal.
FAQs
Is eToro good for beginners?
Is eToro good for investing?
Is eToro legit or a scam? Can it be trusted?
Can I use eToro in the USA?
What's the difference between eToro and eToro Money?

Emma Dwyer
Emma is a law graduate with seven years of experience working in financial services. She has been writing in the cryptocurrency and blockchain tech space for two years now. Recently she worked as a Managing Editor and Head of Content for different crypto publications.