Introduction. eToro Review
The financial market is one of the leading economic markets in the world. Here, millions of people stand a better chance of making huge profits provided they are skilled in trading. However, it is often that skill that many traders lack.
Trading in a financial market, whether investing in stocks or investing in crypto, requires not only your dedication, but also requires that you be apt at following the trends, analyzing the market, making good use of the news and market situations, and understanding a wide range of technical indicators.
These might seem burdensome, but they are some of the important parameters to be a better trader. The introduction of eToro sometime in 2007 changed the whole trading game, as far as financial markets are concerned. It has been 14 years already and this trading platform has continued to wax stronger by the year.
eToro is one of the best copy trading or social trading platforms in the world. You don't necessarily need to be a good technical analyst or follow the news to make important trading decisions. All you have to do is "copy" or replicate the trades and strategies already used by some of the successful traders and investors on the platform.
eToro Overview
| | |
| --- | --- |
| 💼 Provider Type: | Broker |
| 💸 Minimum Deposit: | $200 |
| 💰 Trading Fees: | 1% |
| 💰 Deposit Fees: | $0 |
| 💰 Withdrawal Fees: | $5 |
| 💰 Management Fees: | $0 |
| 🔀 Minimum trade order | $10 |
| ⌛ Withdrawal Timeframe: | Up to 2 business days |
| #️⃣ Number of Cryptocurrencies Supported: | 58 |
| #️⃣ Number of Crypto Pairs Supported: | 0 |
| 💱 Top supported Cryptocurrencies: | BTC, ETH, LTC, DOGE |
| 📊 Leverage: | 1x |
| 📱 Native Mobile App: | Yes |
| 🖥️ Free Demo Account: | Yes |
| 🎧 Customer Support: | Email, Live Chat, Support Portal |
| ✅ Verification required: | Yes |
| 📈 CFD Available | Yes |
| 📊 Software: | Website, web app, mobile app |
| ⚽ Social Trading: | Yes |
| ✂️ Copy Trading: | Yes |
| 👮‍♂️ Regulators | Financial Conduct Authority (FCA), Cyprus Securities and Exchange Commission (CySEC), Markets In Financial Instruments Directive (MiFID), Australian Securities and Investments Commission (ASIC) |
Pros and Cons of Using eToro
Pros
Copy-trading functionality for faster trades
Supports several currencies
Excellent customer service
Regulated by some of the best authorities
Minimum investment amount
Cons
Some customers are limited to trading cryptocurrencies
The service is only available in select states in the U.S.
1
Minimum Deposit
$10
Exclusive Promotion
More than 3,000 assets, including currencies, stocks, cryptocurrencies, ETFs, indices and commodities
Buy crypto, or trade cryptocurrencies via CFDs
This ad promotes virtual cryptocurrency investing within the EU (by eToro Europe Ltd. and eToro UK Ltd.) & USA (by eToro USA LLC); which is highly volatile, unregulated in most EU countries, no EU protections & not supervised by the EU regulatory framework. Investments are subject to market risk, including the loss of principal.
What Can I Do on eToro?
You can do a lot of things on eToro. The main function is to copy already-existing trades. Or you can decide to create a niche for yourself by combining the wide selection of trading indicators to come up with trading strategies that suit your lifestyle.
The history of eToro dates back to 2007 when the company was launched by two brothers called Yoni Assia and Ronen Assia. At the time, they wanted to make the company one of the best brokers in the world. However, the vision expanded when they discovered they could do more. It was years later they took the bold move of venturing into a Financial Technology (FinTech) revolution that has changed how trades are executed in financial markets. It was during this time that they launched OpenBook, which served as the copy for the social trading product of the platform. Through this, you can easily replicate the successful trades of top investors on the platform. Thereby, saving yourself the stress of combing trading strategies or losing more money than you make.
Aside from the copy trading feature, eToro also enables you to take advantage of its plethora of products. These include access to a wide range of currencies, including cryptocurrencies, as well as multiple trading tools. You will also enjoy lower trading fees and faster transactions.
eToro Cryptocurrencies and Trading Options
What cryptocurrencies can you trade on eToro?
Cryptocurrencies were not initially in the financial instruments to be added to the eToro copy trading platform. However, as a multi-asset brokerage company that is interested in facilitating financial inclusion, eToro added crypto to its portfolio. The company didn't go all out at the initial time. As of 2013, the company only allowed its users to access crypto assets by using contracts for differences (CFDs). At the time, only Bitcoin CFDs were available.
In February 2017 the company further integrated into the blockchain world and added cryptocurrencies to its financial investment instruments. This was done by enabling the trading of several crypto coins, including Ripple's XRP, Ethereum, and Litecoin.
Currently, eToro offers over 108 cryptocurrencies.
At the time of writing this review, October 2021, some of the coins available on eToro were making the gainer's list. Investors were bullish on the crypto coins and were making heavy investments to acquire them.
On the list of the top trading cryptocurrencies on eToro are:
Bitcoin

Cardano

Ethereum

Binance Coin

IOTA
Major Cryptos Traded on eToro
The cryptocurrencies traded on eToro vary. It depends on the market trends, the news, and the fundamentals pushing the coin.
Over time, we have kept track of some of the most traded cryptocurrencies on the platform. These coins are mostly invested in because of the fundamentals backing them up, the use cases, and the institutional interests.
They include:
Bitcoin (BTC)

Ethereum (ETH)

Binance Coin (BNB)

Cardano (ADA)

Ripple's XRP

Stellar Lumens (XLM)

IOTA (MIOTA)

Litecoin (LTC)

Uniswap (UNI)

Chainlink (LINK)
eToro Core Currency Pairs
Cryptocurrencies, just like fiat currencies, are traded in pairs. eToro also observes this rule and has included different trading pairs for its crypto coins.
You can conveniently trade most of these crypto-assets against Bitcoin (BTC), the leading cryptocurrency by market capitalization. You can also trade the coins against other crypto coins or Alternative Coins (altcoins). It is also possible to trade cryptocurrencies against stablecoins, such as Tether USD (USDT).
Some of the most traded cryptocurrency pairs are:
BTC/EOS

ZEC/LTC

XRP/DASH

ETH/EOS

EOS/XLM

ZEC/ETH

ETH/XLM

BCH/LTC

ETH/BTC

ZEC/XRP
Different Trading Options Offered by eToro
eToro Cryptocurrency CFDs
A majority of the time cryptocurrencies are in line with traditional financial investment best practices, which involves hedging risks. Utilizing CFDs allows traders to engage the market while also remaining cautious. eToro is one of the top brokers in the world that offers CFD trading for cryptocurrencies.
So, what are CFDs? CFDs are methods of trading different financial asset classes without holding any of those assets. What you are expected to do is to speculate on or predict the next price movement in those assets. If the prediction comes out the same way you predicted, you will make your profit. But if it doesn't, you will lose your money.
To trade using a CFD, you will open a CFD with the broker — in this case, eToro. The idea is for you to use that medium to open a position, which can either be long or short. Afterward, you will choose your leverage to hedge risks or make more profits, specify the amount you are trading with, and choose other parameters that will facilitate the trade.
eToro's cryptocurrency CFDs include a wide range of crypto assets, including the Bitcoin CFDs that were introduced in 2013. Today, you can choose from a wide selection of cryptocurrencies available for CFDs.
These crypto coins include:
Bitcoin

Ethereum Classic

XRP

Bitcoin Cash

Stellar Lumen
Other eToro Trading Options
The copy trading feature of eToro is great because it offers both experienced and amateur traders the chance to trade a wide range of financial assets with ease.
Yet, that is just one of the many features that this platform has to offer. Here are some of the additional trading options worth considering when using eToro:
Multi-asset
eToro is a multi-asset brokerage company that offers a wide selection of financial asset classes to choose from. You can now trade cryptocurrencies and other assets of your choice.
At the time of writing this review, eToro has added over 2,000 financial asset classes cutting across cryptocurrencies, commodities, fiat currencies, indices, and ETFs.
These assets are also available in a variety of options, including leverage trading.
CopyPortfolios
This is a long-term thematic investment product. It was formerly called CopyFunds before it was renamed CopyPortfolios in February 2016.
The concept here is to take advantage of eToro's machine learning tools to look deeper into the trading strategies developed by most of its users. This strategy will then be bundled up and the top traders that have used it will also be added to the bundle.
This goes a long way to help traders brainstorm ideas that can help them come up with better trading strategies. Over time, these traders, with the help of the uniform or predetermined trading strategy they have created, will be positioned to receive general maximum returns on investments at any given time.
Can I Trade With Leverage on eToro?
Yes, leverage trading is available on eToro. This is possible because the broker offers CFDs.
With eToro's CFDs, you can enjoy up to 30x the amount you borrowed from the broker to trade.
But keep in mind that as much as leverage allows for flexible trading, it can be risky as well. Leverage trading is calculated in both profits and losses. Depending on the leverage you used, you could pay back as much as 10x the amount you borrowed if the trading strategy you used didn't pan out as expected.
This is why you should consider familiarizing yourself with how eToro's leverage trading works and take note of the risks and benefits. This will help you decide whether you can afford to risk losing your borrowed capital if the trade goes south.
You can also use x2 leverage to trade specific crypto CFDs, such as XLM, BTC, EOS, and ETH.
What Are the Spreads on eToro?
eToro applies spreads to both its CFDs and crypto assets. In the case of eToro's CFDs, the traders do not own the assets. They only pay the overnight fees and spreads.
Per the information on the website, eToro only charges these spreads as a way of charging fees. The spreads are the differences between the Buy and Sell prices of the assets.
The spreads on currencies are as low as 1 Pip and can be as high as 3 Pips, depending on the currency pairs.
The fees or spreads on cryptocurrencies are as low as 0.75% for Bitcoin, 1.90% for Litecoin, and up to 2.90% for Cardano.
We must mention that the spreads are only calculated to be paid once you close the position you have been holding. Additionally, the adjustments will be made at that time with a reference to the closing price of the asset you have been holding.
Fees, Limits, and Payment Options on eToro
What are the deposit and withdrawal fees, limits, and spreads?
Are you looking to deposit money or withdraw your earnings from eToro? While the process is easy, you'll also want to find out if you have to pay anything. Based on the information on the website, eToro doesn't charge fees most of the time.
You will get zero charges for opening an account. You will not be asked to pay any additional broker fees or rollover fees. You will not pay commissions or stocks or ticket fees. eToro has also publicized that it doesn't charge its users to deposit money into their eToro account.
The fee you will pay is the withdrawal fee. eToro charges $5 for every withdrawal you make from the platform. This is a low fixed fee charged for every withdrawal you make. The fee is used to cover or settle some of the expenses that are often incurred when making international money transfers.
You can add money to your eToro account via a wide range of deposit methods. These include debit and credit cards, electronic wallets, PayPal, and bank transfers.
Deposit Methods:
Bank Transfer: Unlimited deposits via the following currencies: EUR, USD, and GBP

Credit and Debit Cards: Deposits can be made via AUD, USD, EUR, and GBP. The maximum single deposit is $40,000.

Rapid Transfer: Maximum single deposit of $5,500.

PayPal: Maximum single deposit of $10,000 payable via USD, AUD, GBP, and EUR.

Klarna/Sofort Banking: Up to $30,000 single deposits.

POLi: Maximum single deposit of $70,000.

Neteller and Skrill: Maximum single deposit of $10,000 each.

Trustly: Up to $40,000 per single deposit.

iDEAL: Up to $50,000 maximum single deposit.
Withdrawal Methods:
Credit and Debit Cards

Skrill

iDEAL

PayPal

POLi

Neteller

Klarna/Sofort Banking

Bank Transfer
Most of the deposit and withdrawal methods offered by eToro are instant. The only exceptions are bank transfers that can take up to 7 days and Klarna/Sofort Banking, which only allows you to withdraw funds after 7 business days of making the deposit.
How Much Are eToro's Fees and Commissions?
Fees are usually used by platforms that offer both cryptocurrency trading and brokerage services. eToro is not an exception because it offers similar services.
However, eToro is one of the few cryptocurrency trading platforms that charge low fees. The platform doesn't charge commissions on the stocks you trade, but you are required to pay the spreads – which are the difference between the price you bought a crypto asset and the price you sold it at.
Not to worry, though, because the eToro fees are affordable. It could be as low as 0.75% if you were trading Bitcoin (BTC) – the leading cryptocurrency by market capitalization. It can also be a bit expensive at 1.90% if you were trading Bitcoin Cash (BCH) or as high as 2.90% if you are trading Cardano (ADA).
The second fee charged by eToro is the Withdrawal fee, which you are required to pay when you are withdrawing as little as $30 from the platform.
eToro also charges conversion fees. This is common when you deposit money into your account via either bank transfer or some of the popular fiat currencies. In this case, you are being charged the fee because the assets were not deposited in USD, which is the official currency used by eToro. The conversion fees are charged when your deposits are made via bank transfers, Trustly, and Sofort. Conversion fees start at 50 Pips.
There is also a fee to be paid for being inactive after some time. Called the inactivity fee, this is a charge placed on eToro accounts that haven't been trading for a while. The fee is automatically charged after 12 months of inactivity on the platform. It starts at $10 a month. The fee is deducted from the remaining balance you have in your account. eToro has said that it wouldn't close any of the positions you currently hold to charge the fees. So, if you don't have any remaining balance, the fees will accumulate until you have the funds to clear them.
eToro Trade Sizes and Limits
There is no information regarding the number of trades the users can engage in. The available information talks about the amount you can start trading with. All you need to have in your eToro account is $50 and you are good to go.
You may also be required to have up to $200 trading capital before you can use the CopyTrader feature to replicate existing trading strategies.
eToro Trading Platform
What devices can I use eToro on?
The systems supported by eToro are:
In addition to its website, eToro has also developed two mobile applications for easy access. The first is the main eToro mobile application that is used to access the platform. The other is the eToro Wallet.
The eToro Wallet is a dedicated digital or cryptocurrency wallet that is used to primarily store the crypto assets you want to hold for the long term. The wallet is downloadable as a mobile application from both the Apple Store (for iOS users) and the Google Play Store (for Android users).
Note that using the eToro Wallet comes with certain terms. The first is that you will be charged up to 5% of the transaction to convert your crypto assets into a fiat currency, such as the USD. The second term is that you can only transfer crypto assets out of the wallet, but the same assets cannot be transferred back into the wallet. So, be sure you don't need the asset any time soon before making the transfers.
Can I use eToro in my country?
eToro is available in over 140 countries where over 20 million people use its services. The regulations of cryptocurrencies tend to differ by country.
So, find out if it is possible to engage in cryptocurrency trading of any kind in your country before using eToro. You can also reach out to the platform's customer service for help on this.
Is eToro available in my language?
Yes, eToro is a multilingual cryptocurrency brokerage platform. The supported languages include:
English

Spanish

Italian

French
How easy is it to use eToro?
You can use or navigate through the platform via multiple devices, including mobile apps and web browsers.
Trading or investing on eToro is extremely simple thanks to the revolutionary CopyTrader and CopyPortfolios features that make trading as simple as "copy and paste".
eToro Key Features
Here are some of the other awesome features offered by eToro:
Funds Protection:
eToro protects your funds by keeping them in a segregated account. This way, your funds wouldn't be affected, even if the broker goes bankrupt.
Active Community:
Get instant access to a community of successful traders who are willing to help you every step of the way. Both the CopyTrader and CopyPortfolios products promote community participation and interaction among the traders.
Accessibility:
eToro can be accessed from different parts of the world, thanks to the regulation of the broker. You can also use your mobile device browsers and dedicated mobile applications to access the platform.
eToro Security and Regulation
Is eToro safe?
Yes, it is safe to use the broker. In addition to the advanced security parameters, eToro is also well-regulated.
Are I and my money protected with eToro?
Yes, both your information and your portfolio are protected. The broker uses advanced security measures, including an SSL certificate to protect your information. Your funds and cryptocurrency portfolios are protected by segregated accounts. The broker also offers you the option to download the eToro Wallet which allows you to have full control over your crypto assets.
Is eToro regulated?
eToro offers the best cryptocurrency services while operating under the best compliances.
The broker is regulated in the United Kingdom by the Financial Conduct Authority (FCA). It is also regulated in Europe by both the Cyprus Securities and Exchanges Commission (CySEC) and the Cypriot Investment Firm (CIF). The regulation in both the U.K. and Europe places eToro in compliance with the Market in Financial Instruments Directive (MiFID).
eToro is also regulated in Australia by the Australian Securities and Investments Commission (ASIC). It holds the Australian Financial Services License (ASFL) issued by the same regulator body.
Do I have to verify my account with eToro?
Yes, eToro requires new users to verify their accounts, because that is part of the regulatory policies the broker keeps.
Verifying your identity also helps the broker serve you better. It is also an advantage because you will have unlimited access to all that the broker has to offer.
For your verification, you will be asked to provide specific documents, including:
Proof of address, such as internet bill, bank statement, or phone bill.

Proof of identity, such as a driver's license, passport, or any other government-issued ID card. Note: the proof of identity documents should include your full name, date of birth, issue date, and expiry date.
Extra Information About eToro
Educational Resources
eToro has a dedicated learning ecosystem called eToro Academy. It is an online educational learning ecosystem where you will learn most of the things you need to know about investing in cryptocurrencies.
You can choose your learning materials based on the type you find convenient. There are guides, videos, webinars, and podcasts.
You can also choose the educational resources based on your learning levels, such as Beginner and Advanced.
The resources have also been sorted based on the different strategies. There are resources for investing in addition to trading cryptocurrencies.
Tools and Charting
Take advantage of the demo account fully funded with up to $100,000. With this, you will learn a bit about trading and investing in different crypto assets.
Customer Support
You can get in touch with customer service by opening a ticket. For faster help, consider going through the Help Center where most of the common questions have been answered.
How to Open an Account With eToro
Opening an account with eToro is as easy as following the steps below:
Step 1: Visit eToro's official site
Click on the "Start investing" button on the homepage.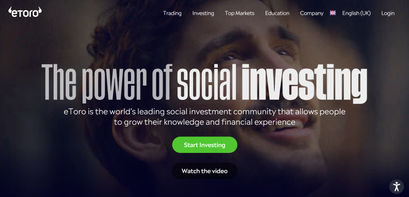 Step 2: Sign up
Choose a registration procedure: social media, email, or simply enter your details. You can easily connect either your Facebook or Google account and go to the next step. Otherwise, enter your full name, email address, telephone number, preferred username, and password.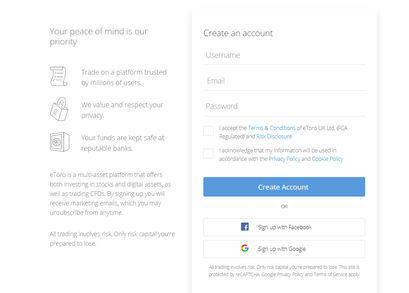 Step 3: Read & Accept Terms
Go through the Terms & Conditions and the Privacy Policy pages. Come back and tick the boxes of both to accept the conditions.
Step 4: Complete Registration Process
Click on the "Sign Up" or "Create Account" button to proceed.
Step 5: Complete Verification
Go through the Know Your Customer (KYC) process and wait for your account to be verified.
Step 6: Start Trading
Start trading and potentially make huge profits by copying the trades of the other successful traders on eToro.
Is There an Alternative to Crypto Brokers?
Yes, there are many more ways to trade cryptocurrencies such as using cryptocurrency robots. Check out some of our reviews for the best trading robots:
Is There an Alternative to eToro?
Final Conclusions About eToro
eToro takes away the limitation of not knowing when and how to place accurate trades. Simply copy the trades of other successful traders and start potentially making huge profits.
With a low investment of $50, you don't need to break a cryptocurrency exchange or hack a Bitcoin wallet to start using eToro.
1
Minimum Deposit
$10
Exclusive Promotion
More than 3,000 assets, including currencies, stocks, cryptocurrencies, ETFs, indices and commodities
Buy crypto, or trade cryptocurrencies via CFDs
This ad promotes virtual cryptocurrency investing within the EU (by eToro Europe Ltd. and eToro UK Ltd.) & USA (by eToro USA LLC); which is highly volatile, unregulated in most EU countries, no EU protections & not supervised by the EU regulatory framework. Investments are subject to market risk, including the loss of principal.

Amala Pillai
Amala is custom content and news editor based in London. She is a former financial journalist based in Singapore with 7 years of experience covering a range of business and financial topics. Now she focuses on crypto and macro-economics. She has also covered feature profiles, tech, business politics and ESG— she was the Environment Editor for the Solutions Newspaper, 2016 and worked in an editorial capacity at both News corp (Dow Jones) and JBN. She also has experience as a content creator, strategist and brand editor for various financial institutions and banks.