CFDs are complex instruments and come with a high risk of losing money rapidly due to leverage. 86% of retail investor accounts lose money when trading CFDs with this provider. You should consider whether you can afford to take the high risk of losing your money.
Plus500 Overview
A contract for difference (CFD) is a financial trading strategy whereby traders do not need to actually own the assets they trade. With CFDs, you speculate on the price of an asset. If the prediction is correct, you will take the difference in the price as profit, while if the prediction is wrong, that price difference will be taken as a loss.
Plus500 is one of the best CFD brokers in the world; as a trader, you stand a better chance of breaking even with the CFD options offered by Plus500. For one, you will get to experience different financial markets, including cryptocurrencies and indices. In this Plus500 review, we do a deep dive into one of the world's best CFD brokerages.
| | |
| --- | --- |
| 💼 Provider Type: | Broker |
| 💸 Minimum Deposit: | $100 |
| 💰 Trading Fees: | Traders may be charged for overnight funding, currency conversion fees, guaranteed stop orders, and inactivity fees |
| 💰 Deposit Fees: | None |
| 💰 Withdrawal Fees: | None |
| 💰 Management Fees: | None |
| 💰 Inactivity Fee | $10 after 3 months of inactivity |
| 💰Minimum withdrawal | $100 but this can vary by payment method |
| 🔀 Minimum trade order | Varies |
| ⌛ Withdrawal Timeframe: | 1 business day |
| #️⃣ Number of Cryptocurrencies Supported: | 19 |
| 💱 Top supported Cryptocurrencies: | ETH, BTC, LTC, IOTA, EOS |
| 📊 Leverage: | 1:30 |
| 📱 Native Mobile App: | Yes |
| 🖥️ Free Demo Account: | Yes |
| 🎧 Customer Support: | Email, Live Chat |
| 🖥️ Metatrader | No |
| ✅ Verification required: | AML, KYC |
| 📈 CFD Available | Yes |
| 📊 Software: | WebTrader terminal, iOS and Android mobile application, and Windows 10 Trade |
| ⚽ Social Trading: | No |
| ✂️ Copy Trading: | No |
| 👮‍♂️ Regulators | Financial Conduct Authority (FCA) in the United Kingdom, Financial Markets Authority (FMA) in New Zealand, Cyprus Securities and Exchange Commission (CySEC) in Cyprus, Monetary Authority of Singapore (MAS) in Singapore, Australian Securities and Investments Commission (ASIC) in Australia |
Pros and Cons of Using Plus500
What is Plus500 and How Does it Work?
Plus500's main business is to offer online CFDs through a trading platform accessible via the internet.
The Israel-based company was founded in 2008 and is registered with the necessary regulatory authorities. It operates through a number of subsidiaries in Europe and the Asia-Pacific region. Like other CFD brokers, Plus500 does not allow traders from the United States to join the trading platform.
The broker offers clients in more than 50 countries access to a wide range of CFDs on numerous assets, including foreign exchange, stock indices, individual stocks, commodities, ETFs, options, and cryptocurrencies (availability is subject to regulation).
It is important to note that CFDs are complicated financial instruments that risk losing money quickly due to leverage. Therefore, you should only use CFDs if you can afford the financial loss.
How does trading at Plus500 work?
With just a few clicks, you can open and close CFD positions. First, launch the mobile app, choose an instrument and then select "Buy" or "Sell." Next, choose the amount you want to open the position with and then execute the trade. It is important to note that all available financial products are traded as CFDs.
WebTrader
Most users of WebTrader give it a positive rating for its ease of use. It provides reports on fees, previous trades, positions, and other important data regarding client trading activity.
However, there are no built-in tools to analyze your trading behavior. Although the trading platform is excellent for most traders, it has some weaknesses. For example, you cannot use features such as automated trading with the help of experts or trading algorithms. Furthermore, users cannot manage third-party funds.
The lack of customizability of the trading platform is a drawback. There are screen layout limitations, and it lacks sophisticated charting features. Although it is great for simple charting, users should be aware that advanced charting tools are unavailable.
Traders can find the securities they want to trade using the functional search option. In addition, traders using Plus500 have the option to receive push notifications. These are activated when the value of a particular asset changes.
Who is Plus500 best for?
Due to the complexity and dangers associated with trading CFDs, Plus500 is not the most beginner-friendly trading platform. However, the trading platform is fantastic for intermediate to advanced traders.
Plus500 Products and Trading Options
Traders can use the tools on Plus500 to take their CFD transactions to the next level.
As a trader, you want to leverage all that a broker provides to get the most out of the CFD market. Among the many benefits is access to a wide range of financial asset classes, risk management tools, real-time alerts, and affordable fees.
What cryptocurrencies can you trade on Plus500?
Cryptocurrencies were introduced around the same time Plus500 came into being. This prompted the trading platform to immediately list the first Bitcoin CFD in the world in 2013. Since then, the trading platform has listed and introduced several other cryptocurrencies into its brokerage.
One of the challenges with trading crypto on Plus500 is that the underlying asset is not available. For example, you cannot own any cryptocurrency, including Bitcoin. This is because the trading platform is primarily a CFD platform. This means you merely speculate on the prices of the cryptocurrencies and do not own one.
With that said, let's dive into some of the cryptocurrency CFDs you can find on Plus500.
At the time of writing, there were only 19 cryptocurrency CFDs. Although the number is limited, it is still more than some competitors such as OANDA.
Major Cryptos Traded on Plus500
Plus500 Currency Pairs
Plus500 only offers a couple of currency pairs which are:
Ethereum/Bitcoin (ETH/BTC)

Bitcoin Cash ABC (BAB/USD)
How Does Plus500 Compare to Other Brokers?
Below we have created a table that compares Plus500 to three of its main competitors.
| | | | | |
| --- | --- | --- | --- | --- |
| Features | Plus500 | eToro | Fidelity | Webull |
| Cryptocurrency Available | Yes | Yes | Yes | Yes |
| Copy Trading | No | Yes | No | Yes |
| Leverage Available | Yes | Yes | Yes | Yes |
| Price Alerts | Yes | Yes | Yes | Yes |
| Candlestick Charts | Yes | Yes | Yes | Yes |
| Minimum Deposit | $100 | $10 ($500 for bank transfers) | None | None |
| CFD Trading | Yes | Yes | Yes | No |
Plus500 cryptocurrency CFD trading broker
A cryptocurrency CFD means a contract for difference that can be used to trade cryptocurrencies. Unlike traditional cryptocurrency trading methods, you do not need to have a crypto coin to trade a crypto CFD. Instead, all you have to do is make an account, open a position (either long or short) and decide on the amount to use for trading.
One of the best things about trading cryptocurrency CFDs on Plus500 is that you will gain more insights into the available coins. For example, on the trading interface, you will find important information, such as the coins' current market charts, the coins' history or background information, and sentiment analysis.
Other Plus500 trading options
Offering CFDs for cryptocurrencies and other financial markets is what Plus500 does best. However, Plus500 has additional services to offer, such as:
Risk management tools
Risk management strategies are learned by traders who want to cut down on the losses they make when trading. This is the reason why Plus500 introduced a wide range of risk management tools.
Traders' sentiments
Fear and greed are some of the biggest factors that can impact the price of a crypto asset. Plus500 understands this and has integrated a sentiment analysis tool.
The purpose of this tool is to help view the sentiment or general feeling of other traders about a particular cryptocurrency CFD. Usually, the traders are required to vote on those sentiments based on their perspective of the CFD's potential. Thereafter, the collation of the general sentiments will be used to help you understand the potential of the coin.
Can I trade with leverage on Plus500?
Yes, you can trade with leverage on Plus500 because using leveraging trading can increase your chances of making profits. However, the opposite is also true, and traders may suffer serious financial losses.
The leverage options can be as high as 1:30. This particular option is accessible by traders who have an account on Plus500.
However, keep in mind that leverage trading can be one of the riskiest investments to make. As much as you want to make higher profits, consider spending some time learning all there is to leverage trading. That way, you will have more information that will help you leverage your trades more successfully.
What are the spreads on Plus500?
On Plus500, you will enjoy competitive spreads.
Plus500 typically charges the spreads on over 2,000 financial asset classes on the trading platform.
Note that the spreads charged by Plus500 are not standalone payments. Instead, the broker incorporates the price differences into the quoted rates of a CFD asset. This way, you will pay all at once instead of being charged later for it.
We must also mention that a bulk of the revenue accruable to Plus500 comes from its spreads. As a market maker, the broker tends to charge these spreads. The spreads are the differences between the cost of a CFD asset you bought and the price you sold the same asset.
Fees, Limits, and Payment Options on Plus500
| | |
| --- | --- |
| Type of Fee | Cost |
| Trading Fees Class | Varies as traders may be charged for overnight funding, currency conversion fees, guaranteed stop orders, and inactivity fees |
| Inactivity Fee | $10 after 3 months months of inactivity |
| Withdrawal Fee | $0 |
| Minimum Deposit | $100 |
What are the deposit and withdrawal fees, limits, and spreads?
We checked through the Plus500 website and found that the broker is committed to reducing user charges. It is evident that this broker is ready to cover most of the payment processing fees.
However, there is a caveat – Plus500 is not to be held liable for conversion rate differences. According to the broker, there are instances where the traders could incur fees when depositing money into their account and when transferring funds out of the same. In such cases, the additional fees are charged by the banks or payment card issuers of the traders and not Plus500.
Plus500 also itemized some of the instances where additional costs could be added. For example, you might pay these additional fees when using a third party to convert funds before depositing the same into your Plus500 account. You can also attract additional fees when making both incoming and outgoing bank transfers into and out of your Plus500 trading account.
Be prepared to pay the charges placed on your international credit cards if you are using one to fund your CFD account on Plus500.
Plus500 offers a wide selection of payment methods for you to choose from. These include but are not limited to PayPal, Visa, MasterCard, Skrill, iDEAL, Trustly, GiroPay, Bank wire transfer, Blik, MyBank, and Klarna.
How to Deposit on Plus500
To deposit money into your account, please follow the steps below. The minimum deposit amount varies depending on your preferred payment option. For example, if you use a credit or debit card, you must deposit at least €100.
Step 1 Log in to your account
Step 2 Select payment type
Step 3 Enter deposit amount
Step 4 Fill in your card details
Step 5 Make the deposit and wait for confirmation
Deposit methods
You can make a minimum deposit of $100 into your account. The deposits can be made via:
Bank wire transfer

Skrill

Credit and debit cards

PayPal
You can also use regional payment methods to add money to your trading account on Plus500.
How to Make a Withdrawal on Plus500?
To withdraw money, follow the steps below:
Step 1 Log in to your account
Step 2 Choose withdrawal method
Step 3 Fill in your details
Step 4 Click withdrawal and wait for confirmation
Withdrawal methods
The withdrawals made via Plus500 are processed via the same routes as the deposit options. So, you have them as:
PayPal

Bank wire transfer

Skrill

Credit and debit cards
It should be noted that the withdrawal times could differ. For example, credit cards, debit cards, and Skrill may process withdrawals quickly.
You may have to wait a couple of hours for PayPal to process your withdrawal. Additionally, be prepared to wait for a few business days before the funds can be wired to your bank account.
Another important thing to have in mind is that Plus500 has a policy on deposits and withdrawals. The policy states the deposits and withdrawals you make can be free, provided you do not exceed the maximum amount threshold for your account.
The base currency for Plus500 is the US Dollar (USD). As such, you are expected to make both your deposits and withdrawals in the same currency. Doing otherwise (in another currency) will trigger the conversion fees so that the currency you are using can be converted to USD.
How much are Plus500 fees and commissions?
As mentioned above, trading CFD assets on Plus500 does not warrant any fee.
The fees you might pay are only triggered when specific events call for it. The first is the spreads, which is the difference in the prices of the CFD assets you bought and sold on Plus500. The spreads can differ by assets and will vary in price.
The second type of fee you will pay is overnight funding. This fee is typically charged when you leave a leveraged trade open overnight. Plus500 charges you the overnight fee, so it will help keep the position open for you to continue the next day.
The other fee payable to Plus500 is the currency conversion fee. This is charged when you are depositing or withdrawing money from the broker using a currency that is quite different from its base currency.
Depositing or withdrawing money from your account on the trading platform with either GBP or EUR makes that different from the base currency of USD. So, you will foot the payment of the currency conversion fee for the necessary currency conversions to take place.
The guaranteed stop order is another type of fee charged by the broker. Most financial markets are bearish, especially the crypto market. Therefore, trading with a stop loss is the ideal way to hedge risks.
However, there is no guarantee that the stop order will always work, especially when the market is extremely volatile. The guaranteed stop order is a fee charged by Plus500 to help close your trades at the limit you set. That way, you will not lose more money even if the market is extremely volatile.
Last but not least is the inactivity fee. After three months from the last usage, Plus500 will automatically charge you $10 every month until you reactivate the account. The fee is charged because Plus500 will be spending time and resources keeping your account secure and open for you to come back and use it.
Plus500 trade sizes and limits
Since Plus500 is a CFD market maker, it follows the pattern of other brokers, which offers a minimum transaction size of 1 CFD.
Opening a Plus500 Account
Below are some of the most common queries when it comes to opening a Plus500 account:
Can you open an account in the US?
No, individuals cannot open a Plus500 account in the US because CFD is prohibited there.
What is the minimum deposit at Plus500?
The minimum deposit amount at Plus500 is $100, and debit cards, credit cards, and digital wallets are accepted. However, a minimum deposit of $500 is required for bank transfers.
Which accounts are available on Plus500?
When choosing a Plus500 broker account, you have a number of options, just like with any big forex broker.
Plus500 demo account
Apart from the use of virtual demo funds, the account features are the same as a Plus500 live trading account, without any minimum deposit.
Plus500 retail account
The retail account is the broker's basic account designed for those who can handle the risk associated with CFDs.
Plus500 professional account
Investors must meet certain requirements to apply for a Professional account. This account enjoys extra features compared to the retail account. Traders with professional accounts lose their ICF rights.
How to Open an Account With Plus500
Follow these steps to open an account on Plus500:
Step 1: Go to Plus500's official page & sign up
Sign up with your email address, full name, and telephone number, and create a password. You can also skip this process by simply choosing to create an account with your existing Facebook or Google/Gmail account.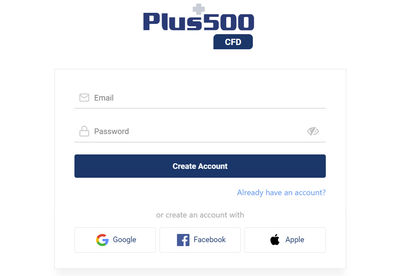 Step 2: Complete Verification Process
Submit the documents required for the AML/KYC verification. These include Proof of Residency and a government-issued ID.
Step 3: Start trading
Start trading once your account is verified.
Plus500 Deposit and Withdrawal
What are the base currencies on Plus500?
Plus500 base currencies include USD, GBP, EUR, CHF, AUD, JPY, PLN, HUF, CZK, CAD, TRY, SEK, NOK, ZAR, and SGD.
Plus500 deposit fees and options
While Plus500 doesn't charge deposit fees, it is important to keep in mind that your bank or credit card company may charge fees if you make foreign credit transactions, such as incoming or outgoing wire transfers, or if you use a currency that's not supported by the platform.
Plus500 withdrawal fees and options
Unlike many other online brokers, Plus500 does not charge withdrawal fees. This means that the amount withdrawn from your brokerage account will appear in your bank account in the same amount.
How to withdraw money from Plus500
Follow the instructions below to make a withdrawal at Plus500:
Select your withdrawal method by clicking "Withdraw" in the top left of the screen.

Select the withdrawal method.

Input the amount you wish to withdraw and then click "Open a Withdrawal."
After you have completed these steps, a pop-up window will appear, informing you that your withdrawal request has been successfully processed.
How long does it take to withdraw money from Plus500?
The processing of a withdrawal request usually takes 1 business day due to security checks. The type of payment and the processing time of the third-party provider will determine the time frame for receiving the funds.
Are profits made by trading on Plus500 taxable?
Yes. You are accountable for filing tax returns and paying taxes in accordance with local regulations.
Plus500 Trading Platform Review
Web trading platform review
Plus500's unique platform and capabilities are available for desktop and mobile users and may be used on a wide range of devices. WebTrader, the trading platform used by Plus500 for online trading, is one of the most attractive features of the platform.
Is Plus500 beginner friendly?
A beginner should avoid Plus500 due to the complexity and risk of CFD trading. However, experienced investors who wish to enter and exit manually may conclude that the trade-off in functionality is worth it, given the lower costs.
Plus500 design and navigation
Unlike the sophisticated trading platforms of other brokers, the Plus500 trading platform is designed to be easy to explore.
Login and security features
Plus500 provides negative balance protection and biometric verification for its mobile application. In addition, clients will get compensation in accordance with their jurisdiction's financial compensation procedures in the event Plus500 fails.
Scams are almost non-existent at Plus500 because of the extensive regulation.
Search functions
Thanks to the excellent search function, you will have no problem finding any product. The product categories are on the left side, and you can also search by entering the product name.
Alerts and notifications
You can choose to receive a notification when a financial instrument reaches a certain price, before a margin call, and more. It is possible to manage your trading account through this service even if you are not logged in to the trading platform.
Reports and fees breakdown
The Plus500 platform offers reports on fees, previous trades, positions, and other significant client activity data.
Plus500 App Review
Most, if not all, of the tools and settings of the web-based version, are also available in the Plus500 mobile app. This includes the search function, reports, and charting tools.
Android, Windows Phone, and iOS (iPhone and iPad) users can download the app. In addition, if you have a smartwatch, it delivers push notifications to that device. Biometric authentication is also available for added security.
Ordering through the app is easy. Investors can trade CFDs in just a few seconds. You can also deposit and withdraw funds directly through the app. Since the app gives users instant access to deposited accounts without any other security measures, some users might be concerned.
Plus500 desktop trading platform review
All of the mobile application's features are available in Plus500's desktop version.
How Difficult is it to Trade on Plus500?
CFDs are complex financial products that come with risks, regardless of the platform you use. Having said that, Plus500 makes trading accessible thanks to its educational resources, risk management tools, and cross-device compatibility.
Join Plus500, log in to your account and select the "Trade" option to open a position. After selecting the instrument, you want to trade, click "Buy" or "Sell" to open your position. Next, view the required initial margin, the position size, and the trade's total value.
When you click "Buy" or "Sell," a pop-up window will appear. The amount you want to trade will then be selected. It will open when you click the button to confirm the order.
How to trade Crypto CFDs on Plus500
Follow the below instructions to trade crypto CFDs with Plus500:
Step 1 Log in to your account
Step 2 Select preferred cryptocurrency
Step 3 Set profit and/or stop loss thresholds
Step 4 Check to make sure you have enough funds to cover the margin
Plus500 Trading Tools and Charting
Once you sign up, you will have access to over 100 technical indicators and charting tools via Plus500's WebTrader platform.
Charts
According to the company's website, Plus500 offers charts with a variety of drawing tools and indicators that can help you analyze trends and predict future market movements. In addition, your chart view can be customized by selecting chart type, pricing, and time intervals.
To track the price changes of an instrument over time and adjust your trading strategy accordingly, you can use any combination of indicators and tools.
Plus500 Customer Service
Plus500's customer support team is available 24/7 to discuss any issues. Email and live chat are two ways of communication.
| | |
| --- | --- |
| Plus500 Customer Support | Details |
| Live Chat | Available on website |
| Email | Available on website |
| Request a call | Unavailable |
Live chat
You can select topics for your inquiry, such as account opening or funding, and support staff will respond to you via email. After you select a topic, you can provide an explanation of your problem.
Email
You can email the team even if you still need an account on Plus500. The Plus500 website provides email information.
Phone
Unfortunately, there is no customer support phone number available for Plus500.
Plus500 Customer Satisfaction
Plus500 reviews from Trustpilot
Plus500 has a strong rating of 4.1 on Trustpilot, and most of the reviews are from satisfied customers. However, there are some complaints about delays when it comes to withdrawals.
Plus500 reviews from Reddit
Reddit has mixed reviews. Some Redditors were pleased with the low spreads and virtually non-existent commissions. However, others said the platform was geared toward more experienced traders.
Plus500 reviews from the App Store
Plus500 received a score of 3.7 from the App Store. One customer commented, "really bad for day traders. Good for swing traders / long-term investors".
Education and Learning Materials
Plus500 provides educational content in the form of instructional videos and guides. These can be found in the tools section on the platform. You can use the resources provided by Plus500 to start trading CFDs on the website.
The company also has a Trading Academy that offers a variety of educational materials such as eBooks, video trading guides, and FAQs to help both beginners and experienced traders trade.
However, since the materials provided could be more detailed, it would be advisable to add other resources to your learning.
Plus500 Security
Plus500 is registered with the appropriate regulatory bodies in Europe and Asia Pacific, although it does not offer additional deposit protection. Plus500 also provides negative balance protection, ensuring that clients cannot lose more money than they have deposited into their accounts.
Depending on the market situation, guaranteed stop-loss orders can be used for various instruments, but they come with a larger spread.
Is Plus500 safe?
Plus500 not only offers a two-step login but also has a timer that logs the user out of both web-based and mobile applications in case of inactivity.
Plus500 Background
Plus500 was founded in 2008 and is based in Israel. In 2021, the customer base reached over 20 million, and the company went public in 2013. At the time of writing, the current CEO is David Zruia.
Plus500 Alternatives to Consider
If you are searching for an alternative to Plus500, check out SoFi or Wealthsimple.
In addition to cryptocurrencies, SoFi and Wealthsimple also offer exposure to conventional financial markets. However, SoFi and Wealthsimple only truly offer their users real ownership of their cryptocurrency, and you cannot withdraw cryptocurrency from the site.
On the other hand, if you're looking for more direct crypto ownership (but don't have stock trading options), you should check out a crypto exchange like Coinbase.
How Does Plus500 Make Money?
Spreads on customer trades, overnight costs, currency conversion fees, and inactivity fees are all ways that Plus500 generates revenue.
Should You Invest with Plus500?
The platform is one of the best brokers available when it comes to trading crypto CFDs. You can trade a number of cryptocurrencies with contracts for differences through this trusted organization, which is controlled by numerous authorities and has a very user-friendly interface.
As stated above, the biggest drawbacks of the platform are that there are limited trading tools, average educational resources, and no phone service, which might deter traders who need instant communication. However, the live chat is available 24/7 and provides timely answers to any client queries.
Overall, Plus500 is a solid platform for intermediate to advanced traders who want to trade crypto CFDs.
86% of retail investor accounts lose money when trading CFDs with this provider. You should consider whether you can afford to take the high risk of losing your money.
Find out More About Brokers
FAQs
Is Plus500 a legitimate company?
How do I cash out on Plus500?
How fast can I get a withdrawal on Plus500?
Is Plus500 beginner friendly?
Who is the CEO of Plus500?
Author Bio

Emma Dwyer
Emma is a law graduate with seven years of experience working in financial services. She has been writing in the cryptocurrency and blockchain tech space for two years now. Recently she worked as a Managing Editor and Head of Content for different crypto publications.