Contract for difference (CFD) is a financial trading strategy whereby the traders do not need to own the actual assets before they can make profits. All you need to do is speculate on the price of the assets. If the predictions are correct, you will take the differences in the prices as profit.
Plus500 is one of the best CFD brokers in the world. The platform has in different instances been compared to some other brokers, yet its services, the wide range of CFD products it offers, and the flexible use contribute to its popularity.
As a trader, you stand a better chance of breaking even with the CFD options offered by Plus500. For one, you will get to play big in different financial markets, including cryptocurrencies and indices.
In this Plus500 review, we took the time to underscore the relevance of this platform and all that it offers. We also paid serious attention to the reviews and testimonials from past and current users. You are about to gain great insight into one of the world's best CFD brokerages.
Also, you can read our guide on Best Cryptocurrency Brokers in 2022 to find out more about different brokers.
Plus500 Overview
| | |
| --- | --- |
| 💼 Provider Type: | Broker |
| 💸 Minimum Deposit: | $100 |
| 💰 Trading Fees: | None |
| 💰 Deposit Fees: | None |
| 💰 Withdrawal Fees: | None |
| 💰 Management Fees: | None |
| ⌛ Withdrawal Timeframe: | 1-3 business days |
| #️⃣ Number of Cryptocurrencies Supported: | 18 |
| #️⃣ Number of Crypto Pairs Supported: | 1 |
| 💱 Top supported Cryptocurrencies: | ETH, BTC, LTC, IOTA, EOS |
| 📊 Leverage: | 1:300 |
| 📱 Native Mobile App: | Yes |
| 🖥️ Free Demo Account: | Yes |
| 🎧 Customer Support: | Email, Live chat |
| ✅ Verification required: | AML, KYC |
| 📈 CFD Available | Yes |
| 📊 Software: | WebTrader terminal, Android mobile application, and Windows 10 Trade |
| ⚽ Social Trading: | No |
| ✂️ Copy Trading: | No |
| 👮‍♂️ Regulators | Financial Conduct Authority (FCA) in the United Kingdom, Financial Markets Authority (FMA) in New Zealand, Cyprus Securities and Exchange Commission (CySEC) in Cyprus, Monetary Authority of Singapore (MAS) in Singapore, Australian Securities and Investments Commission (ASIC) in Australia |
Pros and Cons of Using Plus500
Pros
Offers a wide range of financial instruments
Reduced fees
Offers hundreds of technical indicators and charting tools
Cross-platform availability
Regulated by trusted authorities
Cons
Cryptocurrency trading is not available through the underlying asset
Social copy-trading is not supported
What Can I Do on Plus500?
The primary thing you can do on Plus500 is using the wide selection of tools to take your CFD transactions to the next level. The platform is also considered low-risk because of the safety measures it has taken to secure both the platform and the users. Plus500 is also reliable because of the several trust ratings it has received, including the authorization by three tier-1 regulators and four tier-2 regulators.
The history of Plus500 can be traced back to 2005 when the platform was launched. At the time, the users were expected to have a PC or desktop, because those are the only devices that could access the website. It wasn't until 2010 that the web-based version of the website was launched. This launch allows many users to access the site provided they have a smartphone, a Mac, or a Linux device. The mobile application started with the iOS system in 2011 and the Android system in 2012. Within the last few years, Plus500 has made tremendous moves to solidify its stance as one of the leading CFD brokerages in the world. This is evident in the integration of advanced trading indicators and the rollover function.
As a trader, you want to leverage all that this broker provides to get the most out of the CFD market. Among the many benefits is access to a wide range of financial asset classes, risk management tools, real-time alerts, and affordable fees.
Plus500 Cryptocurrencies and Trading Options
What cryptocurrencies can you trade on Plus500?
Cryptocurrencies were introduced around the same time Plus500 came into being. This prompted the platform to immediately list the first Bitcoin CFD in the world in 2013. Since then, the platform has listed and introduced several other cryptocurrencies into its brokerage.
We must mention that one of the challenges with trading crypto with Plus500 is the non-availability of the underlying asset. For example, you cannot own any cryptocurrency, including Bitcoin. This is because the platform (Plus500) is primarily a CFD platform. Thus you merely speculate on the prices of the cryptocurrencies and do not own one.
With that said, let us dive into some of the cryptocurrency CFDs you can find on Plus500.
At the time of writing this Plus500 review, there were only 11 cryptocurrency CFDs. Although the number is limited, traders have been able to leverage them to make huge profits from the smallest changes in the prices of the crypto assets. You can do the same and even more when you sign up on Plus500.
Major Cryptos Traded on Plus500
Ethereum

Bitcoin

Stellar

Litecoin

Crypto 10 Index

IOTA

Bitcoin Cash ABC

EOS

NEO

Cardano
Plus500 Currency Pairs
Cryptocurrency CFDs on Plus500 can also be traded. Remember that the broker doesn't offer the underlying assets.
The cryptocurrency CFD pairs are only a few. They are:
Ethereum/Bitcoin (ETH/BTC)

Bitcoin Cash ABC (BABUSD)
Plus500 cryptocurrency CFD trading broker
A cryptocurrency CFD simply means a contract for difference that can be used to trade cryptocurrencies. Unlike traditional cryptocurrency trading methods, you don't need to have a crypto coin to trade a crypto CFD. All you have to do is to choose leverage, open a position (either long or short) and decide on the amount to use for trading.
Plus500 offers most of its crypto assets as CFDs. As such, you are only allowed to "speculate on" or "predict" the next price movement of those assets.
You could predict that Bitcoin will move from the $42k level to $50k in the coming week. That is if you are opening a long position.
You can also predict a decline or drop in the price of Bitcoin. In this case, you are predicting or speculating that the value (price) of a Bitcoin will drop from the $42k level to the $37k level roughly. This is called a short position.
No matter the position you are taking, the point is that you can do all that on Plus500. Currently, there are 11 different cryptocurrencies tradable as CFDs on the platform. These currencies include Bitcoin CFD, Ethereum CFD, Ethereum/Bitcoin CFD, Cardano CFD, and Litecoin CFD.
One of the amazing features of trading these cryptocurrency CFDs on Plus500 is that you will gain more insights into those coins. For example, on the trading interface, you will find important information, such as the current market charts of the coins, the history or background information of the coins, as well as sentiment analysis.
The sentiment analysis is rated over a hundred and is a combination of the different feelings and reactions of the traders. If the sentiments lean more toward the green side, it means that the crypto CFD is worth investing in. Otherwise, consider staying off for a while until the general opinion is bullish.
Other Plus500 trading options
Offering CFDs for cryptocurrencies and other financial markets is what Plus500 does the best. Yet, that doesn't mean that the broker doesn't have lots of other financial instruments to offer.
These additional services include:
Risk Management Tools
Risk management strategies are learned by traders who want to cut down on the losses they make when trading. This is the reason why Plus500 introduced a wide range of risk management tools.
Traders' Sentiments
Fear and greed are some of the factors that can impact the price of a crypto asset. Plus500 understands this and has integrated a sentiment analysis tool.
The work of this tool is to help view the sentiment or general feeling of the other traders about a particular cryptocurrency CFD. Usually, the traders are required to vote on those sentiments based on their perspective of the CFD's potential. Thereafter, the collation of the general sentiments will be used to help you understand the potential of the coin.
Can I Trade with Leverage on Plus500?
Yes, you can trade with leverage on Plus500 because using leveraging trading can increase your chances of making profits.
From the information available at the time of writing, Plus500 can allow you to enjoy 1:30 leverage, especially when you are trading currency pairs.
The leverage options can be as high as 1:300. This particular option is accessible by traders who have upgraded to a Stasdard account on Plus500.
Have in mind also that leverage trading can be one of the riskiest investments to make. As much as you want to make higher profits, consider spending some time learning all there is to leverage trading. That way, you will have more information that will help you leverage your trades easily.
What are the spreads on Plus500?
Plus500 doesn't charge most of the fees particularly to some brokers. The platform wants the traders to come in and trade with ease without bothering about the huge fees they are likely to pay.
We must mention that a bulk of the revenue accruable to Plus500 comes from its spreads. As a market maker, the broker tends to charge these spreads. The spreads are the differences between the cost of a CFD asset you bought and the price you sold the same asset.
On Plus500, you will enjoy competitive spreads. From the information available to us at the time of writing, the spreads can also vary, as this is done to create a balance.
Plus500 typically charges the spreads on the over 2,000 financial asset classes on the platform. Also, the broker can make some profits when you lose trades because it lent you the funds you used for the trades in the first place.
Note that the spreads charged by Plus500 are not standalone payments. Instead, the broker incorporates the price differences into the quoted rates of a CFD asset. This way, you will pay all at once instead of being charged later for it.
Fees, Limits, and Payment Options on Plus500
What are the deposit and withdrawal fees, limits, and spreads?
Add money to your trading account with ease and withdraw your earnings the same way. It is all hassle-free and affordable, thanks to the wide range of payment options offered by Plus500.
We checked through the Plus500 website and found out that the broker is committed to reducing charges for its users. The information we accessed confirmed the broker's readiness to cover most of the payment processing fees.
However, there is a caveat – Plus500 is not to be held liable for conversion rate differences. According to the broker, there are instances when the traders could incur fees when depositing money into their account and when transferring funds out of the same. In such cases, the additional fees are charged by the banks or payment card issuer of the traders and not Plus500.
Plus500 also itemized some of the instances where additional costs could be added. For example, you might pay these additional fees when using a third party to convert funds before depositing the same into your Plus500 account. You can also attract additional fees when making both incoming and outgoing bank transfers into and out of your Plus500 trading account. Be prepared to pay the charges placed on your international credit cards if you are using one to fund your CFD trading account on Plus500.
Plus500 offers a wide selection of payment methods for you to choose from. These include but are not limited to PayPal, Visa, MasterCard, Skrill, Neteller, iDEAL, Trustly, GiroPay, Bank wire transfer, Blik, MyBank, and Klarna.
Deposit Methods
You can make a minimum deposit of $100 into your account. The deposits can be made via:
Bank wire transfer

Skrill

Credit and debit cards

Neteller

PayPal
You may also be able to use regional payment methods to add money to your trading account on Plus500.
Withdrawal Methods
The withdrawals made via Plus500 are processed via the same routes as the deposit options. So, you have them as:
PayPal

Bank wire transfer

Neteller

Skrill

Credit and debit cards
Worthy of note is that the withdrawal times could differ. For example, credit cards, debit cards, and Skrill can process your withdrawals in the shortest time possible.
You may have to wait a couple of hours for PayPal to process your withdrawal. Additionally, be prepared to wait for a few business days before the funds can be wired to your bank account.
Another important thing to have in mind is that Plus500 has a policy on deposits and withdrawals. The policy states the deposits and withdrawals you make can be free provided you do not exceed the maximum amount threshold for your account.
The base currency for Plus500 is the United States Dollars (USD). As such, you are expected to make both your deposits and withdrawals in the same currency. Doing otherwise (in another currency) will trigger the conversion fees so that the currency you are using can be converted to USD.
How much are Plus500 fees and commissions?
As earlier mentioned, trading CFD assets on Plus500 doesn't warrant any fee.
The fees you might pay are only triggered when specific events call for it. The first is the spreads, which is the difference in the prices of the CFD assets you bought and sold on Plus500. You can pay as low as 0.6 Pips. This is obtainable when trading high-liquid CFD assets that attract a minimum commission-free spread. The spreads can differ by assets, but they are always lower when compared to Plus500's competitors.
The second type of fee you will pay is Overnight Funding. This fee is typically charged when you leave a leveraged trade open overnight. Ideally, you open either a long or short trading position on Plus500 and couldn't close it before the end of the trading day. Plus500 charges you the overnight fee so it will help keep the position open for you to continue the next day.
The other fee payable to Plus500 is the Currency Conversion Fee. This is charged when you are depositing or withdrawing money from the broker using a currency that is quite different from its base currency. The base currency for Plus500 is the United States Dollars (USD). Depositing or withdrawing money from your account on the platform with either GBP or EUR makes that different from the base currency of USD. So, you will foot the payment of the currency conversion fee for the necessary currency conversions to take place.
The Guaranteed Stop Order is another type of fee charged by the broker. Most financial markets are bearish, especially the crypto market. Trading with a Stop Loss is the ideal way to hedge risks. The challenge, however, is that the Stop Loss might not work all the time, especially when the market is extremely volatile. The Guaranteed Stop Order is a fee charged by Plus500 to help close your trades at the limit you set. That way, you wouldn't lose more money even if the market is extremely volatile.
Last but not least is the Inactivity Fee. After three months from the last usage, Plus500 will automatically charge you $10 every month until you reactivate the account. The fee is charged because Plus500 will be spending time and resources keeping your account secure and open for you to come back and use it.
Plus500 Trade Sizes and Limits
There is no available information about this at the time of writing this Plus500 review. Since Plus500 is a CFD market maker, it is assumed that it follows the pattern of other brokers, which is offering a minimum transaction size of 1 CFD.
Plus500's Platform
What devices can I use Plus500 on?
You can now trade from anywhere and anyhow you want, thanks to the wide selection of payment options offered by Plus500. The broker ensured that the traders do not have any difficulty accessing its platform and the wide range of financial markets it covers.
The availability of its services can be accessed via the WebTrader terminal, Android mobile application, and Windows 10 Trader.
The other device compatibilities are:
Linux

Mac

iPad

iPhone

Web browsers
Can I use Plus500 in my country?
Plus500 is not available in all the countries. The services are mostly offered in the jurisdictions where it is licensed and regulated to operate.
Plus500 is an Israeli Financial Technology (FinTech) company that has since extended its base to different countries. Currently, the services are available in Singapore, Israel, Australia, the United Kingdom, and New Zealand.
From the data available on the site, the broker has over 430,000 traders who have over time opened 82 million positions and traded values up to $1,700 billion.
Is Plus500 available in my language?
Over 32 languages are supported, hence making Plus500 a multilingual brokerage platform. Some of the available languages are:
Spanish

Polish

English

Chinese

French

Italian

Japanese

Swedish

Arabic
How easy is Plus500 to use?
Both trading on the platform and choosing from a wide range of financial investment assets are easy. The intuitive interface of the platform is one of the contributing factors. The website is designed in a way that you will have access to the information you are looking for in good time. The inclusion of a drop-down menu in some of the sections is also commendable because you can choose from any of the options there and get the information you are looking for.
Creating an account is also simple. You can choose to go the traditional way of signing up with an email address, your telephone number, full name, and a preferred password. Or you can speed up the process by signing in with any of your web-based accounts, such as Facebook, Twitter, and Gmail.
The platform is extremely ideal for beginners in the CFD market because it includes most of the parameters that will help them understand CFD investing. Experienced traders and investors will also appreciate it even though they might not get access to some of the advanced trading tools they may be looking for.
Plus500 Key Features
The simplicity of the website aside, Plus500 also has several other features that benefit its users. These include:
News & Market Insights
Both fundamental analysis (especially news) and technical indicators help traders make informed trading decisions.
This is why Plus500 included a News & Market Insights feature under the "Tools" section of its website. The idea is for traders to keep up with the latest trends and news in the global financial markets.
News and reporting go a long way to bolster the formation of trading decisions because a piece of negative news could trigger sell-offs while positive news could trigger buying opportunities.
Real-Time Alerts
The real-time alerts functionality on Plus500 helps you to get both SMS and email push notifications when important updates are made in the market.
These updates could be anywhere from price alerts based on your set entries and exits, changes in the prices of assets on an hourly and daily basis, or the sentiments in the market.
Risk Management Tools
Plus500 also helps you to keep an eye on your profits and losses by offering a plethora of risk management tools.
These tools include Trailing Stop Loss for taking or locking profits while reducing your risk exposure, Stop Loss for taking profits and stopping further losses at certain price points, and the Guaranteed Stop Loss for putting an absolute limit on your potential loss.
Plus500 Security and Regulation
Is Plus500 Safe?
Yes, you are safe to use Plus500 for most of your CFD transactions. The platform does not only guarantee the safety of your information. It also uses advanced security features to keep you safe.
Are I and my money protected with Plus500?
Plus500 protects your cryptocurrency portfolio by using a wide range of Stop Loss features. It also offers Negative Balance Protection and protects the traders under the Financial Services Compensation Scheme (FSCS).
Traders are also protected by the Investor Compensation Fund (CIF) which has a maximum coverage of $20,000.
Is Plus500 regulated?
Yes, Plus500 is regulated and is even publicly traded on the London Stock Exchange under the ticker – LSE: PLUS. It is also an FTSE250 listed entity on the same exchange.
The following are some of the regulatory bodies for the broker:
Financial Conduct Authority (FCA) in the United Kingdom.

Financial Markets Authority (FMA) in New Zealand.

Cyprus Securities and Exchange Commission (CySEC) in Cyprus.

Monetary Authority of Singapore (MAS) in Singapore.

Australian Securities and Investments Commission (ASIC) in Australia.
Do I have to verify my account with Plus500?
Yes, you need to verify your account by submitting your proof of residency, and a copy of your government-issued ID. You will also be required to pass the Anti-Money Laundering (AML) verification process before your account will be activated.
Extra Information About Plus500
Educational Resources
Plus500 offers a variety of educational materials ranging from videos and guides. You can locate this via the Trader's Guide under Tools.
Tools and Charting
You will have access to over 100 technical indicators and charting tools via Plus500's WebTrader platform.
Customer Support
The customer service department of Plus500 is available 24/7 to attend to your concerns. The communications channels include email and live chat.
How to Open an Account With Plus500
Follow these steps to open an account on Plus500:
Step 1: Go to Plus500's official page & sign up
Sign up with your email address, full name, and telephone number, and create a password. You can also skip this process by simply choosing to create an account with your existing Facebook or Google/Gmail account.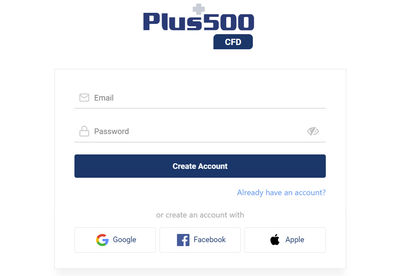 Step 2: Complete Verification Process
Submit the documents required for the AML/KYC verification. These include Proof of Residency and a government-issued ID.
Step 3: Start trading
Start trading once your account is verified.
Is There an Alternative to Plus500?
Yes, there are many more ways to trade cryptocurrencies. Check out some of our reviews for the best brokers:
1
Minimum Deposit
$10
Exclusive Promotion
More than 3,000 assets, including currencies, stocks, cryptocurrencies, ETFs, indices and commodities
Buy crypto, or trade cryptocurrencies via CFDs
This ad promotes virtual cryptocurrency investing within the EU (by eToro Europe Ltd. and eToro UK Ltd.) & USA (by eToro USA LLC); which is highly volatile, unregulated in most EU countries, no EU protections & not supervised by the EU regulatory framework. Investments are subject to market risk, including the loss of principal.
Plus500 Review. Final Conclusion
CFD trading is risky, but the risks are hedged better when trading with Plus500. You can create your account today, choose from the list of supported CFD assets and start trading right away.

Amala Pillai
Amala is custom content and news editor based in London. She is a former financial journalist based in Singapore with 7 years of experience covering a range of business and financial topics. Now she focuses on crypto and macro-economics. She has also covered feature profiles, tech, business politics and ESG— she was the Environment Editor for the Solutions Newspaper, 2016 and worked in an editorial capacity at both News corp (Dow Jones) and JBN. She also has experience as a content creator, strategist and brand editor for various financial institutions and banks.