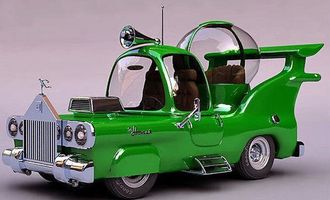 Dodge uses crowdfunding to drive brand connection

News Desk
Last updated 12th Apr 2022
In 1976 Johnny Cash recorded "One Piece at a Time", a song about a guy who works in a Cadillac plant.
Salivating at the long line of luxury automobiles going by him every day, the guy decides to build his own by smuggling parts out, you guessed it, one piece at a time.
His patience is finally rewarded when, 20 years later, he sneaks out the last needed component and begins to assemble his dream car.
To his dismay he finds out the hard way that Cadillacs have changed in appearance a few times over the years and his life's work, once assembled, looks like The Homer.
Thanks to crowdfunding, the folks at Dodge have created an innovative marketing tool so you do not fall into the same trap as Johnny Cash and Homer Simpson. Developed over a six-month time frame in partnership with the advertising firm Wieden and Kennedy, The Dodge Dart Registry allows you to design a Dart according to your specifications and then hit up your family and friends to pay for it.  With a time limit that is measured in days and not years, you can ensure the look stays current.
Did Dodge and Wieden and Kennedy look to the popular crowdfunding sites for inspiration?  "We were aware of these crowdfunding sites," says Dodge Marketing Communications Representative Eileen Wunderlich.
The initial enrollment process at dodgedartregistry.com takes less than 10 minutes. Along with buttons directing visitors to support someone else's campaign or telling them how to create their own sits a picture of a base model Dodge Dart. The vehicle can be immediately customized by changing the color, rims, mirrors and exhaust system with a few clicks. As the options are selected the car instantly changes, allowing one to see what it will look like rolling off the line.  No '53 transmission with a '73 engine to worry about.
The creation process takes four steps. First pick from 12 different colors such as citrus peel, maximum steel and winter chill. Then select one of six different transmissions. On to exterior options such as grille, lamps, color and types of door handles and wheels. In the final step decide from a bevy of interior options such as heated seats, keyless entry and GPS.
Once you are done creating your vehicle it is time to create your pitch. Like Kickstarter or Indiegogo, the key is in how you sell it. Telling people you need one because public transit cramps your style when you go to the beach probably is not the right approach. But maybe you are a recent graduate who is headed off to college or the working world and the Dodge Dart will help your mobility.
"Lots of different people would probably welcome help getting to their goal, as well as getting a present they really like and can use from friends and family," Wunderlich added. Tell them how it will help you and be genuine. After all, these are people who know you, so faking it is not going to work.
The video is the key part to the whole process. Crowdfunding's allure is the ability to take one's need directly to the people, in a way you can make your own. You are limited only by your imagination, and the more creative you are the more likely people are to reward it.
The common thread among the dozens of successful Kickstarter and Indiegogo pitches I have watched is passion. Bring that passion to your presentation and you will get some support simply because you are unique.
After posting your video, decide how much you want to raise. The site has a pricing button to assist with budgeting. Subtract whatever you have put aside and there is your needed amount.
Dodge asks registrants to select four gift tiers, as they advise you will need to approach different levels of contacts in different ways – acquaintances, friends, family and supporters. Change the price points for the four tiers to reflect the financial ability of the people whose support you are requesting. When people pledge they see what their gift will buy, say rims or a steering wheel. As that support is registered an announcement is made on your page that Auntie Myrtle paid for all speed traction control.
While it is too early to judge the success of the Dodge Dart Registry, give Chrysler credit for taking crowdfunding in a different direction. By tapping into the emerging field of crowdfunding, Chrysler is reaching that key segment that every auto dealer wants to grab and never let go of – those people buying their first new car.  Create brand loyalty, and as the average American changes new cars every six years you are developing a relationship with someone who needs to make this major purchase another eight to ten times over their lifetime, not including vehicles for spouses or children. Look for more companies to create similar registries.
More than sales, Dodge is monitoring the more intangible benefits of this campaign.
"As this is a new concept for buying a car, we did not set any specific goals in terms of number of registries created or cars sold,"  Wunderlich said. "We were very interested in the social buzz it could generate as a leading indicator of the program's success. We are very pleased as the social response and publicity buzz has been stronger than what we anticipated."
This just isn't a cool idea for Chrysler – they see it as a money-maker too. Like the more expensive "traditional" crowdfunding sites, Chrysler is charging 9% for the convenience of allowing you to create a registry on their site.  If the goal is $15,000, it is really only $13,650 once Corporate gets their cut. Dodge is watching the success of the Dart registry and if successful, they will consider a similar registry for other brands.
The type of car and color names like citrus peel and maximum steel that sound like they were taken from an Axe commercial should be dead giveaways that the Dodge Dart Registry is geared towards younger people.
"Like the Dodge Dart itself, this program is meant to appeal to all demographics with special appeal to those 18-25," offered Wunderlich.  "All ages are on the internet and engaged in social media and, we thought, could be interested in a fun, new experience for buying a car."