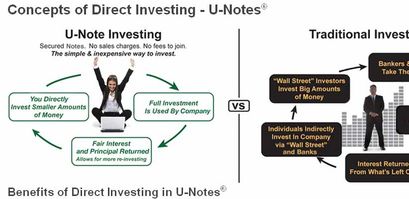 U-Haul offers direct investing options for long-term investors

News Desk
Last updated 5th Aug 2022
When most people think of U-Haul, what likely springs to mind is a company that offers moving trucks for do-it-yourselfers—people keen to cut out the costs associated with paying for a middleman—rather than a bankless investing option, yet they offer that, too.
In keeping with the DIY spirit that U-Haul was built on, the moving and self-storage company launched the U-Haul Investors Club. Inspired by peer-to-peer lending, this peer-to-business investing strategy provides individuals with what U-Haul describes on its website as a "simple and inexpensive way to invest directly in asset-backed securities."
Traditionally, U-Haul assets, such as trucks and trailers, were purchased with capital raised from lenders or through security issuance. However, as of 2011, they have developed an alternative measure that allows them to generate funding directly from investors, rather than having to rely on banks and intermediaries for funding.
According to George Huang, U-Haul Investors Club's program manager, this alternative to traditional financing was a move made in response to the precariousness within the bank-dominated financial sector.
"Banks will continue to do what they do, and if we fall into [another] financial crisis, this cycle continues," Huang explains. "Businesses have a hard time borrowing money in times like that."
Fearing that this could be an issue likely to rear its head again, U-Haul began exploring other options.
"We needed to do something about this cycle, to provide ourselves an alternative when it comes to lending out," says Huang. "We want to diversify and offer more choice."
Like P2P lenders such as Lending Club and Prosper, U-Haul Investors Club connects users and borrowers in a direct fashion by selling users "U-Notes."  However, unlike some of these other companies, these notes are backed by assets such as trailers, trucks, real estate, and equipment. They've also worked to stand out from the rest of the direct investing crowd by offering a range of account types for individuals, businesses, and trusts, including options for funding education or retirement.
There is no secondary market for the U-Notes, and maturities range between two to 30 years, so short-term investors are not their target audience. Because the U-Notes are backed by assets, this may appeal to investors who have concerns about lending money on other P2P sites, but Huang is quick to caution that they do not provide investment advice, and encourages people to look at the investment schedule and pick an option that's right for them.
While they do identify other P2P and P2B businesses as competitors on the market, Huang believes that these companies—and their users—need to work together to incite change.
"This idea is new, the concept is new, and the law is not 100 per cent clear," he says. "It's really a group effort, companies have to make some noise to say well, look, this thing exists. We need to let the lawmakers know this is something people want to look at, and there needs to be choice out there."
Huang and his team believe that in 20 years direct investing will be common. In the meantime, they've seen success with this strategy, reaching the $30 million raised mark just this week. So far, their plan to keep things as simple, transparent, and direct as possible has served them well.
"We're cutting out the middleman with this program," says Huang. "That's all we're doing."