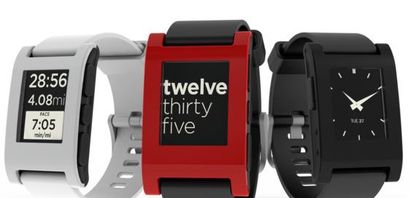 Kickstarting the next generation

News Desk
Last updated 29th Jun 2022
The Pebble Watch is a breakthrough smartwatch that was initially funded through the crowdfunding platform Kickstarter with more than $10 million.  Rolled out only last January, it has given birth to another innovation: Drew Beller's Pebble Watch Covers.
Pebble covers are designed to accessorize the Pebble watch.  They are available in five designs and 16 colors, with matching watchband loops.  Company founder Drew Beller launched it on Kickstarter last April 18, and in 30 days, was able to raise $10,013, more than double his $4,500 goal.
What is interesting about Drew is that he is only 16, not even out of high school yet. But he was already able to start a business and successfully utilize the crowdfunding option.   The success of others in crowdfunding inspires others like Drew to create solutions and ride the wave of a larger success.  Perhaps this is a cue for others to leverage the word of mouth and loyalty of fans by offering relevant products. Well done, Drew.
Drew Beller, bearing the flag in a school activity.
How did you come up with this business?
I'm a junior in high school and after receiving my Pebble, I was eager to start playing around with the Pebble SDK. But unfortunately, the SDK hadn't been released yet. I thought that if I couldn't modify the software I might as well modify the hardware! The idea for the Pebble Cover actually hit me when I was pondering a birthday gift for a friend, who also happened to have just received a Pebble. I had learned 3D design and worked with 3D printing (with a Makerbot Replicator) on my high school robotics team and was able to create a few prototypes for the Pebble Cover on a borrowed printer. I instantly fell in love with the prototypes, so I sent the designs to a 3D printing company (Matter.io) I'm interning at this summer to print some higher-quality prototypes.
Pebble Watch
As expected with any idea, the original design didn't work, but it looked great! So after finishing my design, I decided that I couldn't just let it exist solely as a gift; I wanted to share it with the Pebble community, and Kickstarter seemed like an excellent platform to do it on. I initially launched my Kickstarter project to share the design and also to raise enough money to buy my own high-quality 3D printer for my engineering projects. The project has been so successful and taught me so much about business in general that I'm now going to continue it as a business during my senior year in high school and perhaps beyond.

Drew Beller's Pebble Watch Covers
What has been your experience with your campaign?
The experience has been great! I've been using Kickstarter (from the backer perspective) for a while, but starting my own project really showed me how much of a community Kickstarter really is. I've had some backers offer advice and even help promote the project. Kickstarter provided a great environment.
I also learned a tremendous amount. I had to tackle obstacles that I had never even thought of before. The project allowed me to take on roles as a PR representative, a director of advertising and marketing, a customer-support representative, and every other aspect of a business. One obstacle in particular that I had no previous experience in was marketing. Developing a marketing strategy was a challenge at first, but I was able to identify my target market and how to reach it. It was really cool to see the direct correlation of my various marketing strategies and their effects on the amounts I raised each day.
What is the profile of your buyers and donors?
Most of my backers are Pebble owners whom I had never met before. In fact, out of all my backers, I only personally know about 20. About 30% are international; my advertising campaign reached about 65 countries (excluding direct visitors from Kickstarter). I also received support from Makerbot and Pebble Technologies.
Many of my backers also sent me very nice messages. They loved that I was only in high school and backed my project to show their support without selecting a specific reward. One backer even told me that he "bought the first cover, because [he] loved the idea, and the other four because of [my] young entrepreneurial drive."
The support I received from my friends and family was also outstanding. Other than those who backed my project, I have friends who have let me borrow their 3D printers, helped me do market research, loaned me their Pebbles to test, and proofread my updates. I've even spoken to a friend's father about how to best protect my intellectual property. My mother and father have also been awesome, letting me turn our basement into a 3D printer factory and helping me set up my own bank account.
Where do you want this to go?
I love product design and engineering and I'm hoping to go to college for engineering after high school. For this specific project, I've already set up my new Makerbot Replicator 2 (which I think is the best option for small batch printing) in my dining room, and started refining and printing the final designs.  I'm planning to start an e-commerce site that I can manage during my senior year next year.
In sum, this is what crowdfunding does:  It opens doors that did not exist before.  And it levels the playing field for everybody.  Gone are the days when you have to be a certain age, or done with school, or working in a tall building before you can start a business. You don't even need  to rely solely on traditional investors, for that matter.  If you have an innovation in mind, you can turn to crowd financing to fuel your creativity.
If you want to help drive innovation, there are many crowdfunding platforms you can join or support.  Crowdfunding has become so diversified that you are sure to find projects and causes that are close to your heart and on which you can invest passionately.  With the new generation taking bigger and bolder steps, the bravest and most worthwhile venture we can take is investing on them so that they can create their own path for their future.
David Drake is an early-stage equity expert and the founder and chairman of LDJ Capital, a New York City private equity firm, and The Soho Loft, a global event-driven financial media company.  He also writes regularly for Forbes and Thomson Reuters. You can reach him directly at David@LDJCapital.com.