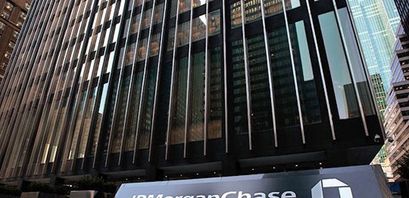 JP Morgan reaches $13 billion settlement with Justice Department

News Desk
Last updated 29th Jun 2022
JP Morgan has reached a settlement with the US Justice Department where they will pay $13 billion for their role in selling toxic mortgages and other suspect investments that contributed to a financial crisis the world is still in recovery from.
The size of the settlement is more than triple the previous record for a financial penalty, which was the $4 billion levy paid this January by BP following the worst offshore oil disaster in American history.
The proposed deal covers all outstanding civil issues related to JP Morgan's role in the financial crisis but leaves the company and its' employees open to further criminal prosecution, according to a statement released by the Justice Department.
As a condition of the settlement, JP Morgan admits to "serious, material misrepresentations to the public", including statements that misled investors about the safety of mortgage-backed securities.  Their actions included assuring investors that specific investments complied with underwriting guidelines when those working with the investments clearly knew that was not the case.
"Today's settlement is a major victory in the fight to hold those who caused the financial crisis accountable," New York Attorney General Eric Schneiderman said.
Those sentiments were echoed by US Attorney General Eric Holder.  "Without a doubt, the conduct uncovered in this investigation helped sow the seeds of the mortgage meltdown.  JP Morgan was not the only financial institution during this period to knowingly bundle toxic loans and sell them to unsuspecting investors, but that is no excuse for the firm's behavior. "
It has been a bad November for JP Morgan, as they reached a $4.5 billion settlement with 21 institutional investors last Friday over deceptions in the quality of high risk mortgage securities sold to, among others, Goldman Sachs between 2005-2008.  The cash bleed caused JP Morgan to report the first loss of the Jamie Dimon era in the third quarter, a $380 million hit.  JP Morgan had set aside some $9.2 billion this quarter to address legal costs and has stated they have some $23 billion is reserve to cover all future settlements.
Great week for a Twitter Q&A huh?  In between cutting checks, someone at head office thought it would be a great idea to allow the general public to ask for career advice from a JP Morgan executive.  They were lambasted with insults and generally called to task for ruining the lives of thousands of people from around the world.
The settlement, while a record, amounts to roughly six months of profit for the financial behemoth.  The breakdown is:
– $2 billion fine payable to prosecutors in Sacramento;
– $4 billion compensation to the Federal Housing Finance Agency, the overseers of Fannie Mae and Freddie Mac;
– $3 billion split between the state attorneys general of New York and California,  the Justice Department's civil division, and a credit union association;
– $2 billion to reduce mortgage balances of homeowners in foreclosure-ravaged areas of cities like New York and Detroit, including a mechanism that allows for a delay in payments on distressed properties;
– $2 billion to reduce interest rates on existing loans and to provide new interest loans to low income home buyers.
JP Morgan will also receive credits  for the demolition of abandoned homes in an effort to reduce urban blight.
They should keep the checkbook close by, as in addition to any criminal penalties they may also still be on the hook for settlements related to their dealings with Bernie Madoff, their Asian recruiting practices, and missteps by their energy trading division.