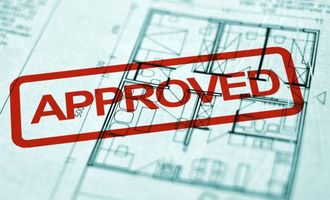 Six common reasons planning permission is rejected

News Desk
Last updated 12th Apr 2022
Acquiring planning permission isn't easy. The documentation takes a long time to prepare and if anything is wrong with your maps or plans, then your application will simply get sent back with a rejection letter. This could make your building schedule suffer.
To increase your chance of success and prevent any problems from occurring we teamed up with Robert Irving Burns to ensure you don't make the mistakes when applying for planning permission.
Locations aren't property marked
Every boundary of your site needs to be marked properly on your map. This includes your property margin and where you plan on building. Planning officers can't process an application unless they know exactly where the boundaries are, so even if it's obvious to you, make sure they're clear and concise for others.
The map is out of date
The maps you use for both your property and the surrounding development must be accurate; therefore, they need to be in date. Even if changes haven't been made in recent years, you'll still need to prove it to the planning officer. In addition, don't use a map that doesn't have any new developments marked on it, even if it was made recently. This could cause complications in the future, and in a worst case scenario, you could be asked to knock down your property.
The map scale isn't marked
A map that doesn't have the right scale will get an instant rejection. Planning officers need to know exactly how much distance there is between property boundaries and roads, etc. Always double check the scale of any maps you purchase to ensure they're accurate.
The map is hand-drawn
Hand-drawn maps are permitted; however, they're not recommended unless you have experience. Even if you trace a map it'll probably be inaccurate and scruffy. Planning officers need instant assurance that they're receiving a map that represents the property and surroundings exactly how they are. If they have any doubts, the application will get rejected..
The map is from someone else's application
Never under any circumstances photocopy or scan somebody else's planning permission map; even if you have permission from them and are planning to build the same structure. This is a breach of copyright and the planning authority will not condone it. Take this approach and you will be asked for your own copy before they even look at the design, meaning all it will do is slow down the process.
The map doesn't point north
This is without a doubt one of the easiest and most frustrating reasons for rejection. Always make sure you clearly mark north with an arrow. This is probably the most basic element of map making; however, it's an understandable mistake if you're new to the process. If your map doesn't face north the planning officers won't know where the other surrounding properties are located.
If you end up with a rejection, even if you don't make any of these mistakes, don't be discouraged. Rejection is part of the business and sometimes it can't be avoided. In most circumstances the planning office will recommend amendments and if you manage to come to an agreement, then you'll most likely receive permission. In addition, you are allowed to make an appeal if there's something that you don't agree with, providing you do it within your allotted time frame.