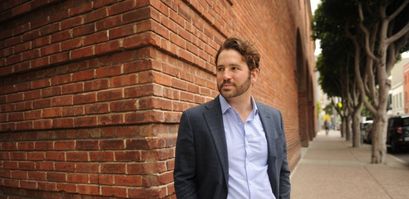 Funding Circle's Hodges lived the small business finance grind

News Desk
Last updated 5th Aug 2022
Walk a mile in someone's shoes and you will better be able to understand them. By that standard Funding Circle US's co-founder and U.S. managing director Sam Hodges has the perfect skill set to help small businesses obtain appropriate funding.
A graduate of Brown and Stanford and the founder of several startups, it was Mr. Hodges experience running a successful group of fitness franchises that taught him something was wrong with traditional small business loan providers.
Mr. Hodges tried 96 times to get financing for what was already a profitable business. Ninety-six times.
"In the early days the reason was we had not been in business for three years, then as we matured they looked at us differently," Mr. Hodges said. "Then we needed two years of profitable tax returns, or the loan request was too small."
Many small businesses, the ones America is told are key to its recovery, still face those issues when headed to the bank to get a loan. Mr. Hodges sees two reasons why small businesses are having trouble.
"The first is the increase in regulatory pressure, which is a longer-term problem but has become more acute since 2008. Regulators are forcing banks to hold more assets. It becomes more expensive to do a smaller loan. The math breaks down more quickly."
[caption id="attachment_15106" align="alignleft" width="785"] Funding Circle's Sam Hodges sees continued growth of P2P in America[/caption]
There are also fewer places to head to.
"In 2000 there 12,000 to 13,000 lending institutions in the U.S.," Mr. Hodges noted. "Now there are 6,500. It is difficult for smaller banks to survive. They either merge or go away."
The gap left by the smaller institution is the one which best served small businesses. The community bank who knew the players and the climate – a dying breed.
What was an unprofitable proposition for traditional institutions became an opportunity for Mr. Hodges in 2011 when he co-founded Funding Circle in the United States. Seventy-five of Funding Circle's 220 global employees work stateside and they expect to provide up to $80 million in loans to American small businesses in 2014, a total which makes them the largest peer-to-peer small business lender in America.
Like everyone else in the industry, Mr. Hodges is watching the developments of the imminent Lending Club IPO.
"This is a bellwether event for the industry and I'll be watching it closely. As a consumer market lender I am excited to see it go well."
In some ways the Lending Club IPO is a status test for the entire P2P industry. What effect will it have on players like Funding Circle?
"The effect is already happening," Mr. Hodges observed. "It's a sign of the relative maturity of the industry. A few clear leaders have emerged. The attention is positive."
That attention is drawing people to Funding Circle. Are there commonalities among his clients?
"The biggest gap is for business with under $5 million in annual revenue," Mr. Hodges said. "Many will struggle with existing sources, so marketplace lending is best for them as it is a more cost effective way to serve borrowers."
While equity investing is grabbing its share of headlines, many investors do not need equity in their portfolios.
"Marketplace lending is a completely different animal," Mr. Hodges explained. "You are looking at much more long term returns. Angels and VC's have much more variable returns. Marketplace lending investors appreciate consistent yields and a broad portfolio works for many."
Even though Funding Circle has experienced 300 percent growth of late, there is plenty of room for future growth.
"Five million small businesses owners are viable candidates," Mr. Hodges said.
Much of the capital fueling that growth will come from traditional financial institutions, who are looking more closely at P2P as it becomes more successful. That bothers some purists, who worry about the 'peer' being taken out of peer-to-peer. Not Mr. Hodges.
"As the industry gets bigger it makes sense to have different types of investors," Mr. Hodges explained. "The key is to make sure the rules are the same for everybody."
Another key aspect of growth is accurate risk analysis.
"Getting credit and risk balanced is one of the most important things," Mr. Hodges admitted. "We are constantly iterating but still do many of the traditional things."
The learning never stops. "We learn from the loans and layers in data as we grow. We use the data and technology."
There have been complaints from prospective entrants into the UK P2P marketplace that they are unable to access government programs which would help them grow. They fear P2P across the pond is becoming an exclusive market. Is that a problem and might it happen here?
"The government in the United Kingdom is excited about getting capital into the hands of small businesses," Mr. Hodges said. "Trust is very important for the government and as mature companies appear, the government is able to gauge their risk more effectively."
As for the future Mr. Hodges expects continued rapid growth and a broadening of the product offering to investors and borrowers next year.
"We will continue to grow quickly and will have to scale as we do."