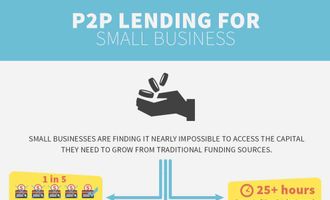 Infographic: P2P lending and the impact on small businesses

News Desk
Last updated 12th Apr 2022
Access to capital at reasonable rates has always been a challenge for small businesses, but the credit crunch that started in 2008 has made small business funding close to impossible to obtain through traditional sources.
While access to bank and/or SBA loans has ratcheted up slightly as the economy has improved, the reality is that most business owners will have to look elsewhere for funding. An unfortunate reality is that when many small business owners search for funding, quite often what they encounter are daily payment loans, most of which are egregiously high rate products with interest rates that can easily top 100%.
What alternatives do small business owners have for financing?
There's nothing inherently wrong with 60, 100, or even 200% interest rate loans, as some small business owners have garbage credit and will only qualify for garbage lending products. However, the profitability of lending money at 100% or more makes a lot of the more sensible options in the marketplace much harder to find for reasonable borrowers.
The internet age has led to the rise of dozens of new funding platforms for small businesses and some of the most disruptive platforms are the P2P lending models that have emerged to match small businesses that need funding up with investors that want to get decent returns on invested capital.
The impact P2P lending can have for a small business is enormous – in many cases these products can represent financing charges that are 70 percent less than other options business owners are being offered.
The following infographic puts into perspective the stark contrast between a peer-to-peer funded loan and the daily payment loans that most small businesses find themselves faced with.