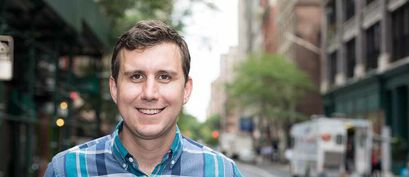 Company sale to Google leads to a-ha moment for CEO Matt Burton
[caption id="attachment_17969" align="alignleft" width="1000"]
Matt Burton[/caption]
When an active entrepreneur suddenly finds himself with some unexpected free time, great things can happen.
That was the situation Orchard Platform Co-Founder and CEO Matt Burton found himself in back in 2011. Mr. Burton was working at Admeld, then one of the top three global ad exchanges, when it was sold to Google in a $400 million deal.
Admeld had to undergo a six-month Department of Justice review, during which Mr. Burton found himself with plenty of time on his hands.
(Mr. Burton is a featured speaker at the second annual Fintech Global Expo, which takes place on May 28 & 29 at the San Diego Convention Centre. He will speak on the future of lending and will give attendees insider tips on how to get involved and capitalize on the opportunities that marketplace lending offers. He will also share his thoughts on where the fintech industry is headed in the next few years.)
"A Department of Justice antitrust review is something I wish on no one," Mr. Burton said.
Mr. Burton spent some of that period looking into different types of investments and discovered Lending Club. He said Lending Club reminded him of Advertising.com and some of the early players in the ad space back in 2006, so out of curiosity he invested some loans.
He soon met up with future Orchard Co-Founder Angela Ceresnie, who was also investing in Lending Club loans but making nearly double the rate he was. She had created a model she employed to assess the loans and shared it with him.
"Angela had the perfect background," Mr. Burton recalled. "She worked in risk management, leading an underwriting team at American Express."
Mr. Burton said he was intrigued with someone whose hobby was so closely related to her career, and wondered why Ms. Ceresnie was so passionate about working with the Lending Club platform.
He discovered the legacy technology systems at American Express and Citibank were three decades old, making it frustrating to accomplish anything. Teams were spending much of their time simply keeping systems alive, leaving little energy for innovation.
"They were using cobalt in 2011 to fix underwriting," Mr. Burton said. "None of the systems talked to each other."
There was also the issue of constant regulatory scrutiny, which only increased after the recession. Fresh audits could begin before previous ones were completed. With Lending Club's new model, there were no legal or technical issues, and a company would not have to explain every step they were taking to the government, Mr. Burton said.
"Lending Club began making sense," Mr. Burton said. "It was a natural reaction to banks being handcuffed and not innovating. If filled a void."
Mr. Burton and Ms. Ceresnie increased their Lending Club investments but soon began to encounter operational issues buying and managing at scale, so they built a small piece of technology. From there, interest grew.
Mr. Burton had no idea how much that interest had grown until he appeared at the first LendIt Conference in 2013.
"I was hoping maybe 75 people would show up, which would have justified the time we spent developing the PowerPoint presentation," Mr. Burton said. "The place was packed. More than 200 people showed up."
While the recession did not affect Orchard directly, Mr. Burton it had a significant influence on how the entire alt-fi industry developed.
"Small business and personal lending stopped," Mr. Burton said. "You either had to ask for a $5 million loan or you had to take out a credit card."
The situation is still a stark one today. In the past, Mr. Burton said, a small business in Middle America could go to the local community bank or regional credit union, but between the recession and industry consolidation most of the people who truly knew their communities were out of work.
"Combined with the increased regulation it was a one-two punch," Mr. Burton explained. "But it provided a brand new environment for the space to grow up in. We could build things from scratch."
This is not Mr. Burton's first time working in a disruptive industry. While at LiveRail and AdMeld he helped content producers monetize content across devices. How did that prepare him for Orchard?
"You can think about them in a similar way," Mr. Burton said. "You have to start with the consumer and their pain point. At the end of the day, they are the drivers and early adopters."
Mr. Burton said another similarity is the slow response rate of industry incumbents even after the future becomes clear.
"Even in the advertising space and with digital ads the future was clear," Mr. Burton recalled. "But they still completely ignored the space."
"An entirely new category of companies bloomed because others ignore them. They assumed television rates were still the future. By then the consumer had left."
Like many in the industry Matt Burton saw the Lending Club IPO as an important moment for the industry, calling it, along with BlackRock's selling of rated Prosper securities, validations of the space.
In the days after lending Club's Q1 report, some analysts spoke of the company's tremendous growth while others lamented its trouble turning a profit. Mr. Burton said the type of reaction is a clear indicator of which sphere the reviewer is from.
"The whole dichotomy you are seeing… are they tech investors or finance investors? They have a different view. If it's a tech analyst things look great. Revenues are up while expenses are equal or flat. There's a balance between the number of loans originating, and buying loans healthy growth over the next few years."
"The finance guys are seeing originations of $2 billion a quarter and ask why is a finance company not making money."
One of the topics Mr. Burton will address in his presentation is why the coming years will be good for the industry. One is because the product Orchard and other platforms provide is a better one for consumers in an age where branches are dying out. Once the branch network shuts down, alt-fi products look even better.
While most new industries start out with a bang before experiencing significant attrition, Mr. Burton sees such dire predictions as an 80 percent attrition rate as "overly negative."
"A lot are much more resilient than people realize," Mr. Burton explained. "Their online nature and their cost structure means they can be nimble and survive more than an offline guy."
Fintech Global Expo is a deep dive into the innovation occurring within the fintech industry, with new data releases, a press conference for lending fintech analysts and reporters, special sessions devoted to retail investors and much more. It is different from other conferences in that guests will include not only startup and established leaders within the burgeoning fintech industry from the United States, but also introduce groundbreaking international companies who serve some of the largest markets in the world.
"In the years that we have been hosting the Fintech Global Expo we have been thrilled to see the exponential growth in this disruptive industry," says Andrea Downs, CEO of Coastal Shows and producer of the popular FinTech Global Expo conference series. "In addition to large players like Orchard, Prosper, Gartner, and Capital One Ventures we are seeing a host of vertical market platforms launch and thrive creating new ways for borrowers to access capital and loans.  Investors are taking notice of the opportunities. The #FGEXPO  is the number one place for networking and new business development opportunities. Register now before the Show sells out."